2012 NFL Mock Draft: Projecting Trent Richardson and Dont'a Hightower
September 29, 2011
Kevin C. Cox/Getty Images
It is no surprise that some stud Alabama Crimson Tide juniors have decided to enter the 2012 NFL Draft.
Obviously, mentioned in the headline are RB Trent Richardson and LB Dont'a Hightower, also DB Dre Kirkpatrick has decided to join them.
According to Draft Insider, all three Crimson Tide juniors are moving on:
"Separate sources have told us the three big juniors from Alabama will all enter the draft.  Expect running back Trent Richardson, linebacker Dont'a Hightower and cornerback Dre Kirkpatrick to leave for the NFL after the season."
So, with that said, when will all three get drafted, and who will draft them?
Let's begin with the best of the three, RB Trent Richardson.
Trent Richardson
For starters, Richardson is going to be a Top-10 pick.
He's going to be in the Heisman race this season, and after splitting time with Mark Ingram during his freshman and sophomore campaigns, his body is not nearly as battered and bruised as most junior RBs entering the draft.
A team lacking a stud RB such as the Denver Broncos or Washington Redskins could use him. By the looks of it, Washington won't be getting a Top-10 pick, but Denver likely will.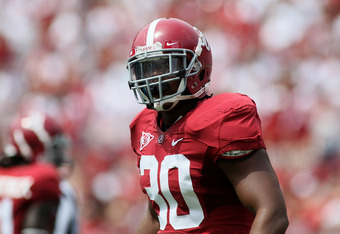 Greg McWilliams/Getty Images
Knowshon Moreno has significantly underachieved, and although Willis McGahee has been solid, he's not getting any younger.
Richardson would be a solid addition alongside McGahee until he's ready to take over the starting role, and he would surely help the Broncos' offense, as they have no rushing or passing attack.
Dont'a Hightower
Although he's had a history of injuries and doesn't have the top speed most scouts would like to see, Dont'a Hightower has a lot potential.
He is big enough to play any LB position, and if someone wants to get creative, moving him down to DE in a 4-3 front would also suffice.
Also, running a blazing 40-yard dash isn't necessary for his position.
For his size, he has solid quickness, acceleration and agility with which to make tackles, blitz and cover the hook-to-curl zone as well as the flats.
Perhaps his best asset is his and versatility and willingness to be coached.
In turn, that only allows him to learn more and play in multiple positions, thus giving his defense a big advantage.
However, because of his injury history he will likely drop to the second round.
There, a team like the Philadelphia Eagles could use him as their weakness is at the LB position.
Dre Kirkpatrick
Kirkpatrick needs a little more consistency if he wants to become a legitimate NFL CB.
Much of why he shuts down WRs now is because safety Robert Lester lurks behind him in cover 2 and cover 3.
That said, Kirkpatrick will most likely be an early second-rounder and as a rookie will contribute more in nickel and dime packages.
A team such as the Buffalo Bills or New England Patriots could use him, as he would give a boost to their pass defenses while being fast enough to keep up with the WRs dragging across in the medium route zone.
Zone coverage is his weakness though, as his awareness needs much improvement.
Nonetheless, since he's coming from Alabama you know he's well-coached, so Kirkpatrick should have no trouble developing into a starting CB in pro football.
Be sure to check out John on Bleacher Report.
And you can follow him on Twitter @ Sportswriter27.