Atlanta Braves: 5 Mistakes They Made This Season That Will Improve Them in 2012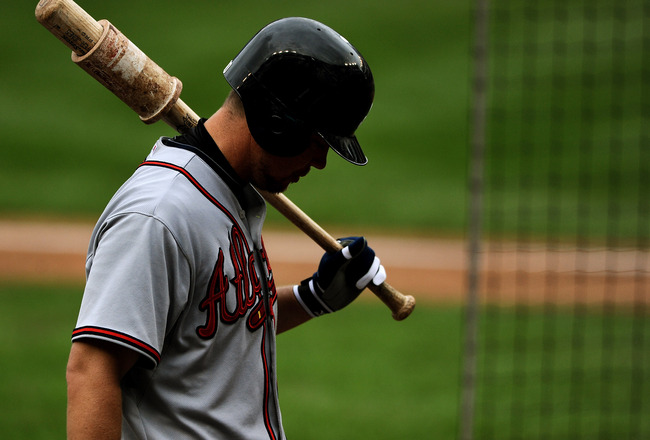 Patrick Smith/Getty Images
The Atlanta Braves, after a stunning collapse in September, dropped their 8.5-game Wild Card lead to be eliminated from going to the playoffs.
The Braves were unable to compete much in this past month, due to many mishaps that were unpredictable.
And while the Braves' collapse was very unfortunate and painful to witness, it would be wrong to say nothing positive will come from it.
The following slides explain five mistakes the Braves made this season that will improve the team in 2012.
Batting Order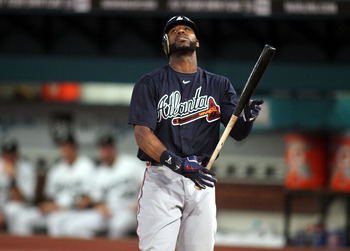 Marc Serota/Getty Images
Throughout the entire season, Fredi Gonzalez never solidified a batting order.
It was switched around frequently, while the majority of teams had a consistent lineup during most of the season. Gonzalez received much criticism for the lineups he used.
It is possible that the Braves could have received better production from their offense with a different lineup.
The Braves had extreme difficulties achieving hits with runners in scoring position, which could have been alleviated with a different batting order.
Hopefully, after a year of managing the Braves, Gonzalez will be able to figure out the most beneficial lineup for his team.
Because, for the most part, his entire team will be returning for the 2012 season. Gonzalez should come up with something impressive with all the great players he has to work with.
Derek Lowe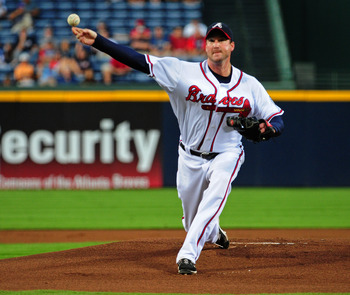 Scott Cunningham/Getty Images
After an amazing performance last September, this season was a huge disappointment for Derek Lowe.
He was to blame for 17 of the Braves' losses this season, which is more losses than any other pitcher acquired this season.
Derek Lowe has proved, after a consistent season of poor performances, that he should not be trusted with a starting role next season.
Hopefully, the $15 million he will earn next year will not convince the Braves to give Lowe more innings than necessary.
This should not be an issue, due to the large amount of potential aces in the Braves' minor league system.
Young Pitchers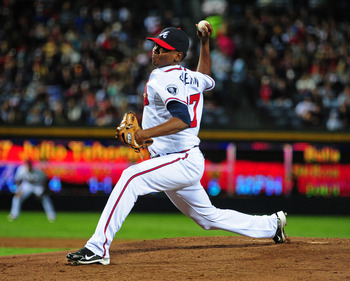 Scott Cunningham/Getty Images
If the Braves take only one lesson from this season it should be that they will be able to completely trust their young pitchers.
The Braves were reluctant to use Mike Minor, Julio Teheran or Randall Delgado for too many innings this season.
They, along with many other young pitchers, have proved themselves strong candidates for the Braves' starting lineup next season.
A huge mistake made by Fredi Gonzalez was to start Derek Lowe in the final series of the season, instead of trusting Julio Teheran to make the start.
Next year, the Braves' should have complete trust for their young pitchers in situations such as these.
Bullpen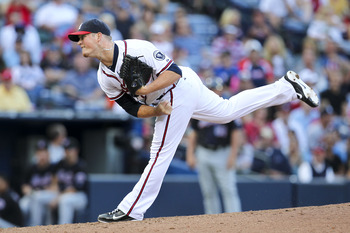 Daniel Shirey/Getty Images
The Braves' bullpen was much too overworked by the time the end of the season came near.
They put too many innings on healthy relievers, and it caught up to them in September.
This resulted in many unnecessary runs given up and the Braves were unable to win crucial games.
Eric O'Flaherty, Craig Kimbrel and Jonny Venters pitched a combined 239 innings this season.
Next year, this trio of relievers should have their amount of innings reduced to prevent fatigue and possible injuries from occurring.
The chance of this should be improved by the hopeful return of relievers Peter Moylan and Kris Medlen from injuries.
Handling of Injuries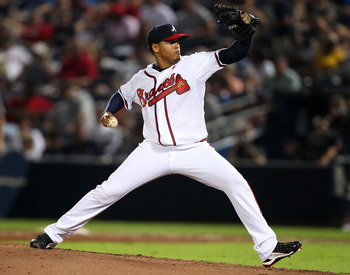 Mike Zarrilli/Getty Images
This is not exactly a mistake that the Braves can improve on.
Perhaps the way they handled their injuries could be changed. For example, had Tommy Hanson refrained from pitching for so long on his bad shoulder, he may have been able to return earlier in full health.
Either way, this was mainly what held the Braves away from the postseason.
With their two aces, Jair Jurrjens and Tommy Hanson injured for the final two months of the season, the Braves had hardly a chance of competing in the playoffs.
Along with this, injuries to the bullpen led to fatigue on Kimbrel, Venters, and O'Flaherty, who gave up an unfortunate amount of runs in September.
Also, the Braves' two best hitters of the month, Alex Gonzalez and Chipper Jones, played on injuries for a while.
Had the team not been so injury-plagued, they would have found much more success in September. Not that these are excuses for the Braves' poor performance.
However, should the Braves stay for the most part healthy next season, they should be very successful in the 2012 postseason.
Keep Reading

Atlanta Braves: Like this team?