NHL: Racism Among NHL Fans May Still Exist in Some NHL Cities
September 29, 2011
Bruce Bennett/Getty Images
Racism may not be pervasive in the management of teams and the selection of players in the NHL, but that may not be true in the stands of some NHL arenas.
Although hockey historically has a cleaner history, at least on the surface, than other major league sports, the fact is: racism still exists.
Some may remember last just last season how the defunct Atlanta Thrashers (now Winnipeg Jets) made the news because they had four black players on their roster. The inference was that the four players of African descent on the Thrashers roster were there as a marketing scheme to attract Atlanta's large African-American population to Phillips Arena.
Such conjecture had no credence since it is obvious that most of the black population had no knowledge that black players were even on the team. Obviously, Evander Kane, Johnny Oduya, Dustin Byfuglien and Anthony Stewart all were solid NHL players and all provided noteworthy contributions to the Thrashers squad that just missed the playoffs after an exceptional first half of season performance.
Byfuglien was selected to the 2010 NHL All-Star squad as a defenseman and Kane and Oduya would be welcome additions to almost any NHL GM's rosters.
The most recent example of racism involves a fan at an exhibition game in Ontario throwing a banana on the ice in front of Philadelphia Flyers forward Wayne Simmonds. Simmonds, who is known for his aggressive style and chippiness on the ice, had recently made news for a slur he made to New York Rangers forward Sean Avery.
Simmonds, whose roommate is highly-touted St. Louis Blues power forward Chris Stewart, allegedly used an anti-gay slur against Ranger forward Avery during an exhibition in Philadelphia. The NHL did not punish Simmonds because the league said there wasn't conclusive evidence.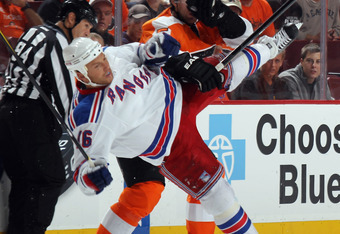 Bruce Bennett/Getty Images
Simmonds got off lucky in this incident because Chicago Bulls Joakim Noah was recently fined $50,000 for shouting a homophobic slur.
The Ontario police have charged Chris Moorhouse, a 26-year-old man, for throwing a banana on the ice toward Simmonds. If convicted, he can be fined up to $2,000. London, Ontario Police Chief Brad Duncan said at a news conference Wednesday the offense did not meet the threshold of a hate crime or mischief.
Simmonds, a Canadian who is black, scored on the play in the Flyers' 4-3 overtime loss to Detroit before a crowd of 7,427. Simmonds issued a statement the next day, calling the situation "unfortunate."
Duncan said that police acted on a complaint by arena management. The information received by police came "from a variety of sources," he said, including phone cameras and social media.
A court date has not been set but Moorhouse has retained a lawyer to represent him. NHL commissioner Gary Bettman issued a statement strongly condemning Moorhouse: "We have millions of great fans who show tremendous respect for our players and for the game. The obviously stupid and ignorant action by one individual is in no way representative of our fans or the people of London, Ontario."
There have been other racial epitaphs thrown at Black, Jewish and Hispanic descent players, but the most positive thing about the incident is the way it was reacted to by the arena management in London.
I cannot help but to wonder if such steps would have been taken in other American based arenas with more fan observation resources and more security. When you mix the high pitched emotion of a hockey game, alcohol, and a $ 70.00 ticket some fans feel they have the right to do or say whatever comes their mind.
It is also possible that some US based arenas may have previously been a little slower to respond to such actions. The forceful response to the incident in London may lead the way on how over exuberant fans like that have to be dealt with for parents to feel comfortable taking their children to see a game.
Way to go London.