MLB Playoffs: Oh, What a Night. Late September Back In... 2011?
September 29, 2011
Bob Levey/Getty Images
If there's anything this night didn't have, I sure couldn't detect what was missing.
As Major League Baseball concluded its final day of regular season play, words like epic, heartbreaking, heroic, monumental, implausible, and breathtaking all seem appropriate.
And this in a world where hyperbole flows like Manischewitz on Rosh Hashanah.  Which actually brings me to my point.
No matter your personal feelings, religious affiliations, or team loyalties, this night had a little something for everyone. 
For me, it began in the most unlikely of all places: an Upper East Side synagogue. Not exactly the home base for baseball history, but what starts with Sandy Koufax continues through to Ryan Braun.
 After an hour's (or a single American League inning) worth of high-holiday services, my wife and I enjoyed dinner at our favorite local watering hole, during which time I updated Erin on all things hardball. A die-hard Cardinals fan, I reviewed the Wild Card race heading into the evening action in Atlanta and Houston, and reminded her of a potential 163rd game that would take place Thursday, on our 4-year wedding anniversary.
Also on the menu at dinner was José Reyes, and my stomach-turning disgust towards his bunt-and-bench attempt to win the NL batting crown. I shared with Erin the story of Ted Williams, who in 1941 was flirting with .400. Sitting statistically at the magical mark (.3995) heading into the season's final day, Williams' manager offered to sit him, in hopes of preserving the milestone. But Teddy Ballgame wouldn't hear of it. He played both halves of a double-header, went 6-8, and finished the year at .406. Williams would consider Reyes a disgrace.
"You seem pretty passionate about this. You should write about it," said Erin over her margherita pizza. Here you go, hon. Happy anniversary.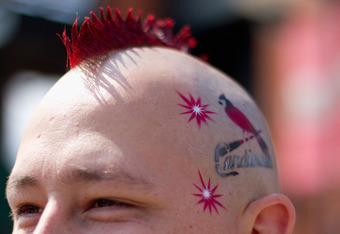 Dilip Vishwanat/Getty Images
Following dinner, we return home. Erin hits the hay (it seems being 3+ months pregnant takes a lot out of you), and I begin to monitor the last legs of the wild card races. Behind a stellar outing from Chris Carpenter, my Redbirds rout the Astros, guaranteeing at the very least a playoff play-in game on Thursday.
An ultimate gamer, and backed by an explosive offense, Carp twirls a complete game shutout, and the Jewish New Year just may include the spirit of St. Louis.
Meanwhile, in the American League, drama unfolds in a way that has TNT jealous. Ripe with sub-plots up and down the East Coast, there are new twists to the same 'ol Boston Red Sox/New York Yankees rivalry.
Forced to root for New York, Boston plays in Baltimore, nursing a one-run lead.
Meanwhile, in St. Pete, the Rays" class="zem_slink" title="Braves" class="zem_slink" title="Phillies push across a run in the 9th to force extras. And credit Philadelphia, by the way, for playing hard and competing throughout (José Reyes: are you paying attention?). With 100+ wins and home field throughout the playoffs already sewn up, Charlie Manuel's squad played like it mattered, because to others, it still did. They stole bases, gunned out guys at the dish, and intentionally walked batters when situational baseball dictated.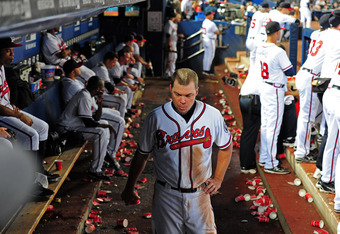 Scott Cunningham/Getty Images
And then, in the bottom of the 13th, Philadelphia turned a silky-smooth, 3-6-3 double-play, ending the season for the Braves, and sending St. Louis into the playoffs.
For the Braves, it was an epic collapse, after leading the wild card race by 10.5 games in late August. For the Cardinals, it's a historic comeback, capped with 23 wins in their final 31 games. And for my wife, it's an anniversary evening of devoted attention, with no 163rd game to monitor.
But questions still remained in the AL. Would the Red Sox join the Braves in this September Swoon? Could Tampa Bay follow St. Louis' script and complete their unlikely climb into playoff position?  Dan Johnson thought so.
Down to his final strike, trailing by a run in the bottom of the 9th, Johnson picked this moment to launch a game-tying homer, sending New York and Tampa Bay into extra innings, at 7-7.  But what was Johnson even doing at the plate in that position? The only thing longer than the odds on Johnson's heroics might have been Joe Maddon's graying mullet.
But the Rays skipper somehow knew something we all didn't. And so, staring down the bench, he sought out his .119-hitting slugger.  Only Johnson wasn't on the bench. He was in the cage, honing his swing, preparing himself for a moment even he likely never envisioned.
After being alerted by the security guards that his number was about to be called, Johnson calmly stepped to the plate, and facing a two-strike count, blasted just his second homer of the year and first hit since late April.
With that one swing, the Rays have new life, the Red Sox are starting to sweat, and the Yankees are seemingly responsible for it all. Of course they are.
Meanwhile, in Maryland: the tarp is off at Camden Yards, and the Red Sox attempt to finish off a pesky flock of Orioles. Much like the Phillies, Baltimore didn't concede anything, staying true to their league, and their game (Certainly José Reyes must now be paying attention?).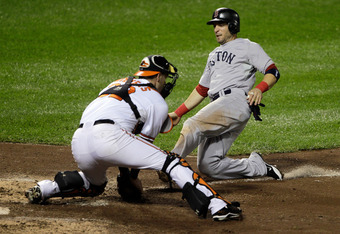 Rob Carr/Getty Images
Still clinging to a 3-2 lead, Boston knows that Tampa Bay is back in business, after climbing out of a seven-run hole versus New York. And it would seem the Beantown pressure-cooker finally bubbled over.
Full disclosure right here:  I grew up in Massachusetts (i.e., amidst Red Sox Nation). I also worked for several years in Fort Myers, Florida, covering Boston during their Spring Trainings.  All this background information might yield you to conclude that I'm a "Sawx" fan. Seldom right, and wrong again.
While Boston does have a bunch of decent dudes (Papi, 'Tek, Tito, Pedey), for the most part I find them to be an unlikeable bunch.
Truthfully, it might actually be the "Nation" that irks me most. "Sweet Caroline" during the stretch?  Gag me. I actually liked the Red Sox a whole lot more before they won two titles, back when they were a cursed bunch of lovable losers.
Now? They're arrogant front-runners.  And leading the sprint, every time? Jonathan Papelbon.  Boy do I hate that guy.  Good at his job?  Certainly.  But half as good as he thinks he is? No freakin' way, Sully!  He's never met a microphone he didn't love, or a moment he didn't feel was all about him. 
All the more reason why I enjoyed an extra-special sense of satisfaction when he blew it on Wednesday!  Papelbon allows the game-tying and game-winning runs in the bottom of the 9th, as the Orioles come back to shock the Sox 4-3. And for once, Papelbon isn't looking to do any interviews.
The news of Boston's collapse has trickled south, where Evan Longoria bats with the bases empty in the 12th inning of a tie game. It's been roughly three minutes since Nolan Reimold crossed the plate with the game-winning run in Baltimore, and Longoria can send the Rays to the playoffs with one swing.
So he does.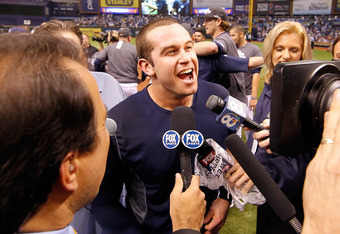 J. Meric/Getty Images
The Rays third-baseman sticks his second home run of the evening into the corner in left, and just like that Tampa Bay beats New York 8-7, stamping their ticket to the playoffs and officially ending the Red Sox season.  
Sure, the Yankees used nearly a dozen pitchers, none of them named Mariano Rivera.  And sure, the lineup they trotted out for the 12th inning of their final regular season game will not remotely resemble the group that starts their playoff opener. 
But if the Red Sox fanbase is going to hang its "B" hat on that as an excuse, then they're an even lamer bunch then I give them credit for.
Leading the Rays in the standings by 9 games to start September, a 7-20 record in the final month marks the most crippling collapse in baseball history. That ain't Mariano Rivera's fault.
Sometimes crazy things happen. And then there's Wednesday, September 28, 2011. A date that demands perspective and covets reference.  Have we ever seen anything like this before?  Will we ever again?  
For Jews in Boston, the apples and honey were as sour as any batch in a 5,772-year history.  
For a Cardinals fan living in New York, it's already a Happy New Year.  
And for religious baseball fans everywhere, the refrain is simply: "Oh, what a night."
On an evening that almost broke Twitter, SportsCenter anchor Scott Van Pelt's tweet was as timely and truthful as any:
"Sports are better than anything else. Every… single… time. Wow."
And he wrote that before Papelbon collapsed.  Before Longoria went yard. Before he went out and anchored SportsCenter alongside Stuart Scott, who wore a bright yellow bow tie.
As I said up top, if there was anything this night was missing, I sure couldn't detect it.
I guess I should send my wife some flowers now.  After all, Notre Dame plays at 8 p.m. on Saturday, a kickoff that coincides precisely with our anniversary dinner reservation