NFL Predictions Week 4: Predicting the Outcome of Each Game on the NFL Schedule
September 29, 2011
Adam Bettcher/Getty Images
Note: The quotes in this article are fictional.
Detroit @ Dallas (-3)
After a hard-fought 18-16 win over bitter rival Washington on Monday night, the Cowboys are 2-1 and share the NFC East lead. However, major injuries and an offensive line that endangers Tony Romo's life with regularity, portends the usual late-season slide in Dallas. The Cowboys host the Lions, who are 3-0 for the first time since 1980. Vegas oddsmakers have listed the Cowboys as three-point favorites.
"What's the over/under?" Jerry Jones asked. "'Achieve?' Anyway, let's not prematurely judge our offensive line. Most say their made of mesh; I say they've yet to mesh.
"The Lions are coming here with a load of confidence, but so did DeAngelo Hall last week. Hall said he was going after injured Cowboys. I think center Phil Costa did it for him, nailing Romo with a handful of bad snaps. Anyway, Hall had his chance to target injured Cowboys. When we meet in Washington, we'll 'injure targeted Redskins,' assuming Hall is still there."
The Lions have arguably the most feared offensive player in the league, Calvin Johnson, and the most feared defensive player, Ndamukong Suh.
"Rob Ryan will drive himself crazy devising a defense to stop Calvin," Jim Schwartz said. "Luckily, he's got plenty of hair to pull out in doing so.
"Suh has too much class to boast of his intentions to injure opposing players. But not too much to boast of his intentions to re-injure opposing players."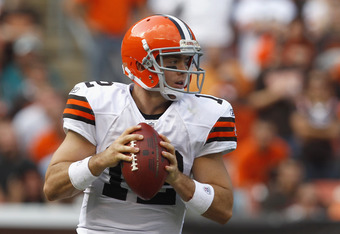 Matt Sullivan/Getty Images
The Cowboys can't stop Johnson or Suh. Matthew Stafford throws for 279 yards and three scores, and Suh forces a fumble and sacks Romo once.
Detroit wins 30-20.
Tennessee @ Cleveland (-1)
The Titans and Browns are tied for the lead in their respective divisions, each with 2-1 records. Tennessee has been living through the air with free-agent gem Matt Hasselbeck, but the Titans passing attack suffered a blow last week, losing Kenny Britt for the season due to a torn ACL.
"Chris Johnson is averaging just over two yards per carry," Matt Hasselbeck said. "And that's after signing a huge contract extension with $30 million guaranteed. $30 million says he needs to earn his 'keep.' He's yet to break 100 yards rushing for a game, or the season. His pay may be measured with commas, but his contributions are measured with decimals.
"But I see 195 yards and two touchdowns ahead for Chris. Hopefully, he'll put up those numbers on Sunday, and not in the next three games."
Colt McCoy led the Browns on the game-winning touchdown drive last week, as his 14-yard touchdown strike to Mohamed Massaquoi gave Cleveland a 17-16 won over Miami.
"Eli Manning may think he's in a class with Tom Brady," McCoy said. "I like to consider myself in the same class with Peyton Manning—we're both the only Colt on our respective teams worth a damn."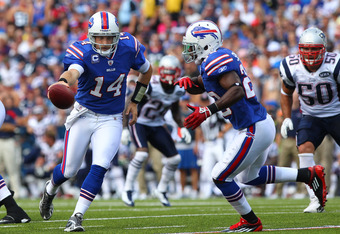 Tom Szczerbowski/Getty Images
Tennessee wins 20-17.
Buffalo @ Cincinnati (+3)
The Bills erased a 21-0 deficit last week in a 34-31 win over the Patriots, as the Bills intercepted Tom Brady four times and racked up 448 yards on offense. Buffalo will put their undefeated record on the line in Cincinnati against the 1-2 Bengals.
"This has to be one of the biggest Bills victories over an AFC opponent in history," Ryan Fitzpatrick said. "Of course, the Bills have never had trouble with the AFC; it's the NFC that's a bitch."
The big news in Cincinnati is not football, nor Carson Palmer's whereabouts, nor Pete Rose's ever-devaluing autograph, but the eight pounds of marijuana found in wide receiver Jerome Simpson's home two weeks ago.
"A Bengal accused of a serious crime?" Marvin Lewis said. "Normally, here in Cincinnati, we reply to that by saying 'No big deal.' We can't in this situation. That's a pretty sizeable shipment. Jerome should know never to accept a package with the return address titled 'Nate Newton.'
"The real question is this. How did the feds know a shipment of marijuana was headed for Simpson's home? Obviously, they did a much better job of 'scouting' Jerome than we did."
Cincy jumps out to a 10-0 lead, but the Bills storm back and take a commanding 26-17 win. Fitzpatrick overcomes an early interception to throw for 265 yards and two touchdowns.
Minnesota @ Kansas City (+1)
Hannah Foslien/Getty Images
It's a battle of winless teams as the Vikings head to Arrowhead Stadium to challenge the Chiefs, who were game in a 20-17 loss in San Diego after two blowout losses to open the season.
"We nearly stunned the Chargers," Todd Haley said, "when nearly everyone expected a blowout. It was a 'David vs. Goliath' contest; Sunday's game against the Vikes will be a 'David vs. David' moment. And if we don't win, it will be my ass in a sling. I'm not sure who's more worried about that—me, or Andrew Luck."
The Vikings blew a 20-0 lead to the Lions before falling 26-23 in overtime. It's the third time this season the Vikes have raced out to leads before being felled by second-half collapses.
"No one is more frustrated than I," Adrian Peterson said. "We're like a wallet—we fold in the middle. We build leads with the run, then lose it by not running. I had only five carries in the second half last week against the Lions. Even my dad knows that's not right. If this losing streak continues, you might see me leave for new city, even before the team does."
Peterson gets his wish, and his number is called 28 times for 164 yards and two scores. Ironically, the Vikings salt the win away with three Donovan McNabb rushes, who takes a knee three times as the clock runs out.
Minnesota wins 23-21.
San Francisco @ Philadelphia (-7)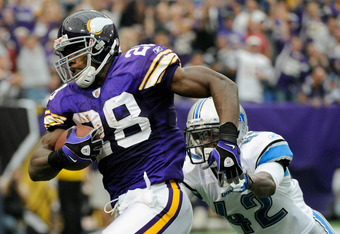 Hannah Foslien/Getty Images
Michael Vick suffered a severely bruised right hand in the Philadelphia's 29-16 loss last week to the Giants. Philly is now 1-2 in the NFC East, and Vick is listed as day-to-day.
"It's bruised and not broken," Andy Reid said. "Vick's right hand, and our collective egos. Michael's right hand is pretty painful now. He can't use it to pick up anything. Vince Young has a hand injury as well—he can't grasp the offense. Michael can't point with his right hand either. That's a good thing, because the last two things he pointed a finger at, a scoreboard and an official, came back to haunt him."
The 49ers lead the NFC West with a 2-1 record after a gutsy 13-8 road win in Cincinnati.
"We're preparing for Vick," Jim Harbaugh said. "I don't think Mike Kafka is quite ready for a start. Like Vick, no one is sure about his right hand."
Reid gives Vick a game plan he can "live" with, one that features lots of handoffs and screen passes to LeSean McCoy. The officials give the 49ers a message that cheap hits on Vick won't be tolerated, and hammer it home by penalizing Patrick Willis for roughing the passer during the coin toss when he sneezes in the direction of Vick.
McCoy racks up 185 yards from scrimmage, and the Eagles sack Alex Smith three times.
Philadelphia wins 27-21.
Washington @ St. Louis (+1)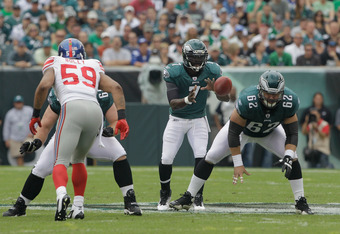 Rob Carr/Getty Images
The Redskins suffered their first loss with an 18-16 defeat to the Cowboys on Monday night. It was a painful defeat, and one that sent DeAngelo Hall into a post-game tirade in which he criticized officials and his own defensive coordinator Jim Haslett.
"There's only thing more open than a receiver Hall is covering," Haslett said, "and that's his mouth. He's the only receiver that can get burned in press coverage, then get burned by press coverage."
The struggling Rams are 0-3 and have been outscored 96-36 so far this year. The Redskins are the Rams third NFC East opponent so far this year. It's been a brutal early-season schedule, and a win would allow the Rams to enter Week 5 with a 1-3 record.
"It's no time to panic," Steve Spagnuolo said. "We've yet to play a single NFC West opponent. When we do, you'll see our win total rise, and our strength of schedule rating plummet. That's a sacrifice we're willing to make."
Washington wins 19-17.
Jay Cutler has been sacked 14 times this year, more than any other quarterback in the NFL. After taking six sacks and numerous hits in a Week 2 loss in New Orleans, Cutler said he didn't thing he could "last" an entire season.
"Who knows?" Cutler said. "Maybe our offensive line will magically improve. If that happens, you can call us the 'Ta Da Bears.' That's not likely. I'm aching, and unless there are some changes, I see myself being unable to take any more on January 22nd, 2012, right around halftime of the NFC championship game."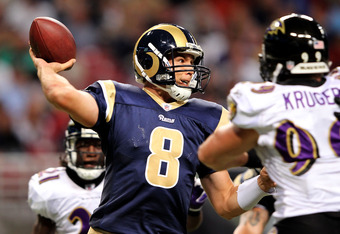 Jamie Squire/Getty Images
Carolina rookie quarterback Cam Newton will face a determined Bears defense anchored by former Panther Julius Peppers. Peppers has only two sacks this year, and will be looking for more against Newton.
"I don't go down as easily as Cutler," Newton said. "And I certainly won't back down from Peppers. My size and elusiveness will render him useless. Just call me the 'Julius Cease-r.'"
Chicago wins 27-17.
The Saints won a shootout last week, dropping the Texans 40-33 in New Orleans to improve to 2-1 and maintain a share of the NFC South lead with Tampa Bay. After two wins on the Superdome's artificial turf, the Saints will try to keep their high-speed attack clicking on the natural grass of Jacksonville's Everbank Field.
"I love grass just as much as the next Cincinnati Bengal," Sean Payton said. "And I'm sure it was shipped to Jacksonville in six-pound increments. There's nothing suspicious about that. There is, however, something suspicious about our defense. We're giving up 29 points per game, which is third worst in the league. Luckily, there's a quick remedy for that—calling your defense 'opportunistic.'"
The Jags will start rookie Blaine Gabbert against the Saints, and he will likely see a number of different looks from New Orleans defensive coordinator Gregg Williams.
"Indeed," Jack Del Rio said. "I expect the Saints to negate our run game and force Gabbert to throw. I think we're likely to see the 'Triple D' defense, which stands for 'Discounted Dozen Of Donuts,' because there's '11 in the box.'"
New Orleans wins 29-17.
Pittsburgh @ Houston (-3)
The 2-1 Steelers, coming off a 23-20 win in Indianapolis last week, travel to Reliant Field to face the 2-1 Texans. Houston's defense faltered in a 40-33 loss last week in New Orleans, as Drew Brees torched them for 370 yards and two touchdowns.
"So, the Steelers are making a stop in Houston?" Gary Kubiak said. "That may very well be the only 'stop' made in Houston. It's games like this in which you really find out what you're made of. We've made of lots of things, too much of that being Neil Rackers' right leg. Rackers kicked four field goals of 36 yards or less, meaning we have red zone deficiencies.
The Steelers overcame three Ben Roethlisberger turnovers to beat the Colts 23-20 in Indianapolis. Pittsburgh's defense held the Colts to 241 yards total offense, and Dick Labeau's unit appears to have steadied itself after Week 1's shaky start in Baltimore.
"Where my defense is concerned," Labeau said, "it doesn't take a locked bathroom for Roethlisberger to put us in a 'bad position.' We can usually get out of it without a fight, though."
The Steelers bring the pressure to Matt Schaub, forcing quick throws and general sense of confusion. On offense, Roethlisberger protects the ball, and Rashard Mendenhall rushes for a clock-controlling 136 yards on 24 carries.
Pittsburgh wins 31-26.
Atlanta @ Seattle (+4)
What's wrong with the Falcons? Atlanta is 1-2 after a 16-13 loss in Tampa Bay, a loss in which the Bucs shut down the Falcon running game and cut loose on Matt Ryan, sacking him four times and forcing two fumbles and an interception.
"Ryan's personality may function properly in one dimension," Mike Smith said, "but not our offense. When Matt is forced to put it all on his shoulders, he slumps."
The Seahawks edged the Cardinals last week 13-10 to capture their first win of the season. An upset victory over the Falcons would even Seattle's record at 2-2.
"That's a winning percentage of .500," Pete Carroll said. "That would win you the NFC West, with change to spare."
It's evident that it's going to be a long year for the Seahawks, and some are already predicting Carroll's demise. Some even call him Pete "Gone By Christmas" Carroll. The Falcons don't help his cause. Atlanta comes out smoking on offense and defense, and before Carroll can blink, or beg for leniency, it's 20-0.
Falcons win 30-10.
NY Giants @ Arizona (+3)
The Giants remained firmly, and honestly, on their feet in a commanding 29-16 win in Philadelphia. The win put the G-Men in a three-way tie for first in the NFC East.
"The Eagles thought they were 'Giant killers,'" Eli Manning said. "The rest of the league thought we were 'Giant keelers.' Only the Giants can 'take a dive' and still win. However, there's no truth to the rumor that we're looking to make a trade for Tampa Bay center Jeff Faine."
The Cardinals hope to end a two-game losing streak with a big home win against the Giants.
"We're ready for the Giants," Darnell Dockett said. "We've done our homework and watched a lot of film, mostly the 1993 crime-drama Falling Down. You know me well enough to know that if I see a New York player fake an injury, I'll take drastic measures—I'll Tweet about it."
The G-Men were psychologically ready to knock off the Eagles. That's no big surprise, because of team known for faking injuries should, of course, be able to "get up" for a game. But can the Giants avoid a letdown? The answer is "no."
Larry Fitzgerald is unstoppable, with eight catches for 132 yards and a touchdown.
Arizona wins 24-21.
Denver @ Green Bay (-13)
After another mediocre outing from Kyle Orton, John Fox is again faced with questions at quarterback, and the rantings of Denver fans who extol the virtues of his "Mile Highness," Tim Tebow.
"There's only one thing that would make me consider starting Tebow," Fox said. "And that's Kyle Orton. But do I have anything to gain by starting Tebow? Is there really a difference between shouting 'For heaven's sake!' or exclaiming 'What the hell?!' Unfortunately, I fear, it's a 'no win' situation."
After completely negating Chicago's rush attack in last week's 27-17 win in Chicago, the Packers may not have to work quite as hard to shut down Denver's 27th-ranked running attack.
"We won't discount Denver's running game," Clay Matthews said. "We'll just ignore it. Do we fear Orton at quarterback? No. Tebow behind center? He's also behind Brady Quinn. Tebow may be first in the hearts of Broncos fans, but he's third on the depth chart."
Matthews and company rough up Orton and Aaron Rodgers gives Orton a lesson he'll never forget. That lesson is this: If you are a real NFL quarterback, no one should even know who your second-string, much less third-string, quarterback is.
Green Bay wins 28-14.
Miami @ San Diego (-9)
The Dolphins are 0-3 and head coach Tony Sparano is feeling the heat. With the Chargers up next, followed by a road game at the Jets after a bye week, wins certainly won't come easy.
"Things may be bleak for me in Miami," Tony Sparano said, "but at least the weather is nice. I'm walking on sunshine, but standing on a mixture of thin ice and eggshells. Obviously, Reggie Bush hasn't brought the big-play capability we thought he would. Right now, trading Bush for a pizza doesn't seem like such a bad idea."
Once again, the Chargers dominated nearly every statistical category, but only managed to trim the winless Chiefs 20-17 in San Diego's home opener last week.
"We know how to play down to our competition," Norv Turner said. "On paper, we should be the NFL's best team. But that statement's not worth the paper it's written on."
Chargers win 23-17.
New England @ Oakland (+4 1/2)
Last week saw a shakeup in the AFC East, as the undefeated Patriots and Jets both lost, courtesy of the Bills and Raiders. Tom Brady threw four interceptions as the Pats lost a 21-0 lead and fell 34-31.
"I believe even Tedi Bruschi would be in awe," Tom Brady said, "of how bad I was in the second half against the Bills.
I have a soft spot for the Raiders, because without them, I would have never been forced into that infamous situation back in the winter of 2002 that forever changed the path of my career, as well as the landscape of NFL rules that unfairly favor quarterbacks. I also feel a deep spiritual connection with Sebastian Janikowski. How so, you ask? Well, we're both fond a telling fans to 'drink this.' There's one way we're different, though. My fans don't wake up with me."
The Raiders ran all over the Jets last week in a 34-24 win, rushing for 234 yards. They'll try to do the same against a Patriots defense that has shown vulnerability this season.
"I like our chances," Hue Jackson said, "barring snow and an obscure NFL rule that makes sense in theory but not in practice."
The Raiders hit the field at O.co Coliseum with their jerseys out in protest, in clear violation of the NFL's "tuck" rule. Brady takes the jab in stride, and Rob Gronkowski takes Brady's first touchdown pass in stride as well.
New England wins 34-24.
NY Jets @ Baltimore (-3 1/2)
The 2-1 Ravens host the 2-1 Jets in a battle that is certain to be the hard-hitting, physical affair one would expect from two teams that claim to be the NFL's hardest-hitting and physical team. Sandwiched between a loss in Tennessee were two blowout wins in which the Ravens outscored their opponents by a combined 72-14 score.
"Unlike a game involving another New York team that will remain nameless," Ray Lewis said, "there will be no need to fake injuries in this one."
The Jets were battered in last week's 34-24 loss in Oakland. Antonio Cromartie suffered a bruised kidney, and Mark Sanchez's nose was broken.
"How dare Joe Namath question my team's preparation," Rex Ryan said. "Namath should know a well-oiled machine when he sees one. I guarantee he'll regret making that statement. And one of these days, one of my guarantees will actually come true."
The Ravens stifle the banged-up Jets, and Ray Rice scores twice to lead the Ravens.
Baltimore wins 22-16.
Indianapolis @ Tampa Bay (-10)
The Colts look to avoid becoming the first team this year to lose a game on two different days of the week as they travel to Tampa for Monday night's prime time contest against the Bucs. As has been proven often this year, Peyton Manning's importance to the team is inversely proportionate to the suckiness of his backup. Kerry Collins and Curtis Painter were both ineffective in a 23-20 loss to the Steelers last week.
"I'm over the feeling sorry for myself stage," Peyton Manning said. "Now, I just feel sorry for the Colts. Whether viewing from the sidelines or watching from a booth, I want to put my head down. Collins sustained a concussion last week, and most Colts fans hope he 'sustains' it for at least another week."
There's no Peyton Manning to lead the Colts back from a 21-0 fourth quarter deficit. Nor is there a Peyton Manning available to lead Indy back from a 21-0 first-quarter deficit. There's only Curtis Painter, who's starting because Collins "Paint'ed" the Colts into a corner.
Tampa Bay wins 27-13.