MLB Playoffs 2011: A Look at Each of Baseball's Divisional Series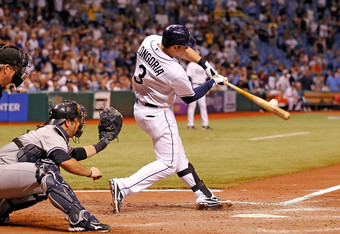 J. Meric/Getty Images
Well, this should be fun.
Evan Longoria of the Tampa Bay Rays capped the most exciting single night in baseball history Wednesday, launching his second home run of the game in the bottom of the 12th inning to beat the New York Yankees and win the AL Wild Card. Before that, the Boston Red Sox blew a ninth-inning lead; the Atlanta Braves did too, and lost in 13 innings; and the St. Louis Cardinals complete a huge comeback with a convincing win over the lowly Houston Astros.
Where does it all leave us? Without even needing a one-game tiebreaker—let alone two—we have seen the first-round playoff matchups in each league fall into place. Longoria's Rays will face the Texas Rangers in one ALDS, while the Detroit Tigers will square off with the Yankees in the other.

On the senior circuit, the Cardinals will have to maintain balance despite all the excitement of Wednesday, as they have the unenviable duty to face the Philadelphi Phillies in one NLDS. The Arizona Diamondbacks and Milwaukee Brewers will contest the other.
Each match-up has all kinds of interesting subtexts, intriguing individual showdowns and major questions. Will injured Cards outfielder Matt Holliday be ready for the first game of the NLDS on Saturday? Who will get the ball in Game 1 for the Rays in Texas? For answers to those and a hundred other questions about these divisional series, check back here often.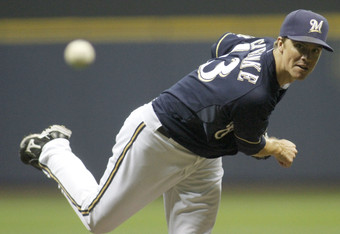 Christian Petersen/Getty Images
Conventional baseball wisdom says that a team needs balance and depth to win a division over 162 games. The Milwaukee Brewers and Arizona Diamondbacks defy that axiom. Justin Upton, Ryan Braun, Prince Fielder and the rest ran roughshod over naysayers and analysts who advocate a much more measured approach to the game all year.

In Milwaukee, it began with Braun, Fielder, Rickie Weeks and Yovani Gallardo. Last winter, GM Doug Melvin saw an opportunity. The core of a winning team was in place already, but the Brewers lacked the pitching strength to seriously contend. Melvin could easily have waited out that problem, hoping to build from within (as is so much in vogue) and replace Prince Fielder by racking up draft picks and developing stud prospects like Lorenzo Cain, Jake Odorizzi and Brett Lawrie.

He chose another path. Melvin dealt Odorizzi, Cain, Lawrie and incumbent shortstop Alcides Escobar for Shaun Marcum of Toronto and Zack Greinke of Kansas City. In so doing, he shoved his chips to the middle of the felt and wagered his team's future on one season with Fielder, Braun and the three aces at the heart of the team.

It was a gambit, a major risk, but it has paid off big-time. Though the Brewers started two of the league's worst regular players in third baseman Casey McGehee and shortstop Yuniesky Betancourt, they overcame their lack of depth through the sheer excellence of their top 10 players.

The Diamondbacks took a slightly less tenuous risk, but managed to turn around their club even faster than Milwaukee. New GM Kevin Towers took over late last fall, and immediately set a few priorities. He would strive to improve a league-worst bullpen, shed some strikeout-prone hitters from a team that fanned too much in 2010 and allow their natural defensive improvements to do the rest.

Ian Kennedy and Daniel Hudson were already in place for Towers; so were Justin Upton and Stephen Drew. Yet the team so lacked depth that they seemed no match for any team in the NL West, save perhaps the Padres.

Quietly, though, Arizona made some key moves. J.J. Putz came aboard as closer. In a trade that shed Mark Reynolds' iffy contract and terrible defense, they got David Hernandez to set up. Suddenly, though not deep, the Diamondbacks had enough top-tier talent at high-leverage spots to contend. From there, Chris Young's big season, Miguel Motnero's emergence behind the plate and Gerardo Parra's move to the top of the lineup took care of things.

Two teams, two paths, but the Brewers and D'Backs both arrived in this year's NLDS by throwing caution to the wind and going for it. Both success stories are profoundly impressive.
This article is
What is the duplicate article?
Why is this article offensive?
Where is this article plagiarized from?
Why is this article poorly edited?
Patrick McDermott/Getty Images
Chris Carpenter carved up the Houston Astros Wednesday night, helping the St. Louis Cardinals sew up the National League Wild Card with a complete-game shutout. Hunter Pence's bloop single beat the Atlanta braves and made the Cardinals champions. Now, though, The Phillies and Cards face off in the NLDS beginning Saturday. Here is a position-by-position breakdown of this tussle.
Catcher: Yadier Molina vs. Carlos Ruiz
Ruiz is basically cut from Molina's cloth, a defense-first catcher who has learned to hit as he has matured. Both men focus on shutting down the running game and handling their pitching staffs just so, but each has emerged as an offensive asset, as well. Molina's ability to make consistent contact and his 14 homers vaulted him past Ruiz in that regard this year, though Chooch posted a sparkling .373 OBP. Because he seems to be invaluable to the Phils' elite rotation, and because OBP is better to have than slugging skills in a short series, Ruiz gets the edge here.
First Base: Albert Pujols vs. Ryan Howard
Pujols' strong finish almost erased the worst month of his career, which came in April. He finished with 37 homers, had a .907 OPS and continued to provide improbable value both afield and on the bases. Howard continues his trek toward being the most overrated player in baseball. Pujols might be literally three times the player Howard is at this stage.
Second Base: Skip Schumaker vs. Chase Utley
As lopsided as the match-up is at first base in favor of the Cardinals, it's at least as big a gap between Utley and Schumaker, Utley is a better hitter, even as he fades a bit from the glory of his best years, and he is a glove wizard at second base. Schumaker doesn't even belong on the infield.
Third Base: David Freese vs. Placido Polanco
Offensively, it's not close. Freese is a much better hitter, and might be better than Polanco ever was at the plate. In the field, though, Freese is fairly immobile, and while he has good hands and an accurate arm, nothing suggests he can be more than average with the leather. Polanco, by contrast, is among the game's best defenders at the position. He earns the narrow edge.
Shortstop: Rafael Furcal vs. Jimmy Rollins
Furcal missed the final series of the season with a hamstring problem, but figures to be back by the time the two teams actually lock horns on Saturday. He has flashed some interesting power and has always had the rocket arm from the hole.
That said, Rollins runs away with this one. He is Furcal three years ago, a lithe defender with a strong arm but also an on-base and power threat. Moreover, Rollins is playing for a free-agent payday.
Left Field: Matt Holliday/Allen Craig vs. Raul Ibanez
Even if Holliday is back in time for Game 1 after missing sporadic time down the stretch, his hand injury seems to be a chronic problem and he may need to rest once or twice during the series. Luckily, then, the Cardinals have the very capable Allen Craig to back him up.
Ibanez's bat has rebounded a bit from his horrific start to the season, but at age 40, he is clearly far beyond his utility in the field, and will cost the Phillies a run or two even if the series runs only three or four games.
Center Field: Jon Jay vs. Shane Victorino
Assuming good health, Victorino is the clear winner in center field. He earned early MVP consideration before missing time and slumping a bit with a sore back late in the year. It doesn't look like he will be hindered at all by the injury going forward, so Jay is overmatched in this pairing.
Right Field: Lance Berkman vs. Hunter Pence
This is an interesting case: Berkman was one of the league's three or four best hitters this season, but on the other hand, is a miserable defender. Pence is great in right, but his swing is so sweeping and awkward that the specter of an ill-timed slump cannot be ignored. One thing is clear: Neither team would be as well off without their big right-field acquisition. On the strength of his stick, Berkman gets a very small advantage here.
This article is
What is the duplicate article?
Why is this article offensive?
Where is this article plagiarized from?
Why is this article poorly edited?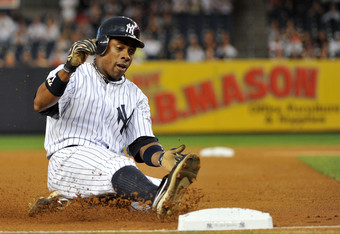 Leon Halip/Getty Images
In December 2009, the Detroit Tigers were in trouble. Fiscally, even generous owner Mike Ilitch could no longer justify retaining all of the expensive talent on the Tigers' roster. The team had just lost a heart-breaking tiebreaker to the Minnesota Twins, missing out on the playoffs despite a $115-million payroll. Justin Verlander had made just $3.67 million in 2009, but was in line to double or even triple that figure in arbitration. Detroit needed to move someone, and the whole world knew it.
The move they made, though, was ground-shaking. In a three-team deal with the New York Yankees and Arizona Diamondbacks, the Tigers effectively dealt Edwin Jackson and Curtis Granderson for Daniel Schlereth, Max Scherzer, Austin Jackson and Phil Coke. The Yankees got Granderson. The Diamondbacks got Edwin Jackson, plus Ian Kennedy from the Yankees.
Immediately, the trade created waves. Detroit had saved huge money on the deal, as Scherzer, Jackson, Coke and Schlereth all were minimum-salary players in 2010 and 2011. They had also taken a huge risk, trading star-caliber talents for rookies at two crucial positions. The Yankees were roundly praised for getting Granderson. Arizona was panned for their confidence in two pitchers many did not much like.
Twenty-two months later, the trade is the reason the Yankees and Tigers find themselves in their respective positions, having won their divisions and squaring off in the ALDS. The trade allowed Detroit to extend Justin Verlander, who has become arguably the best pitcher in the American League. It gave the Yankees their starting center fielder, and this season, Granderson swatted 41 home runs without which the New York offense would not have been especially threatening with Alex Rodriguez fading and injured.
Detroit has gotten inconsistent work from Max Scherzer, but his 174:56 strikeout-to-walk ratio on the year demonstrates the potential he has, and the quality of his stuff. Since being sent back to the bullpen in July, Coke has a 3.41 ERA and 32 strikeouts in 31.2 innings for Detroit. Austin Jackson has played all but 20 games for the Tigers over the past two seasons, providing shining defense in center field and some punch atop the batting order.
The trade has worked out for Arizona as well. Kennedy blossomed into an ace, and after the Diamondbacks traded Jackson for Daniel Hudson last summer, Hudson joined Kennedy at the front of what is now a division-winning rotation. Detroit has continued to spend money, but thanks to the contributions of several players making the league minimum, they are now ready to face the Yankees--and erstwhile teammate Granderson--with a lot on the line.
This article is
What is the duplicate article?
Why is this article offensive?
Where is this article plagiarized from?
Why is this article poorly edited?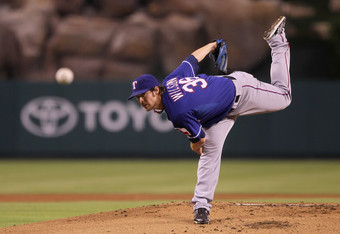 J. Meric/Getty Images
Cliff Lee may no longer be around, but the Tampa Bay Rays and Texas Rangers rate as two of the three deepest pitching clubs in the postseason, and their ALDS clash will be all about moundsmen. Some mystery surrounds the Rays' Game 1 starter, but in general, we know that each game will be well-pitched from beginning to end, and that the contests should be close. Here's a rundown of each potential match-up.
Game 1: C.J. Wilson vs. TBD
That the Rays do not yet know who they will start in the series opener tells you all you need to know. Even is they bring back James Shields on short rest, the Rangers have a marked advantage in this first contest. Logically, the Rays ought to send Wade Davis or Jeff Niemann and save Shields for Game 2. The Rangers will win Game 1, but the Rays will have set themselves up for the next game.
Game 2: Derek Holland vs. James Shields
Assuming manager Joe Maddon reserves Shields for the second game of the set, the Rays have the advantage here. A very right-heavy Tampa lineup should not struggle to figure out Derek Holland. That marks another important difference between this series and last year's. Texas's best pitchers are still left-handed, but because of the departures of lefties Crawford and Pena, the Rays no longer fear southpaw starters.
Game 3: Colby Lewis vs. David Price
Pitching at Tropicana Field twice last year, and losing twice to Lee, Price is used to the pressures of playoff home games. He needs to turn the corner now. While the Rangers--with Napoli, Michael Young, Adrian Beltre, Ian Kinsler and Nelson Cruz--have a vicious set of right-handed sluggers, Price has a curveball capable of neutralizing those players to a degree. Last season, Price threw far too many fastballs to Rangers hitters and got rocked. This year, he should be able to beat Colby Lewis and give Tampa the 2-1 series lead.
Game 4: C.J. Wilson vs. Jeremy Hellickson
Hellickson might well win Rookie of the Year honors in the AL, and deservedly so, but he does not match up well with Texas. His arsenal doesn't include a single pitch that can flummox hitters as good as those listed above, let alone Josh Hamilton. Wilson would probably pitch on short rest in this scenario, with Texas on the brink of elimination, and the Rangers should be able to send the series back to Arlington for a fifth game.
Game 5: Matt Harrison vs. James Shields
Up until now, I have framed the games mostly as matched between starting pitchers and batting orders, and of course, those are huge components of what's going on. There is another element in play, though, and it could become relevant in Games 4 and 5 of this series. Both teams have very good, but very different bullpens.
Texas has Neftali Feliz at closer, and proven veterans Mike Adams and Koji Uehara setting him up. Presumably, they will also have access to Alexi Ogando in relief once they shorten their rotation, and Mike Gonzalez can face left-handed hitters as needed. Those guys all have some skins on the wall. Each is proven, if in different ways and varying degrees. Beyond them, though, Texas's relief corps is thin.
Tampa Bay is in the opposite position. Kyle Farnsworth, it's true, is an established veteran, but many of the best pitchers in Tampa's bullpen are very young hurlers like Matt Moore and Jake McGee. If Joe Maddon can find ways to use those assets creatively even as rosters shrink back to 25 for October, the Rays can eke out a win. If not, Texas will take its loaded back end to the ALCS with some extra swagger.
This article is
What is the duplicate article?
Why is this article offensive?
Where is this article plagiarized from?
Why is this article poorly edited?
J. Meric/Getty Images
Mike Napoli swatted two home runs Wednesday night to secure for the Texas Rangers the right to host the winner of the AL Wild Card in the ALDs beginning Friday. At the time, the Rangers did not even know who that would be, although Evan Longoria of the Tampa Bay Rays answered that question with an extra-inning, walkoff home run.
Napoli is new this season, but for many of the Texas Rangers, this ALDS will feel a bit familiar. It was only last October, after all, that the Rangers took a thrilling five-game division series from the Rays en route to their first-ever appearance in the World Series. That series might have actually pitted the two best teams in baseball against one another, and this year, it has a similar feel.
The difference outweigh the similarities here, though. For one thing, many of the most important players in last year's series are no longer on either roster. That 2010 series featured dominant pitching from Cliff Lee for the Rangers; Lee is now with Philadelphia. It featured big hits from Carl Crawford and Carlos Pena for Tampa Bay. Crawford is now with Boston, Pena a Chicago Cub. Vladimir Guerrero, Rafael Soriano and Joaquin Benoit are scattered throughout the American League.
The series also has less flavor of preparation and destiny than did last season's. Whereas Lee and David Price faced off in both Game 1 and Game 5 of last year's series, Price will not pitch until Game 3 of this set thanks to the Rays' desperation run to win the Wild Card on the final day. Tampa hosted that series as the AL East champion and owner of the league's best record, but visit Texas for Game 1 and 2 of this one.
Still, many of the elements that made last season's barn-burning series great will be there again this year. Elvis Andrus's brilliant base-running helped fell the Rays last year, and Andrus will look to exploit an even less experienced Rays infield this time around. Meanwhile, Tampa retains the special rotational depth that allowed them to win two games in Texas and push the series back to Tropicana Field for Game 5 last year. Expect another hard-fought series, with a battle-weary but confident Rays team taking on a Rangers squad that is better on paper but has struggled in stretches this year.
This article is
What is the duplicate article?
Why is this article offensive?
Where is this article plagiarized from?
Why is this article poorly edited?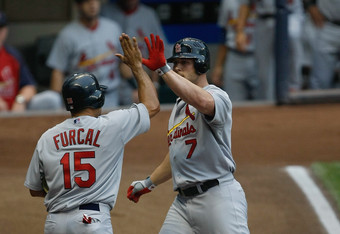 Patrick McDermott/Getty Images
As the St. Louis Cardinals charged down the stretch and snagged the NL Wild Card, they did so with only intermittent help from their superstar left fielder, Matt Holliday. Holliday and shortstop Rafael Furcal did not even participate in the final regular-season game that (eventually) clinched a playoff berth for St. Louis.
The status of each for the NLDS opener against the Philadelphia Phillies on Saturday remain somewhat up in the air. In an interview on ESPN Wednesday night, manager Tony La Russa intimated that Furcal might or might not have been available for a potential tiebreaker on Thursday, but that Holliday would not have been available.
Furcal will almost certainly be ready on Saturday, though his balky hamstring could require St. Louis to pinch-run for him later in games throughout the playoffs. The shortstop has batted .255/.316/.418 with seven home runs since being dealt to the Cardinals on July 31. Ryan Theriot is a serviceable backup, so the Cards can survive without Furcal, but they will be much better off--especially in terms of matchups, since Furcal is a switch-hitter--if they get him back right away.
As for Holliday, his hand injury seems to be unpredictable and difficult to treat. Tendon inflammation in his right hand held him out for about 10 days this month, nearly short-circuiting the Cards' playoff chase, and just four days after returning from it, he felt more pain there.
He will receive treatment over the next two days, and if the discomfort subsides he could well be ready for Game 1. Obviously, though, this figures to come and go for as long as the Cardinals play into October, and it could cost them their second-best hitter at some critical junctures. Here again, St. Louis' depth serves them well, as Allen Craig (.917 OPS in 219 plate appearances in the regular year) makes a fine replacement unless and until Holliday returns.
All that said, the Phillies are favorites in this series for a reason. They enter the playoffs rested and healthy, and the only significant player fighting an injury--Shane Victorino, whose back is an issue--seems to be doing well. Victorino's back "is not at 100 percent," according to Charlie Manuel, but he was able to pinch-hit Wednesday, and after three days of rest, he should be fully healthy for the playoffs.
This article is
What is the duplicate article?
Why is this article offensive?
Where is this article plagiarized from?
Why is this article poorly edited?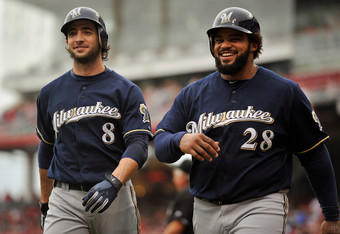 Christian Petersen/Getty Images
The Arizona Diamondbacks finished their regular season in style Wednesday when Ryan Roberts launched a walk-off grand slam in extra innings. It wasn't enough, though, as the Milwaukee Brewers won as well and clinched a home playoff series. Arizona will now visit the Brewers Saturday to begin what should be a thrilling series. Both teams play in stadiums with retractable roofs, but because the weather figures to compel it more often than not during the next week, expect to see mostly indoor baseball. Here are five more game-related things to expect in this series:
1. Ryan Braun will win a game by himself.
Matt Kemp deserves the NL MVP award, but if Braun wins, you will find no argument here. Not only has he come up with some big hits for the Brewers in the past (witness his clutch home runs in clinching games both this season and in 2008), but Braun's game gets more well-rounded by the day. He has made himself an accomplished fielder in left field, and as he matures at the plate, he has better at-bats every day. His .400 on-base percentage this season is more a revelation even than his 30-homer, 30-steal milestone. It says here he will carry his improvements right into October.
2. The Arizona bullpen will give away a game.
J.J. Putz, David Hernandez and the rest of the Diamondbacks' relief corps have been tremendous this year, but in the Brewers, they face one of the toughest and most relentless late-game offenses in baseball. Manager Kirk Gibson needs to make sure to use Joe Paterson judiciously, because he is the only southpaw on the team who can consistently get Prince Fielder out. Sooner or later, though, Milwaukee will get to this group and cause problems for the D'Backs.
3. Kirk Gibson will win a game for the Diamondbacks.
Managers with careers as long and accomplished as that of Gibson usually do not make great skippers. It can be hard to impart knowledge on struggling players when the game always came as naturally as it did to Gibson. Moreover, most of those guys end up with very old-fashioned, rigid approaches to strategy and gamesmanship.
Gibson breaks the mold. He will win the Manager of the Year award this year, and while he would have won even if he didn't deserve it, he clearly does. The Diamondbacks finished six games better than their Pythagorean projection (based on runs scored and runs allowed), and a huge part of the reason is Gibson's creativity and willingness to admit when he is wrong. After weeks of batting Gerardo Parra eighth, Gibson voluntarily wised up and moved the young left fielder--he of the .356 on-base percentage--up to the top two spots in the order down the stretch. His mental agility is impressive, and it will benefit Arizona at some point in this series.
4. Joe Saunders will take it on the chin.
One of the pleasant surprises that made this run possible, Saunders racked up over 200 innings for the Diamondbacks this year, tallying 12 wins and posting a sturdy 3.58 ERA. He's a fine mid-rotation southpaw, although it still makes no sense that Arizona dealt Dan Haren for Saunders and Tyler Skaggs.
The immediate problem with Saunders, though, is this: He does not miss bats. In 206 innings, he struck out only 106 batters all year. Only four pitchers threw even 160 innings and struck out a smaller percentage of their total batters faced. Saunders will not be able to punch out the Brewers, and once these guys get their bats to the baseball, the opposing pitcher is in trouble.
5. The Brewers will win in four games.
Arizona simply cannot match the Brewers' depth, and since the Brewers really aren't that deep, that is saying something. Milwaukee can run out three and a half good starting pitchers. The Diamondbacks have just two. Justin Upton might be the best player in the series, but then again, he might not be, and even if he is, the Brewers have the next four. If Stephen Drew were healthy, this would be a close call. As it stands, Milwaukee should win.
This article is
What is the duplicate article?
Why is this article offensive?
Where is this article plagiarized from?
Why is this article poorly edited?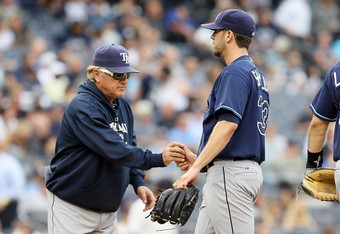 J. Meric/Getty Images
With David Price having pitched Wednesday night for the Tampa Bay Rays, he is on schedule to pitch Game 3 of their ALDS match-up with the Texas Rangers. James Shields pitched Monday, so on normal rest, he would go in Game 2 on Saturday. With that in mind, though, manager Joe Maddon has a decision to make: Should he ask Shields to go on three days' rest against C.J. Wilson in Game 1 Friday?
Usually, starters who go on three days in the playoffs do so when their team has its back to the wall, or just to shorten the rotation late in a series. It would be highly irregular for the Rays to start Shields on short rest in their first playoff contest.
It's not likely to happen: Maddon has always shown an inclination to trust all of his starters in postseason play. That was the drill last year, when he refused to bring Price back on three days' rest for Game 4 of the ALDS in Texas, despite Tampa trailing the series two games to one. Wade Davis rewarded Maddon's faith then, tossing five innings of two-run ball to earn a crucial win. Maddon figures to start either Davis or Jeff Niemann in Game 1, despite the difficult match-up that creates, knowing that the Rays would then have an advantage in a Derek Holland-Shields duel in Game 2.
Of Davis and Niemann, the better option might be Niemann. Although he gave up two runs in the first inning and got a very early hook in his last start September 24, Niemann has had a pretty good season. In 135 innings, he has 105 strikeouts and just 37 walks. Davis has 105 strikeouts, too, but in over 180 innings.
Pitchers who miss bats are better-suited to the playoffs than those who don't, especially when facing a team (like the Rangers) who can make you pay when they make contact. Niemann is the best choice; Davis is the most likely one; and Shields would be the most interesting. In any event, the Rays' pitching depth--not only in the rotation but in the bullpen--will help them overcome scheduling difficulties.
This article is
What is the duplicate article?
Why is this article offensive?
Where is this article plagiarized from?
Why is this article poorly edited?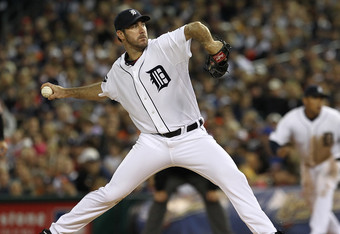 Jim McIsaac/Getty Images
Justin Verlander and CC Sabathia seem sure to finish first and second, respectively, in this year's AL Cy Young voting, and lo and behold, they face off in Game 1 of the ALDS Friday. Their duel will be the best pitching match-up in ALDS history, dating back to 1995.
Usually, one team or the other in a given playoff series will have had to use their best pitcher just to get there a few days earlier, and so the top aces rarely face off in playoff games. Just as often, teams without a premier pitcher in the first place reach the postseason, spoiling those match-ups. Not this time, though.
Only three other opening games approach the caliber of Verlander-Sabathia in ALDS play. In 2003, Pedro Martinez faced off with Tim Hudson in Game 1 between the Red Sox and Oakland Athletics. Martinez and Hudson finished third and fourth, respectively, in Cy Young balloting that season, but their ERAs (2.22 and 2.70) were even better than those of Verlander (2.40) and Sabathia (3.00).
In 2001, Roger Clemens (then with the Yankees) battled Mark Mulder in a Game 1 against Oakland. Clemens and Mulder finished as the top two in the voting that season, but in a year that lacked dominant hurlers. Clemens posted a 3.45 ERA; Mulder had a 3.51. Clemens' WHIP was 1.25; Verlander's this year was a stunning 0.92.
In 1999, it was Martinez for the Red Sox, facing Bartolo Colon of the Cleveland Indians. Martinez was as good then as ever in his career, and even Verlander is put to shame by the kind of dominance of which Pedro was capable back then. Only one meaningful thing goes in Verlander's favor in that match-up: He threw over 250 innings this season, some 38 more than Martinez amassed in 1999. Still, Pedro got every first-place vote that year for the Cy Young. Colon was good in 1999, but not good enough to make this match-up as appealing as Verlander-Sabathia. He posted an 18-5 record but a 3.95 ERA.
A note of caution: A pitchers' duel is not guaranteed here. Both lineups are very good, and both have been preparing with a good idea that they would be facing these two aces for a week or so. Still, it should be fun to see the two most dominant hurlers in the AL toe the rubber in playoff baseball.
This article is
What is the duplicate article?
Why is this article offensive?
Where is this article plagiarized from?
Why is this article poorly edited?