NFL Picks Week 4: Final Score Predictions for Each Game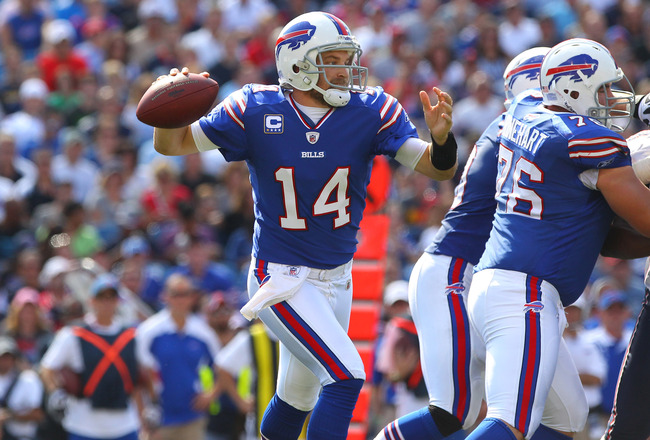 Tom Szczerbowski/Getty Images
Three years ago, I would have been laughed at for talking about the Buffalo Bills and Detroit Lions as the two hottest teams in football.
Because both teams are undefeated after solid matchups in Week 3, that is the reality we now live in.
That being said, the NFL has been severely shaken up because of the emergence of players like Matthew Stafford, Ryan Fitzpatrick, Peyton Hillis, Colt McCoy and Josh Freeman who all brought their teams to whole new levels with great leadership and exceptional play.
After three weeks of football, the NFL is down to only three undefeated teams—which means that many of the divisional races are still essentially up for grabs.
The question now is, how many undefeated teams will remain after Week 4?
Let's find out.
Detroit Lions at Dallas Cowboys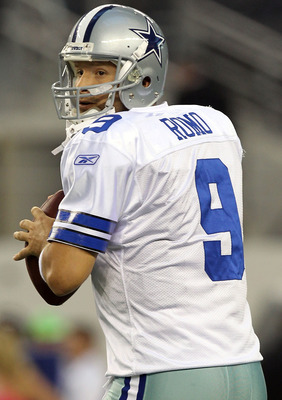 Ronald Martinez/Getty Images
Tony Romo should get the NFL's Iron Man award for leading his team to victory with a busted rib and a punctured lung. Questions of his toughness vanished with his performance as of late.
The 2-1 Dallas Cowboys are certainly moving in the right direction with new head coach Jason Garrett and defensive coordinator Rob Ryan. This staff has Dallas in contention to once again win their division and possibly make a run deep into the playoffs.
The Lions, like I said, are one of the NFL's hottest teams right now. After overcoming a 20 point deficit to the Minnesota Vikings, a healthy Matthew Stafford has redeemed this franchise.
This game will be one of the week's best matchups and could end up going down to the wire with how well both teams are playing.
I give the edge to Detroit in this game, simply because the Cowboys don't have any answer for Calvin Johnson defensively. The Cowboys defense isn't strong enough, at this point, to match the kind of momentum Detroit has going into this game.
That, in combination with the fact that Dallas failed to even get into the end zone in their last game, tells me that Detroit is just moving at a different pace.
Prediction: 28-17 Detroit
Carolina Panthers at Chicago Bears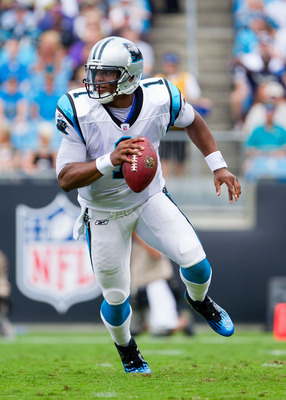 Brian A. Westerholt/Getty Images
After two of the best rookie QB weeks in NFL History, Cam Newton looks to be one of the NFL's next stars.
Newton finally lead the Carolina Panthers to their first win of the season over Jacksonville, after two disappointing losses in close games to Arizona and the Super Bowl Champion Green Bay Packers.
The Chicago Bears still have the talent to be a contender this season, they just need to pull it together and win their easy wins.
Unfortunately for the Bears, Cam Newton and Steve Smith are anything but an easy win—Aaron Rodgers knows that.
I like the Bears in this match up, though, because the injuries on the Panthers defense will allow the Bears to produce a lot more than they have in recent weeks. If the Bears defense can contain Carolina's two major play-makers, they should be able to walk away with a win in this game.
Prediction: 24-17 Chicago
Buffalo Bills at Cincinnati Bengals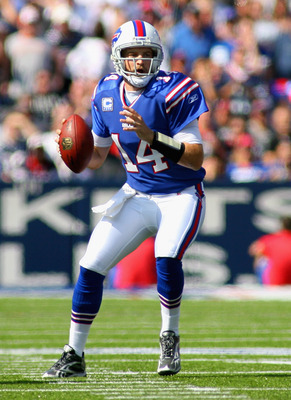 Rick Stewart/Getty Images
The Buffalo Bills shocked the NFL by picking off Tom Brady five times in one game and upset the New England Patriots.
Despite the doubts from almost every football analyst in the country, Ryan Fitzpatrick has proven to be one of the best leaders in the NFL this season by leading his team to an undefeated record through three games.
The Cincinnati Bengals, on the other hand, are still struggling with their 1-2 record behind rookie QB Andy Dalton. The Bengals have done some good things defensively, but on offense, the Bengals line has allowed seven sacks on Andy Dalton, which makes it difficult to maximize scoring potential.
The Bills have a pretty stout pass-rush and with Marcel Dareus plugging up the run game, a Cedric Benson-less Bengals team will look pretty one-dimensional—losing them this game, in my opinion.
Prediction: 34-17 Buffalo
Tennessee Titans at Cleveland Browns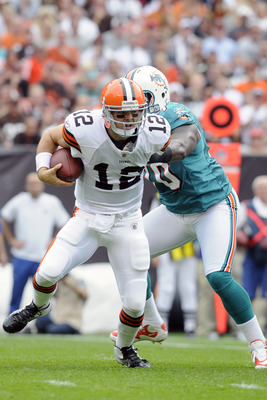 Jason Miller/Getty Images
Chris Johnson's play this season has been, well, embarrassing. After three games, Johnson is averaging 2.1 yards per carry and has no touchdowns—hardly the production expected of him after the massive contract extension he received before the season.
Despite Johnson's lack of production, the Titans are still sitting at a 2-1 record. The loss of top wideout Kenny Britt, however, could derail anything the Titans offense was doing through the air.
The Cleveland Browns, led by second year QB Colt McCoy, are also 2-1. The Browns have come a long way with the help of a sound run game through beastly back Peyton Hillis, who had a break-out season in 2010.
Despite being pretty statistically average across the board, the Browns have been able to hang on. They will, however, need to seriously step up their production if they want to take a shot at the playoffs.
With Chris Johnson playing like he should be, and a healthy Kenny Britt, there's no question in my mind that the Titans would win this matchup. Being that that's not quite the case, I'm taking the Browns in this game.
Prediction: 17-10 Cleveland
Minnesota Vikings at Kansas City Chiefs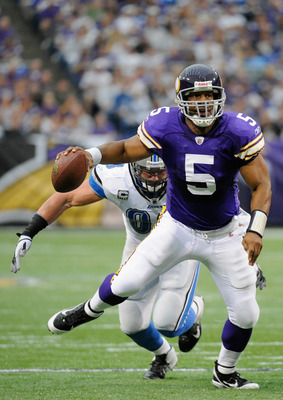 Hannah Foslien/Getty Images
The Vikings performance this season has been pathetic. In three consecutive games, the purple has led by a pretty substantial margin, and still managed to hand the game to whatever opponent they happened to be facing.
Though Donovan McNabb has been largely to blame for this, inconsistency from the receivers and the offensive line most contributed to the choking. That's not to mention the fact that OC Bill Musgrave is not willing to take any chances in the second half, which is making it difficult for the Vikings to convert on third downs and keep the defense off the field long enough to give them sufficient rest and hold on to the early leads.
The Chiefs, on the other hand, were my preseason favorite to win the AFC West. A strong defense led by Eric Berry, Brandon Flowers and Tamba Hali in combination with a very balanced offense with playmakers at nearly every position could have made the Chiefs one of the NFL's scariest teams.
Injuries plagued this team, taking away arguably their two best players: RB Jamaal Charles and SS Eric Berry. Without their two stars, the Chiefs have been getting dominated on both sides of the ball and are 0-3 just like the pathetic Vikings.
Because the Vikings have been so good in the first halves of games, I'm going to give them the edge in this matchup.
The Vikes defense is still top-notch, despite the blown leads. Matching up against a weaker defense than they've seen the last few weeks should give the Vikings somewhat of an advantage. Being that his job could be on the line at this point, I'm betting Bill Musgrave will get a little more liberal with his play call and allow the Vikings to be more versatile and productive offensively.
Prediction: 28-17 Minnesota
Washington Redskins at St. Louis Rams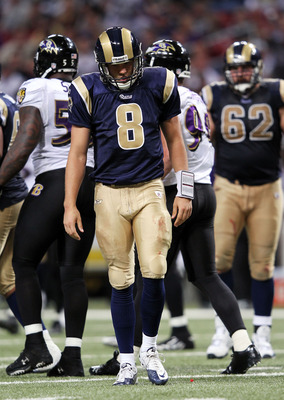 Jamie Squire/Getty Images
This season has been tough for Rams fans who saw a solid season under new franchise QB Sam Bradford in 2010, but are now 0-3 with not a lot of positivity to look at.
An injured Steven Jackson and an inexperienced group of wideouts has left Bradford without very many weapons offensively. A total of three touchdowns over three games will make it difficult to win games in the NFL as well. The Rams defense is decent, but not good enough to carry that team to any wins.
The Redskins have been pretty impressive this season, despite a close loss to Dallas last week.
Washington doesn't possess a franchise QB, per say, but they do have some weapons that can get the job done offensively.
On defense, the Skins held Tony Romo and the Cowboys out of the end zone the entire game, despite giving up the win. That certainly means, to me, that their defense is enough to keep them in the game. If the Redskins can figure out their passing game and stay consistent, they could contend for a wild card this season.
Prediction: 31-24 Washington
New Orleans Saints at Jacksonville Jaguars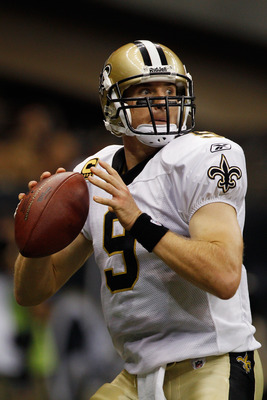 Chris Graythen/Getty Images
The New Orleans Saints are coming off an impressive win, 40-33 over the Houston Texans.
Star QB Drew Brees has already thrown for over 1000 yards this season and has also racked up nine touchdown passes. Despite such a dynamic passing game that has spread the ball around to five different receivers for touchdowns, the Saints run-game is virtually nonexistent.
A backfield comprised of first-round-pick Mark Ingram, veteran Pierre Thomas and Darren Sproles looked good through preseason, but fell far short of expectations once the season began.
The Saints defense is having a bit of a down year, already having given up 10 touchdowns to opposing offenses, however, their statistics are deceiving given the tough teams they've played so far this season.
The 1-2 Jacksonville Jaguars are struggling to produce offensively, as usual.Their ground game is as solid as ever with Maurice Jones-Drew carrying the ball, but their passing game continues to struggle with a rookie QB and no real No. 1 receiver.
In their previous matchup with the Carolina Panthers, the Jags gave rookie QB phenom Cam Newton his first NFL win—in the middle of a monsoon. The rain certainly had an effect on the game, but it was the least of Jacksonville's worries.
Inconsistent play on both sides of the ball will barely keep the Jags treading water in their division. Needless to say, New Orleans wins this game.
Prediction: 42-10 New Orleans
Pittsburgh Steelers at Houston Texans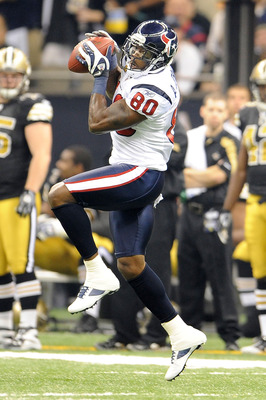 Stacy Revere/Getty Images
The matchup between the Steelers and Texans will be one of the more interesting games this week.
Both teams come into the game with a 2-1 record and a very solid chance at winning their respective divisions.
The Steelers haven't been very productive on offense, netting only six touchdowns so far this season. Their defense, however, has been playing well enough to make up for the offense's lack of production, only allowing six touchdowns.
The Texans, coming off a tough loss to New Orleans, will be looking to bounce back and show that their squad can be a mainstay for the AFC South, even after dropping a game to one of the league's better squads.
The Texans are a pretty balanced squad on both sides of the ball. QB Matt Shaub and WR Andre Johnson make up one of the best passing combo's in the NFL, while RB Arian Foster led the league in rushing yards only a season ago.
On defense, the Texans have players like DeMeco Ryans, Mario Williams, Brian Cushing and J.J. Watt who are all very capable of blowing up plays for opposing offenses. That being said, the Texans explosive defense should be able to create some havoc for Big Ben and the Steelers stagnant offense.
Prediction: 17-14 Houston
San Francisco 49ers at Philadelphia Eagles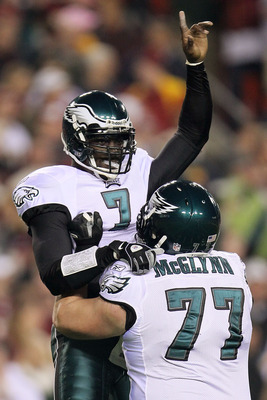 Chris McGrath/Getty Images
Despite being an early favorite for a Super Bowl berth, the Philadelphia Eagles are sitting at a 1-2 record going into Week 4.
The fact that Michael Vick has been getting roughed up so much is really starting to wear on this offense. With playmakers like DeSean Jackson and Jeremy Maclin on the outside, it's hard to believe that the Eagles run-game is their most productive aspect.
The Eagles defense has also struggled slightly, but for the most part has kept them in games. Either way, the Eagles need to start playing like the "Dream team" that Vince Young proclaimed them as, or they will miss the playoffs and have a lot of angry fans to answer to.
The 49ers are coming off a win against a very weak Cincinnati Bengals team. Despite their two wins, the 49ers offense has been severely unproductive and their offensive luck should run out soon enough—which could end up helping them get a little "Luck" for next season.
Though the Eagles are off to a slow start, they are simply in a different class than this deceivingly 2-1 49ers squad.
Prediction: 28-10 Philadelphia
New York Giants at Arizona Cardinals
Otto Greule Jr/Getty Images
Though the Cardinals finally brought in their free agent prize Kevin Kolb to be their franchise QB, the Arizona Cardinals are still off to a 1-2 start to the season. No need to panic, though, Cards fans. The weakest division in football is always a wild card for the playoff picture—specially because each team barely plays well enough to even earn a wildcard spot, let alone win a division.
Jokes aside, the Cardinals probably have the best shot at winning their division simply because of the Kolb-to-Fitzgerald connection that could be capable of producing some huge yards offensively.
The Giants are off to a 2-1 start, but Eli Manning is barely the "elite" QB that he thinks he is. Totaling under 800 passing yards so far this season, Manning is nowhere near the same class as greats like his brother and Tom Brady.
The Giants are coming off a huge win over arch-rival Philadelphia, but their offense hasn't been that consistent so far this season. They are, however, playing pretty well on defense, only allowing six touchdowns so far on the year.
If the Giants can keep Fitzgerald out of the equation, they will have no problem walking away with this win.
Prediction: 24-7 Arizona
Atlanta Falcons at Seattle Seahawks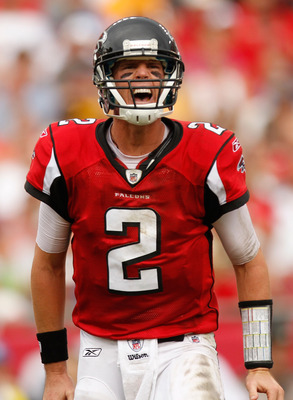 Mike Ehrmann/Getty Images
The Atlanta Falcons, another preseason Super Bowl favorite, are struggling a bit to start their season. The offense hinges on a passing game through QB Matt Ryan, set up by the run through dynamic back Michael Turner. Both players have struggled thus far, making it very difficult for Atlanta to keep up with their opposition.
While the Falcons have only scored seven offensive touchdowns, their defense has allowed a total of eight touchdowns. The Falcons defense has not been a weakness in recent years, but they just don't seem to be working out well together this season.
Seattle, who has the same 1-2 record as Atlanta, has been even less impressive offensively. Tarvaris Jackson's measly two touchdown passes have this Seahawks offense treading water—and starting to sink. It may be a good idea to switch to Charlie Whitehurst or trade for another option sometime soon.
Seattle's defense has given up more than double the touchdowns that their offense has produced. Having only given up seven touchdowns really isn't that bad, though. The Seahawks offense just needs to start pulling its own weight—which it won't if T-Jack is under center.
Prediction: 31-10 Atlanta
Miami Dolphins at San Diego Chargers
Stephen Dunn/Getty Images
The 0-3 Miami Dolphins are one of the NFL's few winless teams. The Fins haven't really produced offensively, only scoring a total of five touchdowns so far this season. With RB Daniel Thomas injured once again, it's hard to envision Miami having any more luck than they already have going for them.
Their defense, that now lacks star corner Vontae Davis, has struggled as well, already having given up nine touchdowns to opposing offenses. San Diego QB Philip Rivers is already nearing 1,000 yards on the season. With the way Miami's defense has played lately, it shouldn't be hard for him to reach that bench-mark this Sunday.
Despite a 2-1 record, the Chargers are inching themselves above the Chiefs, Broncos and Raiders to top their division. A defense that now lacks safety Bob Sanders has their work cut out for them as the season goes on, though.
With how poorly Miami has been playing as of late, combined with the injuries effecting them, this shouldn't be too difficult of a win for San Diego.
Prediction: 28-10 San Diego
New England Patriots at Oakland Raiders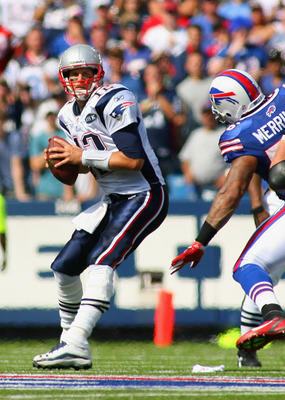 Rick Stewart/Getty Images
The New England Patriots are coming off a disappointing and surprising loss to the Buffalo Bills. Though Tom Brady is looking more supernatural than any other adjective that comes to mind so far this season, Brady threw five interceptions in the loss to Buffalo. Brady has already thrown for 1,327 yards and 11 touchdowns in 2011, and will continue to pour it on as the season progresses.
Already having given up 10 touchdowns, the Patriots defense could to step it up a bit, but they have been able to lean on their explosive offense a bit and still win ball games.
The Raiders are coming off a 34-24 win over the New York Jets as they improved to a 2-1 record. The Raiders have perhaps the most dynamic rushing offense in the entire NFL. Led by Darren McFadden and Michael Bush, the Raiders run-game has accounted for eight of the team's 11 touchdowns this season.
A Nnamdi Asomugha-less defense has suffered slightly, but they still have a capable enough defense to compete in the AFC West.
That being said, however, the Patriots are easily better than any of the teams in the AFC West, no way Tom Brady loses twice in a row.
Prediction: 49-31 New England
Devner Broncos at Green Bay Packers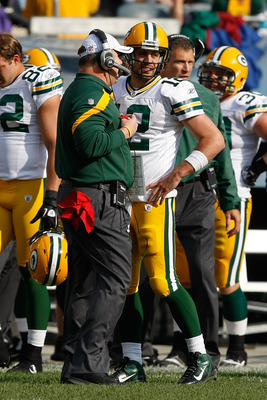 Scott Boehm/Getty Images
The 1-2 Broncos are coming off a tough loss to the Titans, despite Chris Johnson's worst year of his career. A Kyle Orton-led Broncos offense has looked downright pathetic so far this season, totaling six offensive touchdowns.
The Broncos defense has played well, though, limiting opposing teams to only six touchdowns as well. The only thing is, though, they haven't played any elite offenses yet.
Aaron Rodgers leads one of the best offenses in football that has already netted 12 touchdowns on the season. Rodgers hasn't met the 1,000-yard benchmark yet this season, but he has been able to find his receivers eight times for touchdowns.
The Packers defense, though not playing nearly as well as in 2010, is still a dominant force in the NFL and will likely shut down a very weak Broncos offense as the two face off in Green Bay.
Prediction: 38-7 Green Bay
New York Jets at Baltimore Ravens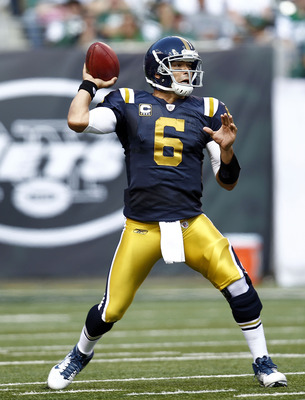 Jeff Zelevansky/Getty Images
The New York Jest just suffered their first loss of the season at the hands of the Oakland Raiders. QB Mark Sanchez has led an impressive passing game with 886 yards and six touchdowns, but the Jets run-game has been virtually nonexistent.
The Jets defense has once again proved its dominance against the pass, already totaling five interceptions as a team. They have also limited opposing QBs to around 188 passing yards per game.
The Baltimore Ravens has also had a pretty nice start with a 2-1 record. The Ravens are coming off a huge 37-7 win over the St. Louis Rams. Breakout rookie WR Torrey Smith flashed the potential to be one of the league's next great wideouts, despite suffering a hamstring injury in the fourth quarter.
A Balanced Baltimore offense is the perfect compliment to an incredible Ravens defense led by the ever charismatic Ray Lewis and his buddy from Miami: Ed Reed. The Ravens have only allowed four touchdowns to opposing offenses.
The Ravens are a step above the Jets for the reasons that both the offense and defense are more balanced. The Jets are relatively one-dimensional on offense and the Ravens are absolutely dominant on defense.
Prediction: 28-7 Baltimore
Indianapolis Colts at Tampa Bay Buccaneers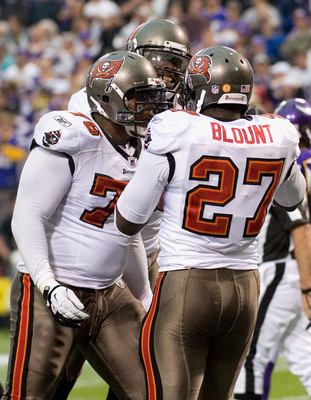 Hannah Foslien/Getty Images
The Indianapolis Colts should try to play this game on Monday afternoon just to get it over with and save themselves the embarrassment of getting absolutely crushed on Monday night.
The Colts' 0-3 record is not even close to indicative enough to how bad they've been in 2011. A total of four touchdowns on the season for the Colts was bad enough, but now reports are surfacing of the Colts being down eight players in their Monday night game.
I guess it wouldn't really make a difference either way, they will still lose.
I could tell you all how much better Tampa Bay is than Indy, but you all know that no matter who it is, they are probably better than the Colts.
Prediction: 31-3 Tampa Bay
Thanks for reading.
Keep Reading