Nebraska vs. Wisconsin: TV Schedule, Live Streaming, Radio, Game Time and More
September 29, 2011
Jonathan Daniel/Getty Images
The Nebraska Cornhuskers and Wisconsin Badgers both come into Week 5 with 4-0 records, but the Badgers have been decidedly more dominant and have a quarterback in Russell Wilson who is proving to be a true leader.
A lot is at stake in this game, as both the Cornhuskers and Badgers are ranked in the top 10 of the all-important AP poll and are vying for a BCS bowl game.
The winner of this game will receive a big boost from voters.
Where: Camp Randall Stadium

When: Saturday, Oct. 1, 8 p.m. EST

Watch: ABC

Live Stream: ESPN3

Radio: KFAB 1110 AM, KLIN 1400 AM (Nebraska); 99.7, 102.3 THE STORM (Wisconsin)

Betting Line: Wisconsin - 10

Nebraska Injury Report
Jared Crick, Probable
Andrew Rodriguez, Questionable
Wisconsin Injury Report
Jose Oglesby, Questionable
Philip Welch, Questionable
Devin Smith, Out for Season
Jon Budmayr, Out Indefinitely
Chase Hammon, Out Indefinitely
BCS/Top 25 Poll Implications
Both of these teams are unlikely to fall out of the Top 25 this season. They have too much talent and are too well-coached. But this matchup could drop the loser out of the discussion for a BCS bowl for now. In that respect, this is a chance for the winner to soar and the loser to drop back in the BCS picture. There are plenty more games after this, but this is a pretty big game for both programs, given each will play just one ranked team after this.

Key Storyline
The Huskers' sophomore quarterback Taylor Martinez had some shaky outings in his first season, but he should be ironing out his play at this point.
However, Martinez is still making critical mistakes and has completed just 50 percent of his passes through four games. The Huskers have a dominant running game, which is why they're ranked eighth in the nation in rushing yards per game (272.5), but at some point Martinez is going to have to produce more than he has. That point may be this week against Wisconsin.
The only problem is, the Badgers defense is giving up just 8.5 points per game, third in the nation.
What They're Saying
Wisconsin head coach Bret Bielema:

I told our team yesterday, how many times can you as a player or a coach say that you're going to be involved with the start of league play in a new divisional alignment against an opponent the caliber of Nebraska and the tradition and history and everything that they bring with themselves—in addition to just being a really good football team this year? I think Camp Randall should be rockin'.
Ever since Nebraska moved to the Big Ten, there's been buzz about this matchup, which figured to feature two Top 10 teams from the start. The last time two Top 10 teams played in Madison? Try 1962. Bielema is right. Camp Randall will surely be rockin' come Saturday.
Nebraska receiver Brandon Kinnie:
Of course I take that as an insult. No respect. I'll take it and use it as motivation.
What Kinnie is referring to is the betting line going into Saturday's game. As 10-point underdogs, the Cornhuskers certainly aren't being viewed as the No. 8 team in the nation. Martinez and the receiving corps have an opportunity to prove everyone wrong in Madison. The question is, will they rise to the occasion in a hostile environment?
Nebraska Player to Watch: Taylor Martinez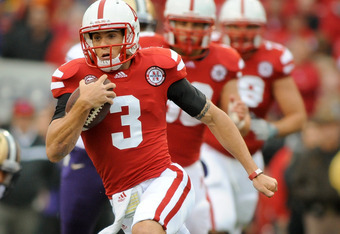 Eric Francis/Getty Images
Make no mistake about it, all eyes will be on Martinez on Saturday. He's only a sophomore, but he's being expected to perform at a high level on a Top 10 team. He's going up against a solid defense and, to make matters worse, the game is being played in Wisconsin. This may be the time the Cornhuskers are going to need more from Martinez than he's shown thus far. And what a great opportunity to make a name for himself.
Wisconsin Player to Watch: Russell Wilson
Wisconsin senior quarterback Russell Wilson has progressed tremendously since his freshman season. The last two seasons, he's thrown for at least 28 touchdowns, and he appears ready to have his best season yet, completing 75 percent of his passes so far for 11 touchdowns and one interception. Granted, Wilson hasn't played anyone of significance yet, but he seems locked in and the Cornhuskers defense could have some trouble containing him.
Key Matchup: Taylor Martinez vs. Wisconsin pass defense
Martinez is going to be put to his first big test of the season in Madison, and he can't give the Cornhuskers the bare minimum if he expects to lead them to victory. One thing he does have going for him is that he's a dual-threat and already has 421 yards rushing and seven touchdowns on the season. That's why he's more dangerous than his passing numbers would indicate. Nonetheless, if Wisconsin dares him to throw the ball, Martinez is going to have to be ready to put it on the money.
Prediction: Wisconsin 35, Nebraska 27