Michigan State vs. Ohio State: TV Schedule, Live Stream, Game Time and More
September 28, 2011
Hunter Martin/Getty Images
Every game in the Big Ten means a lot, but especially whenever Ohio State and any team from Michigan meet up. The Buckeyes' biggest rival may be the Michigan Wolverines, but don't underestimate the amount of disdain OSU has for Michigan State.
Consequently, MSU and their fans know that if they want to be a legitimate contender in the Big Ten they have to establish themselves as dominant over OSU. If there was ever a year to do it, it would be this year.
That being said, both teams have had their fair amount of struggles in 2011.
This matchup is going to be an important game that will set the tone for the Big Ten season. Michigan State is trying to re-establish their place as a BCS contender after a bad loss to Notre Dame, and Ohio State is trying to prove that they still have what it takes after losing to Miami.
Both teams are going to desperately want the win, but only one team is going to get it. That's the beauty of Big Ten rivalries, and you should expect nothing short of a hard-fought, intense game.
Where: Ohio Stadium, Columbus, Ohio
When: Saturday Oct. 1, 3:30 p.m. EDT
Watch: ABC, ESPN, ESPN3
Listen: WJR AM 760 Detroit, WJIM AM 1240 WMMQ FM 94.9 Lansing; WBNS AM 1460 WBNS FM 97.1 Columbus
Stream: MSUSpartans.com subscription, Buckeye Vision subscription on OhioStateBuckeyes.com
Betting Line (Bodog): Ohio State -3.5
Michigan State Injury Report: Wide receiver Bennie Folwer questionable (leg), center Blake Treadwell doubtful (knee), offensive tackle Jared McGaha doubtful (knee), defensive end Tyler Hoover doubtful (back)
Ohio State Injury Report: Defensive lineman Nathan Williams out indefinitely (knee)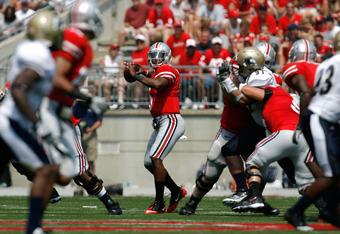 Kirk Irwin/Getty Images
BCS/Top 25 Implications:
This game means a lot to both teams, and a win would go a long way to restoring their respective places in the Top 25. Both teams started the season off ranked, but have tumbled out because of bad losses to seemingly inferior teams.
Not only does this game mean a lot for the BCS, but it's also a huge game in deciding the Big Ten Championship representatives.
What They're Saying: Joe Rexrode of the Lansing State Journal writes about the personal connection the state of Ohio and OSU in general have for many of Michigan State's players.
Many recruits who were passed on by Ohio State went up to play for MSU, and a good chunk of the Spartans' players are from Ohio. Not only do they have a personal connection, but they also want to prove to OSU that they made the wrong decision by not signing them.
The Associated Press via the Washington Post recaps freshman quarterback Braxton Miller's two-touchdown game in a win against Colorado last week. Even though he's just a rookie Miller looked like a veteran in OSU's 37-17 win.
The Buckeyes will need more great play from Miller to beat MSU.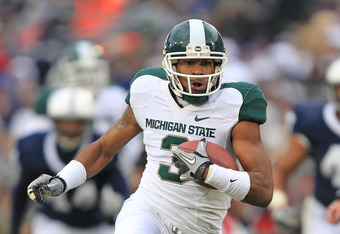 Hunter Martin/Getty Images
Michigan State Player To Watch:
Keep an eye on MSU receiver B.J. Cunningham. He's easily one of the most explosive playmakers in the game, yet he has only caught one touchdown on 29 receptions for 428 yards this year.
If MSU wants to win in Columbus, they are going to need him to step up and play like the senior he is. He needs to get in the end zone.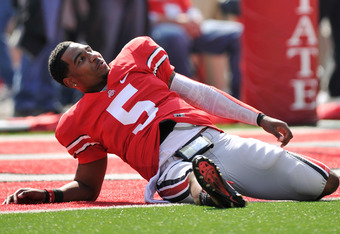 Jamie Sabau/Getty Images
Ohio State Player To Watch:
Miller looked good last week against Colorado, but it's going to be a whole new ballgame with defending Big Ten champion MSU coming into town. The Spartans are a veteran team with veteran coaching, and they are going to put a lot of pressure on Miller.
The way he responds will determine the game.
Key Matchup:
If Michigan State's defense can put pressure on the Buckeyes' rookie quarterback and force him into mistakes, they should be able to get ahead and utilize a strong running attack to control the ball.
If Miller can make plays though, the Buckeyes have a shot at neutralizing the Spartans' offense with their own.
Key Storyline:
In the new-look Big Ten every game is going to mean a lot when it comes to establishing dominance. The Ohio State vs. Michigan State rivalry may not be as publicized as their respective feelings about Michigan, but believe me, there is no love lost between these two programs.
Prediction: Michigan State 28, Ohio State 24
I believe this is going to be one of the better games on the Big Ten schedule, and I think it will come down to the wire.
In the end, Michigan State's experience will win them the game.