Georgia vs Mississippi State: The Mullen Vs Richt Dogfight in Athens
September 28, 2011
Butch Dill/Getty Images
It has been a year since the Georgia Bulldogs rode out of Starkville with their heads pounding from the clamors of incessantly ringing cowbells.
Last year's Mississippi State Bulldogs beat Mark Richt's boys 24-12 proving they were back in SEC West contention. It was the first time that Mississippi State had beaten a Georgia team since 1974 and one of many nights in the past two years that had Starkville rocking.
This year, the dogs are fighting in Athens and the talented Georgia team is already scratching on the back door to get out and mark their territory.
There's a lot at stake here for these two SEC coaches—Mark Richt and Dan Mullen— who will meet at the fifty yard line long about at noon (EST) on Saturday.  The similarities between the two are uncanny —like two deer hounds born in the same litter.
Both Mullen and Richt look the part.  Both coaches have coached some of the NFL's great quarterbacks. Both possess a sideline swagger that draws closeup shots.  Mullen—who is often feisty—is liked by his fans, just like Richt.  Win he wins, he's adored.  But fans of the SEC are demanding and impatient and when he loses, just like Richt, the chants can get brutal.
Both were offensive coordinators for two of college football's coaching greats: Urban Meyer (Mullen) and Bobby Bowden (Richt). Both coaches will bring their fight between the hedges armed evenly with a 2-2 record on the 2011 season.
Mullen, like Richt, has given Mississippi State fans enough of the sweet taste of victory to want more. In his two preceding years, he's literally put the serious into his team's perception.  In his second year, he led them to a nine-win season and broke multiple school records in passing yardage, completion percentage, passing touchdowns, rushing attempts, rushing yards, rushing touchdowns, and per-game offense and first downs, among others.  The defense racked up the 10th highest sack total in the school's history.  Then, Mullen's Bulldogs beat Michigan in last year's Gator Bowl by 38 points, sending his popularity level soaring.  This year, Mullen's Bulldogs have been beaten by the No. 1 team in the country (LSU), and one of the worst projected Auburn teams in its first four games.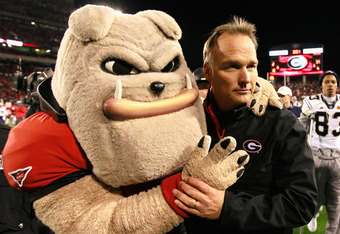 Kevin C. Cox/Getty Images
Like Mullen, Richt's fans have also enjoyed success earning SEC division titles, a conference championship, and achieving national rankings.  They are hungry and chasing their tails for an Eastern division championship while trying to hold on to their head coach and his staff.  So far, they've done a pretty good job at growing in strength, speed, and confidence in themselves.
In the fire department, both Richt and Mullen have danced on the flames.  
Mullen, like Richt, is fanning himself from the heat of an impatient fan base.  He lost two of his four games played this season.  With a 0-2 record in the SEC, Mullen knows going 0-3 in the conference could send he and his pups back to the crate.  And Richt knows that a 1-2 record in the SEC isn't going to get him a ticket to Atlanta.  Like Mullen, he faces his biggest year and his own doghouse battles. Saturday would be an opportune time to see the confidence of his fan base climb again.
The records of these coaches—although with Mullen having coached fewer games—are respectable with Mullen at 16-13 in this, his third year at Mississippi State—and Richt, at 50-31.
So with all these similarities, what's the difference between Dan Mullen and Mark Richt?
Here's a clue: One coaches a team that's improving and the other … well, it seems that something is not quite gelling.  Instead, they're getting worse each week. 
Same litter or not, it is Mark Richt's Georgia Bulldogs that are showing strong signs of comeback and defeating Mississippi State on Saturday will silence the cowbells, at least for now.