25 (Mostly) Sexy Reasons to Get to Know MMA and UFC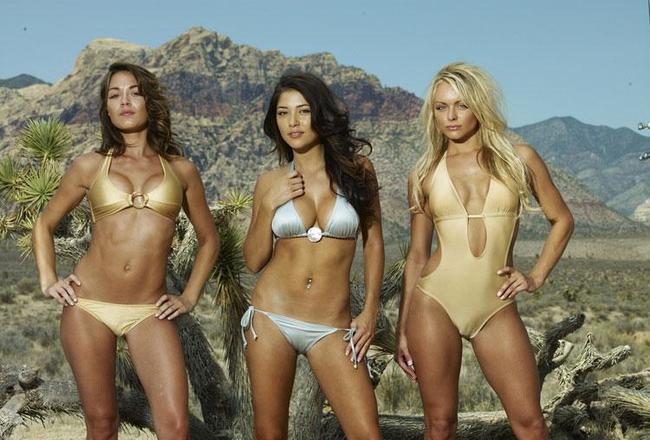 There are many reasons to love the various sports our great nation has to offer. Each sport has at least one major reason we love to follow it. It could be because of our favorite team, player, or even coach. For me it was Will Clark in baseball, New Orleans Saints in football, and Alonzo Mourning in basketball.
If I had to do the same for Mixed Martial Arts, I would be in a difficult situation because there are more than one reason to love this sport. I found 25 excellent reasons to follow a sport that was once known as Vale Tudo.
Of course, many of my choices are women but who can really blame me once you take a look at the selections?
25. Any Time, Any Place
It can happen at any time during a fight. One minute a fighter can be dominating their opponent and then...boom goes the dynamite.
There are not too many other sports where a person can TKO another person in less than 10 seconds. It is not a mismatch. This sport is full of hard training fighters trying to win a championship belt. They do not just wake up, walk into the ring and fight. They train for months to prepare for a fight and that does not include the time they spent training their entire life.
I know most people will argue that boxing has the same chances of this result but let me explain something to you. Boxing is garbage and less safe to the fighters than MMA. It gives a man 10 seconds to regain consciousness before ending the fight. Yeah, that is safe.
Do yourself a favor, grab some boxing gloves and fight a buddy. Now toss on some UFC gloves and do the same. See if he is still ready to roll. I doubt it.
Sorry for the quality of the video but it was the only version of the fastest TKO in UFC history by Todd Duffee.
24. Edith Labelle
According to her own website, this is not Edith Labelle's sexiest photo. She has so many that if I were to include them all, you would pass out.
Edith is an actress, model, ring girl, and video game character. She was featured in UFC 2009 - Undisputed as an actual gaming character. That is a whole new level of awesome right there.
23. Jenna Jameson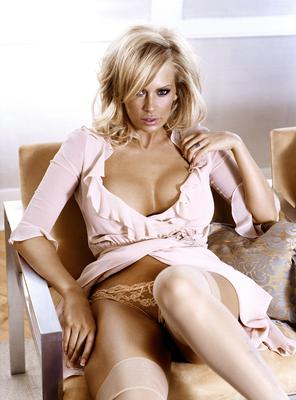 Jenna Jameson was once a pornstar queen and easily the most recognizable porn actress of all time. However, since becoming Mrs. Tito Ortiz, her lifestyle has taken a turn. She is now a stay at home mom raising their twin boys.
It was an extreme change for her to quit porn but she left in 2006 and has never looked back. She will not even do a Maxim cover.
22. Cindy Crawford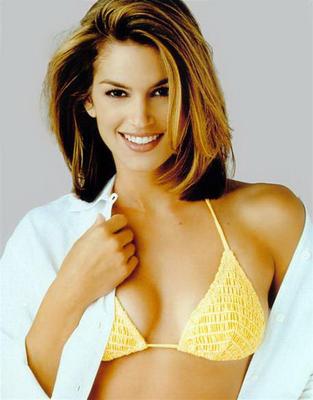 Cindy Crawford, the Pepsi chick, loves MMA. She is a huge fan of the sport. She has been seen at several different events over the past years.
Attending a UFC event is now becoming a popular thing to do on Saturday nights for many celebrities. I am sure Cindy Crawford is having no issue obtaining tickets. All she has to do is say the word Ultimate and they have three tickets waiting for her at the door.
21. Sable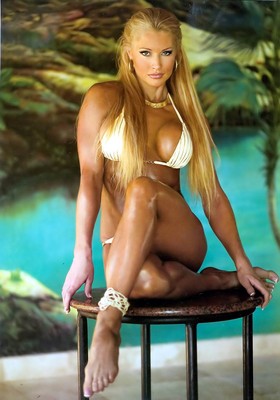 Why is Brock Lesnar the most hated man in all of the UFC? What has he done to make the world hate him so passionately?
Regardless of why so many people hate him, he is still a lucky man married to a beautiful former WWE diva, Sable. She is a great wife too. She is at every one of his matches rooting him on every time.
20. Rhian Sugden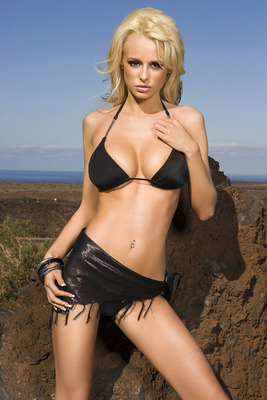 Rhian Sugden has many accomplishments in her life but none of them are anywhere near her appearance as an MMA ring girl. It is the ultimate accomplishment for any aspiring model.
Sure, being on the cover of a magazine would be nice but more people watch MMA than buy magazines. It would be better for her career to continue the MMA ring girl action. We would also appreciate that too.
19. Ali Sonoma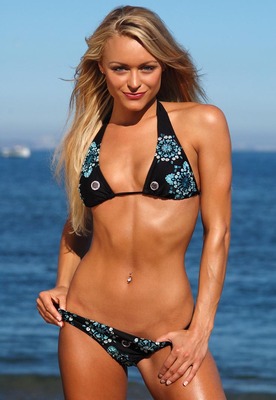 In 2005, the world was introduced to Ali Sonoma when she auditioned for and won a spot as a UFC ring girl. However, she retired from MMA in 2007 and left us all drooling.
When she became engaged to Diego Sanchez, UFC fighter, I thought she might be heading back to the Octagon. But that fell through and now she is modeling and acting her way to stardom without the UFC.
Maybe we could get a guest appearance soon. I hear the UFC misses her very much. Or is that just me?
18. Tori Praver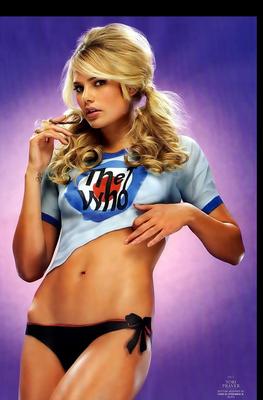 Tori Praver is a beautiful Sports Illustrated swimsuit model and one time girlfriend of BJ Penn, former UFC lightweight champion.
She has been featured in enough magazines and print ads that I would consider her a MMA model. She might not pose for any MMA affiliations but she is one paycheck away from doing it.
17. Edith Larente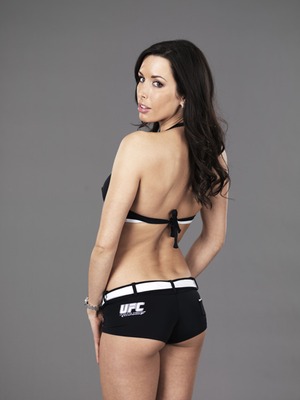 Edith Larente looks very familiar. She looks like Edith Labelle. How is that possible?
Maybe because they are the same woman. I do not expect too many complaints that she is featured twice on the list.
Hey, she changed her name. I am allowed to double dip.
16. Mandy Moore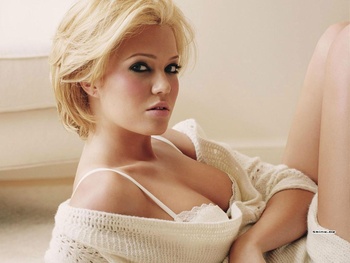 Mandy Moore? The cute "Candy" song chick is into a sport where men beat the hell out of each other in a cage?
Yeah, that is the same Mandy Moore. She is a huge fan of the sport and even travels to several different venues around the United States to watch some of the bouts.
15. Gabriela Garcia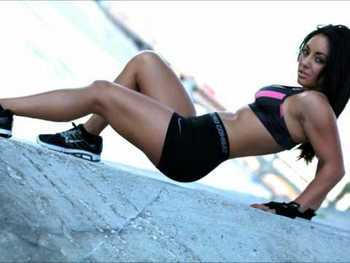 Gabriel Garcia is a Texas native and Milifidel model. She works hard on her body and proves it in every photos I have ever seen of her.
She is also in the beginning stages of becoming the next big thing so you better watch out for her in 2012.
14. Miesha Tate
Miesha Tate has not lost a fight since May of 2009. She has won six straight fights including winning the Strikeforce Women's Bantamnweight Championship this past summer.
She usually does not go the whole match with her opponents. The fights usually get stopped due to submission or TKO. What else would you expect from someone with the nickname, Takedown?
13. Logan Stanton
Do you remember when Logan Stanton was a part of the UFC family? It was not too long ago that she was prancing around the Octagon in short shorts and tight tops. But then, out of the blue, the UFC showed her the door.
She was fired and is still missing. I have no doubt that she will pop up in MMA at some point in the future. She is just taking it one step at a time right now.
12. Adree Desanti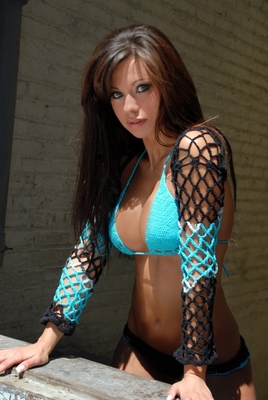 I hate to be negative but, according to her own website,
"Thank you for visiting my website. I have since taken down my old site as I am no longer pursuing modeling and have not done so in over a year and a half. The site will be back shortly but will no longer feature the same content.. Stay tuned!"
Thank goodness we have Google image search.
11. Rachelle Leah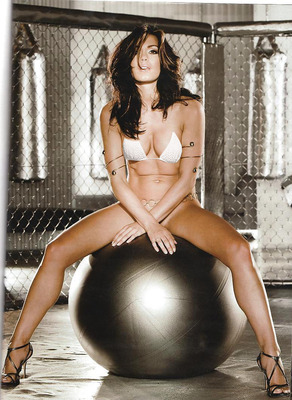 When Rachelle Leah first became her career as a model, it did not take her too long to get on board with the UFC. She had several gigs along the way but when she was noticed by the UFC, they locked onto her like a laser on a bull.
Aside from being an Octagon Girl, she hosts UFC All Access on Spike TV and has appeared on more magazines than Jewel. Why did I use Jewel? Why not?
10. Chandella Powell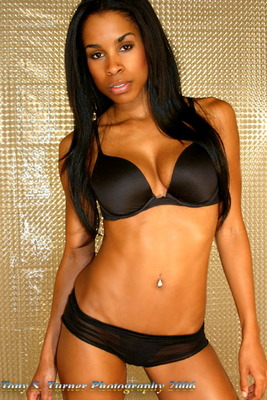 Life is never easy for a model. It is a tough job to break into and even harder to stay successful at it. Chandella Powell has seemed to find a way to do it time and time again.
Her overall resume is not too impressive but she has begun to build it up as a UFC ring girl. She is one of the newest females in the UFC family but is being welcomed with open arms and a nice size wallet.
9. Michelle Waterson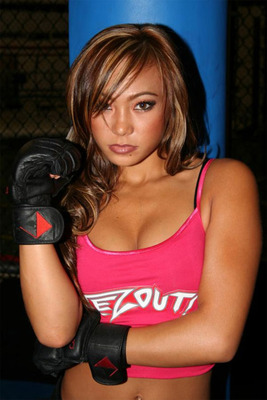 Michelle Waterson was on a hot streak in 2010 winning both her fights in the first round with a submission and a TKO, respectively. She had to take some time off this year because she was expecting a child.
It will be a great day for all of us when she returns to the ring as the hottest MILF in MMA.
8. Gina Carano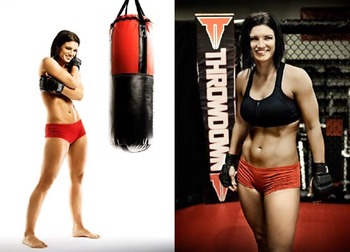 There are only a few women in this world that can knock anybody out and look sexy doing it. Gina Carano has always been one of those women.
Her knockout smile and beautiful figure helps her stand out above all the other MMA fighters in the world as the sexiest female fighter in the world.
7. Brittney Palmer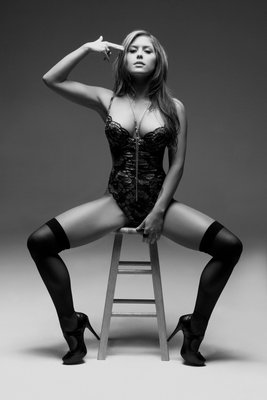 This is not the first time I have talked about Brittney Palmer in the past week and I will repeat what I said before about her. She is not only beautiful but she is a pretty good artist too.
She creates original pieces of artwork that I like to describe as amazing. I would also like to add that she loves classic rock groups such as Led Zeppelin. If Charlie Sheen was here, even he would say she was winning.
6. Arianny Celeste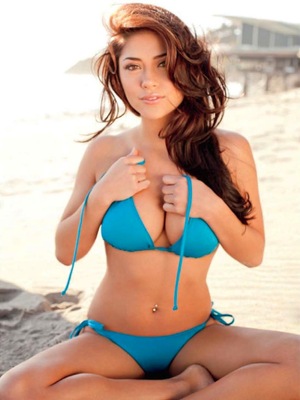 Since the beginning of ring girls and the UFC, Ultimate Fighting Championship, Arianny Celeste is the most popular woman to ever show up in the UFC.
Her fame has grown to epic levels as she finally posed nude for Playboy in November of last year. For obvious reasons, the boss says no nudity around here, we can not show you her beautiful pictures. I will just leave it up to you.
5. Kenda Perez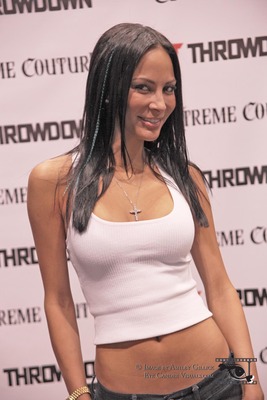 If you want to get in touch with Kenda Perez you better act fast. With the new season of Dexter just getting started, it might be impossible to get a hold of her on Sundays because she loves that show.
Just as she loves Dexter, we love her. The beautiful host of The Best of Pride has quickly become one of the biggest names in the world of MMA. It never hurts that she also hosts Bleacher Report's very own original program, The Ultimate Show.
4. Mercedes Terrell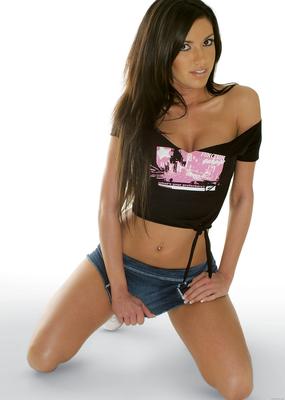 Have you witnessed a Bellator Fighting Championship fight recently? They are the most underrated MMA organization in the world. The love they get is far less than they deserve.
Besides the fighting at Bellator, the beautiful ring girls are not too shabby either. Mercedes Terrell is definitive proof of that previous statement. She is not only sexy but she loves extreme sports like motocross and snowboarding. She is def in the right profession.
3. Kelli Hutcherson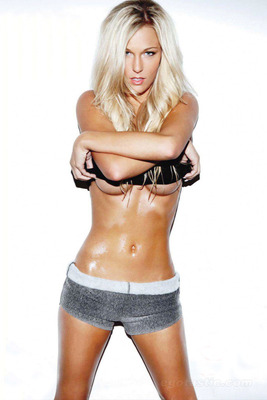 Kelli Hutcherson is not a well known MMA model just yet. The former Miss Strikeforce 2011 should be but her time will come.
Give her another year working in the MMA world and you might even be asking,"Arianny who?"
2. Penny Mathis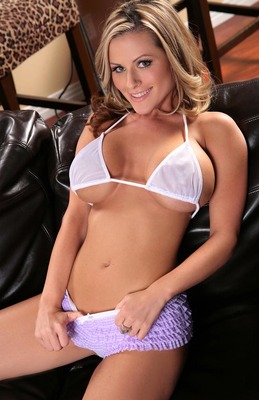 Conquest MMA specializes in making Mixed Martial Arts fight gear and apparel. They have everything a MMA nut would want to chose from. They have shirts, sweaters, shorts, hats, etc...
They are also the home base for the beautiful model Penny Mathis. She has found herself a great gig working for a team dedicated to the MMA lifestyle. As long as MMA is around, so will the lovely Penny Mathis.
1. It Is Awesome!
Where else can you watch two men or women duke it out for a chance at a title belt?
Yes, boxing is the same concept but they where those girly gloves so it will not mess up their pretty hair.
Mixed martial arts is the biggest sport phenomena to hit the United States since 1993 when it was first brought over here by the Gracie family.
With all the fighting, choking, arm bars, and ring girls, there has never been a better sport to enjoy. Just make sure you brought your big boy pants when you attend a match, it may get a little rowdy.
Keep Reading