Texas vs. Iowa State: TV Schedule, Live Streaming, Radio, Game Time and More
September 28, 2011
Harry How/Getty Images
Two undefeated squads meet up in Ames as the Texas Longhorns seek retribution over the Iowa State Cyclones. 
Last season, Iowa State went in and punked Texas in Austin. That loss was salt in the wound of a seven-loss season. 
Mack Brown has turned the tide as the Longhorns are slowly moving up the polls and into the good graces of the voters once again. 
This is going to be a tightly contested grudge match. So let's take a closer look at this exciting Saturday clash. 
Where: Jack Trice Stadium, Ames, Iowa
When: Saturday, October 1, 7:00 p.m. ET
Watch: FX
Listen: Austin, TX-1300 AM, Texas Affiliates Listed Here; 105.1 FM, Iowa List of Affiliates Listed Here, Live Audio Streaming for $5.95 available here. 
Betting Line: Courtesy of Betonline.com
Spread: Texas -9.5
Over/Under: 48
Key Storyline
For both teams, it's all about respect. Texas lost a great deal of prestige as they suffered through a down year last season. They are slowly regaining their swagger as they take down team after team that beat them last year.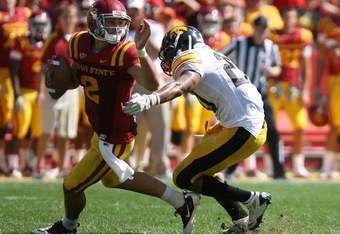 For Iowa State, they are trying to prove their 3-0 start is no fluke, despite winning each game by the slimmest of margins. 
Who Might Not Play for Texas
According to FoxSports: S Nolan Brewster out for season (migraines); S Christian Scott available after suspension; WR John Harris out (fractured foot).
Who Might Not Play for Iowa State
According to USA Today: OL Shaban Dika out (MCL).
BCS/Top 25 Poll Implications
Both teams have huge Top 25 implications ahead of this game. A Texas loss would derail all the hard work they have accomplished over the first few weeks, sending them near the No. 25 mark. 
Iowa State would no doubt be welcomed into the Top 25 if they take out the No. 17 team in commanding fashion. 
What They're Saying
Texas head coach Mack Brown offers his opinion of his team: "Not a lot of people thought we'd be 3-0 at this point. We played a tough non-conference schedule, but the 3-0 start is a statement of improvement. Now we'll have 7-10 days to get ready for Iowa State, which is good because we aren't nearly as good as we need to be."
Wally Burnham, Iowa State's defensive coordinator, offered his assessment of Texas: "There are a lot of reverse-type plays, a lot of play-action. They've got different layers of receivers. They've got the whole smorgasbord of what they can do."
Texas Player To Watch
Case McCoy continues to show the poise needed to be the all-out starter for this team. The quarterback will still split time behind center. Another great outing should push him into the No. q slot for good. 
Iowa State Player To Watch
Darius Reynolds is the type of receiver that would give any team fits. Steele Jantz has looked shaky as of late, mandating that his star receiver be that much more trustworthy on the wings. 
Key Matchup
This will be a battle of turnovers. Steele Jantz needs to temper his decision-making which has been lacking as of late. 
Texas will enter a raucous environment in Ames. The Longhorns' ability to concentrate will be tested at every turn. 
On the Hot Seat
Both coaches, including Mack Brown are safe for the moment. An undefeated start gives both a nice comfort zone. 
Prediction: Texas 27, Iowa State 23