Bears vs. Panthers: Former Bears Ron Rivera, Greg Olsen Have Something To Prove
September 28, 2011
Donald Miralle/Getty Images
This week's showdown between the Carolina Panthers and the Chicago Bears will have extra flavor to it as former Chicago Bears Ron Rivera and Greg Olsen have their first homecoming at Soldier Field since leaving the team.
Both Rivera and Olsen left the Bears on bad terms and will be determined to beat their former team.
Rivera, the Carolina Panthers' head coach, played linebacker for Chicago from 1984-1992 and was defensive coordinator from 2004-2006. Rivera was the mastermind behind the Bears' defensive dominance in 2005-2006 and led the Bears to Super Bowl XLI.
Rivera was not brought back after the Super Bowl season because he wanted to be a head coach. He signed as a linebackers coach with the San Diego Chargers and then was promoted to defensive coordinator in 2008. The loss of Rivera subsequently caused the Bears' defense to regress the following three years under Bob Babich and Lovie Smith before recovering in 2010.
By building the defensively inept Chargers into one of the league's top units, Rivera was hired in January to replace John Fox in Carolina, where he landed top pick Cam Newton to rebuild the Panthers into a competitive team.
As for Olsen, the young tight end was quarterback Jay Cutler's favorite target and was second in touchdown receptions (20) among TEs in Chicago Bears history. But offensive coordinator Mike Martz did not want Olsen in his offensive system, so Chicago traded Olsen to Carolina for a draft pick.
Olsen has an offensive coordinator in Rob Chudzinski who utilizes him well as he did with San Diego star tight end Antonio Gates. He has been a vital part in Carolina's offense, having 12 catches (nine for first downs) for 169 yards and a score.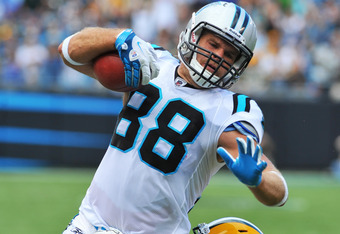 Al Messerschmidt/Getty Images
Carolina is an up-and-coming force at 1-2 and should be around .500 this season. The offense is lined with many weapons like Steve Smith and DeAngelo Williams for Rivera to lead his team to success.
The Bears, meanwhile, have struggled to a 1-2 record and are not playing well on either side of the ball. Olsen is primed to exploit a secondary riddled with injuries and underperforming players. Rivera could smell blood as Chicago's offensive line is in shambles and can blitz the lights out of Cutler and Matt Forte to stagnate the Bears and force turnovers.
Rivera and Olsen did some good things for the Bears during their tenure, but these two have extra incentive to beat Chicago to prove the Bears were wrong for giving up on them.
Bob Bajek is a freelance reporter and can be followed at Patch.com and Twitter.