Maryland Terrapins Picked Worst Option Available by Hiring Randy Edsall
October 6, 2011
Rob Carr/Getty Images
Right now in Nashville, first-year Vanderbilt head coach James Franklin is very likely preparing for the Commodores' next game, which is at Alabama this Saturday. 
Somewhere in California, former Texas Tech coach Mike Leach is touring the West Coast promoting his book, Swing Your Sword.  
Who knows where Ralph Friedgen, the Maryland alum who was fired as head coach after leading the Terps to a 9-4 record last season, is right now. Perhaps he's sitting on the porch of his Georgia lake house enjoying the early fall weather, or maybe he's visiting his grandkids in the D.C. area. 
One place he definitely isn't is the head football coach's office on the University of Maryland campus. And that's a shame, because had Maryland AD Kevin Anderson so desired, he could have had Friedgen, Leach, or Franklin leading the Terps this season. Any of the three would have been a better choice than the man he did select, former UConn head coach Randy Edsall.  
If message boards and comment sections are any indication, Edsall inspires much debate among the Maryland fan base.
Is his mediocre career record (76-72, 1-16 versus Top 25 opponents) proof that he is nothing more than an average head coach or the result of transitioning the UConn program from FCS to FBS play? 
Are his frequent platitudes about "winning the right way" and "building fine young men" and his emphasis on discipline a sign that he is intent on building a program the university can be proud of on and off the field, or indicative of a coach stuck in a bygone era who will have trouble connecting with and successfully recruiting today's players?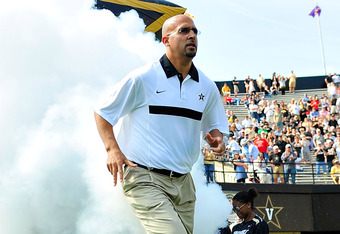 Grant Halverson/Getty Images
Is Maryland's disappointing 2-2 start to the season proof positive that Edsall was the wrong man for the job, or attributable to a tough schedule and the loss of some key players from last year's team? 
Most Terps fans have strong opinions about all of these questions, but the reason Edsall shouldn't have been hired is that the answers to them don't matter. The one thing Maryland's football program needed the most is the one thing that pretty much everybody agrees Edsall doesn't bring to the table: excitement.
Even if Edsall is a great coach with a deceptively strong career record who is doing as well as could be expected with this year's team, he was still the wrong man for the job because the only way he was going to attract Maryland's fickle football fan base was to win early and win big. Perhaps those expectations were unrealistic, but drill sergeant coaches like Edsall can only capture fans by winning. He didn't, and now it's too late.  All but the most committed faithful have already given up on the season, and attendance at Byrd Stadium has slowed to a trickle. 
Athletic director Kevin Anderson stated that his primary reasons for making a coaching change were that he wanted someone who would take the program "from good to great" and increase season ticket sales. After Edsall's 2-2 start and staring down three straight games against Top 25 opponents, neither seems likely to happen any time in the near future.  
Contrast the apathy currently surrounding Edsall's program with what the tenor in College Park would be had Anderson selected any of the other three candidates, even if each of them had the same record after four games.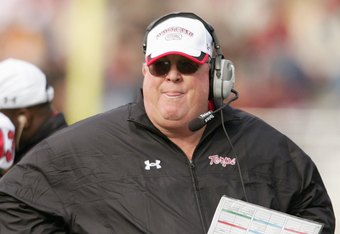 Elsa/Getty Images
Terps fans would undoubtedly be furious with James Franklin if his team had gotten rolled by Temple and followed it up with an uninspired victory over FCS neighbor Towson University. However, Franklin has compiled a top-30 recruiting class in his first year at perennial SEC doormat Vanderbilt. It's no great stretch to think he could have bettered that effort at Maryland. And nothing relieves the pressure of immediate expectations like the promise of future glory that a highly touted recruiting class provides.
Edsall, on the other hand, has filled his first recruiting class at Maryland with the same unheralded "diamond in the rough"-type players that were the bedrock of his UConn program. Those players may well succeed under his tutelage in the future, but the Maryland program desperately needs the financial support that an energized fan base provides right now. Nobody is buying season tickets or donating money because Edsall signed another linebacker who runs a 4.8 40 but tries really, really hard. They might have, however, if Franklin was at Maryland attracting the caliber of athlete that he's been able to recruit to Vanderbilt.  
Ralph Friedgen would be coaching in the last year of his contract right now had Anderson not made the decision to fire him. Even if his record through four games was identical to Edsall's, it still would have been preferable to retain Friedgen and allow him to complete his contract. Anderson's decision to dismiss Friedgen, a Maryland alum, disappointed a lot of fans. Allowing him to coach this season would have avoided that, and saved the university some of the millions of dollars it's spending to pay two coaches this season.
Additionally, had Friedgen's team gotten off to the same mediocre start, a contract extension would have been unlikely, and the months of rumors and discussion about who the next coach would be would certainly have increased excitement about the program. Similarly, the extra time would have allowed Anderson to perform a more exhaustive coaching search than the whirlwind one that culminated in the Edsall hire. The major argument against allowing Friedgen to finish his contract was that a lame duck coach would cripple recruiting, but it's unlikely Friedgen would have attracted a significantly worse class than Edsall's.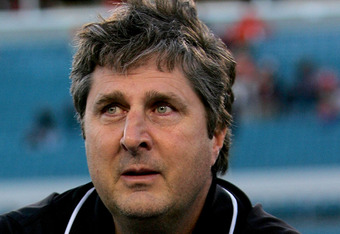 Sam Greenwood/Getty Images
When Friedgen was fired, Mike Leach was the overwhelming choice to replace him among Maryland fans. His high-scoring, uptempo offense and unique personal style would have brought the consistent buzz to the program that Edsall has only been able to achieve with the help of some flashy Under Armour uniforms. Leach's popularity and track record would have enabled him to keep Maryland fans excited about the future of Maryland football even after a 2-2 start to this season.  
It took him a few years, but after transitioning the program from FCS to FBS play, Edsall's UConn teams were frequently good, if rarely great. It's completely plausible—likely even—that he will eventually lead the successful, disciplined Maryland football team he surely envisions.
But how many fans will be left to cheer for them by the time that he does?