Purdue vs. Notre Dame Football: The Key to Stopping Tommy Rees and the Irish
September 29, 2011
Jonathan Daniel/Getty Images
On Saturday the Purdue Boilermakers will go into battle against the Notre Dame Fighting Irish in what has become an annual tradition in the Hoosier State.
This game will be featured in prime time, the only prime-time game that the Boilermakers will be playing this season, so it will be an exciting atmosphere that will surely be hostile.
Purdue is going to have no easy task in stopping this high-powered Irish squad.
Not only is Purdue outmatched as a team, but they are outmatched in speed and talent and will need to work together as a single unit to dismantle the Irish and help salvage the season. 
Rees, who started the season as a backup to Dayne Crist, has thrown for 988 yards, seven touchdowns and six interceptions.
Although he has played okay this season, he has had trouble taking care of the football, which is key to the Boilermakers having a shot at winning this game.
Ricardo Allen of the Boilers will need to have a huge game, as he will most likely be assigned the task of covering one of the best receivers in college football in Michael Floyd. 
Floyd has 35 catches for 424 yards and two touchdowns this season. Although these numbers aren't phenomenal, that is almost half the passing yards of the Irish this season.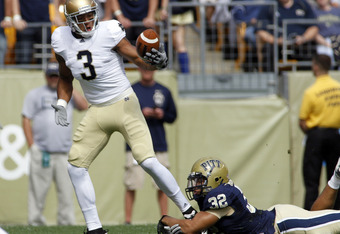 Justin K. Aller/Getty Images
Although this may seem like a tough guy to stop, Allen has what it takes to do it. He has lightening speed and has the ability to pick off any bad pass that comes his way.
Another key to stopping the Irish will be to pressure Rees.
If Purdue can make sure that Rees has to release the ball quickly and rush his throws, they will have a great shot at stopping this team.
Kawann Short needs to come up huge in this game just like he has in every other game this season for the Boilers. This guy is a playmaker and needs to get on the quarterback in this matchup.
In short, Purdue needs to get on top of the receivers, and have a great all-around performance from the secondary, and get a lot of pressure on the quarterback. They will have a great chance in this game of stopping the Irish if they do these two things.
The offensive side of the ball is a whole different story. Look out for an article on that in the near future.
James Evens serves as a National Featured Columnist for college football and basketball as well as the FC for the Purdue Boilermakers.     Follow him on Twitter or like him on Facebook.