Minnesota Vikings: Coaching Staff Right to Sit Christian Ponder in 2011
September 28, 2011
Hannah Foslien/Getty Images
After their third loss in three games, many Vikings fans are jumping off the boat.
The Vikings offense has failed to produce in the second half of all three games, causing them to lose even with a significant lead at halftime.
Every ailing team needs a scapegoat in the NFL, and Donovan McNabb has clearly become that scapegoat. Reading though comments on the Internet and listening to comments on the radio, it's impossible to escape the public opinion that McNabb no longer ought to be the starter.
 Vikings fans, I'm here to talk some sense into you.
Sitting McNabb would not accomplish anything for this 0-3 team. While he has surely made his share of mistakes this season, McNabb is by no means the only player to blame for the blown leads in the past three games.
The offensive line gets pushed so far back on every snap, that the pocket is almost non-existent on any given play. The wide receivers are possibly the worst group in the division (and behind the Chicago Bears, that's saying something). Most of all, though, offensive coordinator Bill Musgrave is not willing to take chances downfield.
So tell me, how will a rookie QB make this situation any better?
Leslie Frazier made a decision as the head coach to go out and bring Donovan McNabb to Minnesota to be the starting QB. If Frazier backs out of the McNabb situation now, he will be labeled as indecisive or not ready to lead a team. If that becomes the case, Frazier might as well have signed his own release papers, because he will never have the confidence of the organization or the support of the fans.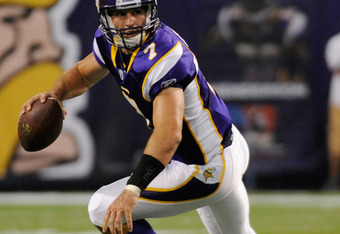 Hannah Foslien/Getty Images
The staff already decided and publicly stated that Christian Ponder is not ready to be an NFL starting QB. The rookie still has some maturing to do — maturing that requires at least one season behind an established starter.
Throwing Ponder into a situation like this would be bad both from a physical and media standpoint. The inconsistency of the offensive line and the lack of ability to make plays by the wideouts would probably get Ponder hurt.
That said, if Ponder was thrown into a starting role and the team continued to lose, Ponder would become the scapegoat, even if it clearly wasn't his fault.
By sitting Ponder, the coaching staff really is giving him the best opportunity for success. By keeping him out of a negative spotlight, he will actually have a possibility to get the fan base behind him—especially with how mixed the reaction was when the Vikings drafted him No. 12 overall.
If the Vikings wait to start Ponder until next season, he will likely have a new left tackle or top wideout that he can build chemistry with. Right now those two are the key to his long-term success.
Since immediate success is pretty unlikely at this point, there's no reason to cash in on their long-term investment and not have it work out because the young QB is premature as a starter.
So take a breath, Vikings fans. I know things aren't exactly going as planned, but both McNabb and the Minnesota Vikings have been able to rally back after tough starts.
If the Vikings lost three games that they should have won, then maybe they'll be able to walk away with a few wins that they shouldn't necessarily be able to win.
Okay, probably not, but we can dream right?
Thanks for reading.
Follow me on Twitter @MCNick92