Fantasy in Depth: Which Raven Benefits the Most from Torrey Smith?
September 27, 2011
Rob Carr/Getty Images
I can hear them scrambling now. I know owners in each of my leagues are currently racing home or to the nearest coffee shop in search of a WI-fi hot spot. This is likely endangering their wives, kids, and all the members in van pool 118.
A mad dash of squealing tires and screeching breaks. Simultaneously trying to squeeze through the library doors like roller derby girls, all elbows and body checks. Tumbling over each other for the last available computer. All in the hopes of landing the next hot waiver addition in the wide receiver market.
Looking over their rosters I see some could use Torrey Smith, while others are simply trying to bait a hook with him.
Whichever side of that line your treading, ask yourself.
"Self, am I really getting the next big thing or is this a decoy with the chance of exploding once in a while?
Smith is fast, there is no doubt about that. But that's all he showed me on Sunday. He can out run a lot of people. But this ain't the Raiders and I'm no Al Davis. It takes more than fast feet to make my fantasy roster.
Smith may be great but I have to see more. Add to that the fact that the Ravens signed Lee Evans to play the same role as Smith. So where does he fit in now? They won't rush him back from injury, I can tell you that.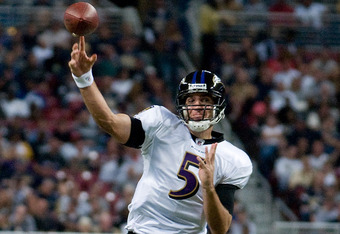 Jeff Curry/Getty Images
When Evans is healthy, where does that leave Smith?
I'm focusing on Joe Flacco.
His stock just got a big boost. I went down my checklist and he just filled in the last box.
Long Ball accuracy... CHECK!
Flacco showed me that he has the arm as well as the accuracy that typically separates the QB 1's bordering on elite-hood and the QB 2's.
Am I saying he is elite? Not in talent, but in the fantasy world I'm buying him now. As this year progresses, so does Flacco's fantasy value.
This team has just been given the ability to score at will. There is no safe spot for defenses when Smith is on the field. The 74-yard touchdown was the longest of Flacco's career.
Does your league bonus for long touchdowns?
I see the Ravens offense opening up quite a bit more. Ray Rice will run inside and outside. His ability to catch, well lets just say we already know he is elite. The field is going to open up for Rice both on the ground and in the short passing game. Rice can turn those short passes into long gains.  
That spells more passing yardage for Flacco. Rice's ability to take it the distance adds another check in Flacco's plus column.
Anquan Boldin will see a lot more single coverage as teams now have to keep a safety over the top of Smith. If they don't... well we saw what happened on Sunday. I believe Boldin's yards after the catch increase as well, he's tough to bring down one on one.
The numbers keep ticking up on Flacco's stat sheet.
The Ravens needed an outside speedster to spread the field and draw coverage away from Boldin. That is exactly what they drafted in Smith. The signing of Evans further cemented that. 
The central piece in all of this is Joe Flacco. His is the one arm that gets this bandit's reels spinning.
My fantasy recommendation.. If your currently rolling with a Jay Cutler, Tony Romo or Eli Manning, Flacco is a no-brainer.
What if someone like Matt Schaub is your current headliner? 
Start pounding the trade windows, improve some other lacking area on your team, and get Flacco while the getting is good.