Week 4 Recap: is the Big Ten Weaker than Usual?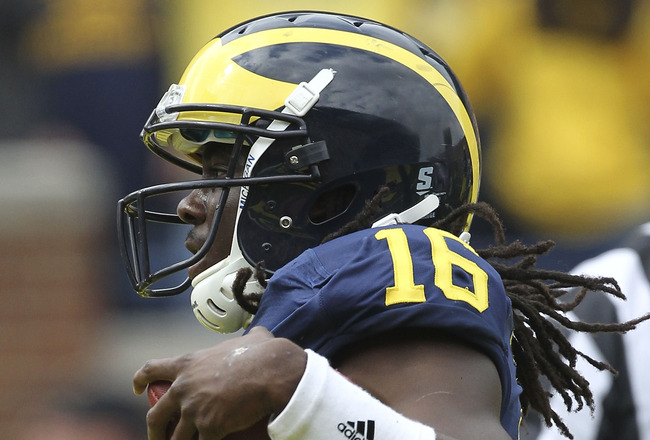 Leon Halip/Getty Images
The question in this article's headline has to be asked as the Big Ten starts its conference schedule.
The numbers may not look bad, since Big Ten teams are 34-12 after four weeks of non-conference games. It's just the games they've lost and how they've played that is bothersome.
For example, name another conference where the two leading rushers are quarterbacks?
Sure, Michigan's Denard Robinson (see picture) and Nebraska's Taylor Martinez are gifted athletes, but they cannot be compared to Big Ten alumni and NFL stars Tom Brady and Drew Brees. Robinson is No. 4 in the nation in rushing with 552 yards, and Martinez is No. 18 with 421 yards.
Where's Montee Ball, James White, Edwin Baker, Le'Veon Bell or some of the other highly touted Big Ten running backs? The No. 3 rusher in the conference is Nebraska running back Rex Burkhead, and he's one yard behind his quarterback. No other runner in the Big Ten has over 400 yards rushing.
As we review Week No. 4, let's look at some other potentially disturbing trends?
For Big Ten Quarterbacks, "Lights Out" Takes on a Different Meaning
Jonathan Daniel/Getty Images
The brightest light among the Big Ten quarterbacks is Russell Wilson (see picture) of Wisconsin.
According to college football's quarterback rating system, he is No. 2 behind Baylor's Robert Griffin III. Wilson sports a QB rating of 218.4 and has led the Badgers to a 4-0 start. Under Wilson's leadership, none of the games were close, including their Week 4 59-10 rout of South Dakota.
You won't find another Big Ten quarterback in the top 20 until you get to Illinois' Nathan Scheelhaase at No. 16. And the top two QB s in the conference play for undefeated teams, though the Fighting Illini were only three points better than Western Michigan in a week 4 23-20 win.
Both of the conference's leading rushers are playing for undefeated teams, as Michigan beat San Diego State 28-7 and Nebraska beat Wyoming 38-14. As for quarterback ratings, Robinson is No. 63 and Martinez is No. 75 in the nation.
Well, the Big Ten Has Great Wide Receivers. Right?
Dave Reginek/Getty Images
Wrong. The Big Ten doesn't have a wide receiver among the top 10 in the nation in receiving yards.
Michigan State's B.J. Cunningham (see picture) is No. 11 with 428 yards. He has made some key catches in helping the Spartans enter conference play with a 3-1 record. Last Saturday's 53-yard pass reception against Central Michigan set the tone for MSU's 45-7 win.
The only other conference receiver with over 400 receiving yards is Iowa's Marvin McNutt. He has 413 yards and, like Cunningham, is a major part of the 3-1 Hawkeyes' offense. He and his teammates won decisively in Week 4, 45-17, over Louisiana-Monroe.
The Big Ten Does Have Five of the Top 20 Scorers in the Nation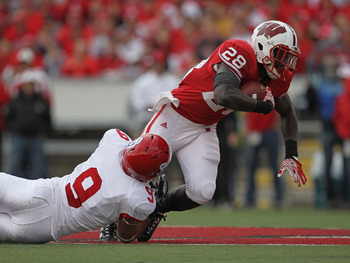 Jonathan Daniel/Getty Images
Wisconsin running back Montee Ball (see picture) is No. 3 in the nation with 10 touchdowns (60 points, nine rushing TDs and one catch for a touchdown).
Unfortunately, you have to meander down to No. 12 to find Nebraska's placekicker, Brett Maher, with 45 points (eight field goals and 21 extra points).
Nebraska's Taylor Martinez and Rex Burkhead are tied for No. 15 with seven touchdowns (42 points), and Iowa placekicker Mike Meyer is No. 18 with 41 points (eight field goals and 17 extra points)
It's "On Wisconsin" in Total Offense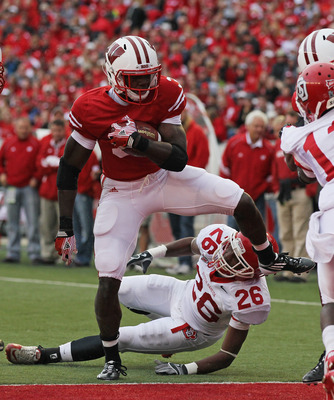 Jonathan Daniel/Getty Images
Wisconsin's vaunted running game (see picture) and the accurate passing of quarterback Russell Wilson have earned them the No. 5 spot among the nation's total offense leaders.
The next Big Ten offense is listed at no. 22 and it's the running offense of the Nebraska Cornhuskers. Illinois is No. 31, Iowa is No. 35 and Michigan State is No. 37 in total offense.
Did You Forget the Embarassing Losses?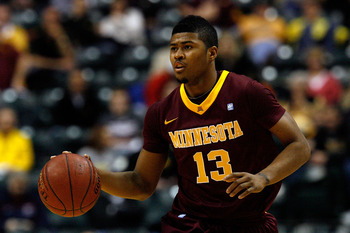 Chris Chambers/Getty Images
Nope. And I decided to post a picture of Minnesota sophomore guard Maverick Ahanmisi rather than show a picture of the Golden Gophers' embarrassing 37-24 loss to North Dakota State in week 4.
Hoosier fans are probably glad I didn't find a picture taken during their 24-21 to North Texas.
Upsets are to be expected like Iowa State beating Iowa in Week 2.
But there is a litany of other losses that are mind-numbing. Army beats Northwestern. Rice beats Purdue. Minnesota loses to everyone but Miami (Ohio). Indiana loses to everyone but South Carolina State.
The only major Big Ten win so far: Michigan beats Notre Dame at the Big House in Week 3.
You can point to the Big Ten standings and declare 10 out of the 12 teams have winning records. My concern is when the dust settles after the conference championship game in Indianapolis, how many Big Ten teams will be "bowl worthy?"
Keep Reading