Lions vs. Cowboys: TV Schedule, Live Streaming, Radio, Game Time and More
September 28, 2011
Ronald Martinez/Getty Images
The Dallas Cowboys come into Week 4 riding a modest two-game winning streak, but they're going to be put to the test up against the 3-0 Detroit Lions on Sunday.
Contrary to what they've been for the last decade-plus, the Lions are on longer a doormat. In fact, they are a very dangerous team, and they already seem to be on a fast track to the organization's first playoff berth since 1999.
But Cowboys Stadium is a tough place for a road team to pull off a win, and you can rest assured that the Cowboys are not going to take it easy on the Lions.
Where: Cowboys Stadium
When: Sunday at 1:00 p.m. ET
Watch: FOX, DirecTV 707, and streaming online via DirecTV's NFL Sunday Ticket To-Go package.
Listen: Live audio streaming on NFL.com (minimum $9.99 payment); 97.1 FM WXYT and Sirius 85 for Detroit, 105.3 The Fan and Sirius 135 for Dallas.
Betting Line: Dallas -1, according to Bodog.
What's at Stake?
The Lions have a 3-0 record they need to uphold, and they will likely have to if they want to keep pace with the Green Bay Packers in the NFC North.
As for the home team, the Cowboys' 2-1 record is currently good enough to tie them atop the NFC East. They also need a win to keep pace.
Lions Injury Report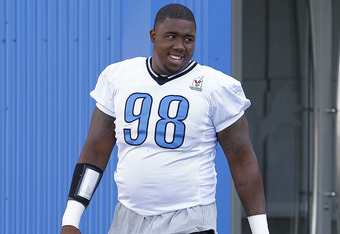 Leon Halip/Getty Images
According to the USA Today, the Lions are going to be dealing with several injuries this week. Cornerback Aaron Berry has a groin injury that will be monitored and linebacker Isaiah Ekejiuba is likely going to be out for a couple weeks with a shoulder injury.
If you're at all curious about rookie defensive tackle Nick Fairley, the word from the Detroit Free Press is that Lions head coach Jim Schwartz has yet to commit to playing Fairley against the Cowboys.
Cowboys Injury Report
We know that Tony Romo, Dez Bryant and Felix Jones were all banged up against the Washington Redskins on Monday night, but at least they were able to play.
This week, the player worth monitoring will be Miles Austin. The star wide receiver was unable to play on Monday night due to a hamstring injury, and it's unknown whether or not he'll be able to play against Detroit.
Stay tuned for updates.
Fantasy Start 'Em: Brandon Pettigrew
The Lions weren't able to run the ball against the Minnesota Vikings in Week 3, so they resorted to throwing short passes to Brandon Pettigrew. He ended up with 11 catches for 112 yards. If the running game stalls against Dallas, you can expect the Lions to trust their third-year tight end to pick up tough yards once again.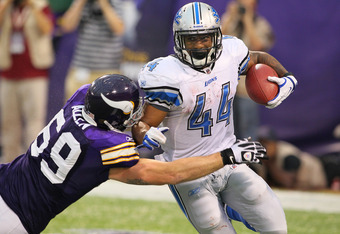 Adam Bettcher/Getty Images
Fantasy Sit 'Em: Jahvid Best

Best's inability to get anything done on the ground is the reason why Pettigrew had such a good game, as Best had just 12 carries for 14 yards against the Vikings. Against the Cowboys, Best will be facing the league's second-best run defense. Let him sit this one out.
Fantasy Sleeper: Titus Young
I hate to go with a trio of Lions here, but I'm still waiting for Young to bust out. He's shown flashes of his tremendous talent in the last two weeks, but he has yet to catch a touchdown pass or notch over 100 yards receiving. He will do both sooner or later.
What They're Saying
There are a lot of theories out there about what exactly has led to Detroit's early-season success, but Jamie Samuelsen wrote in a blog for the Detroit Free Press that is has everything to do with a simple culture change:
It's far too early to know where this is going. But when you win seven games in a row (including four in a row on the road) and when you come back from 20 points down to win in a hostile environment, things have changed. The culture has changed... [The Lions] always know that they're not out of it. They'll always know that despite a horrid half of football, they can still win it. And they'll have further affirmation that they're better than many of the teams that they play.
It's hard to argue the point. It's only been three games, but it's already apparent that these are not the Lions that we've been mocking all these years.
Meanwhile in Dallas, Rainer Sabin of the Dallas Morning News had some kind words for Felix Jones. After struggling mightily in Dallas' first two games, Jones rushed for 115 yards on 14 carries against the Redskins, breaking runs of 29 and 40 yards in the second half. In writing about it, Sabin's excitement is self-evident:
Those big plays hadn't materialized for a [reckless] rushing offense in the Cowboys' first two games. Before Week 3 began, Dallas was the only team that had yet to produce a carry of 10 yards or more. But then Jones began to find room and all of a sudden the Cowboys' ground game came alive.
And not a moment too soon. Before Monday night, the Cowboys were one of the worst rushing teams in the league. Now they have something to build off of.
Lions Player to Watch: Calvin Johnson

In case you haven't noticed, Calvin Johnson has been pretty good so far this year. He's only caught 16 passes, but six have gone for touchdowns. He's had at least two in each of Detroit's first three games.
At this rate, Johnson will end the season with 32 touchdown catches. I'm pretty sure that would be some kind of record.
Cowboys Player to Watch: Tony Romo
Let's face it, we're all sick of hearing about Tony Romo all the time. But you know what, he's been pretty good in Dallas' last two games. He's played through pain, and he's led the Cowboys to two wins. As many have already opined, he appears to be made of tougher stuff than we gave him credit for.
Key Matchup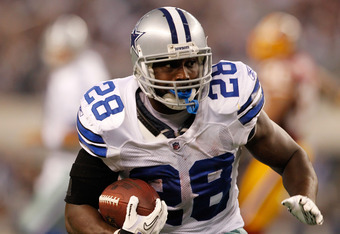 Tom Pennington/Getty Images
We haven't mentioned Ndamukong Suh yet, but he's definitely going to be a key player in this game. Dallas' offensive line has had some issues this season, and Suh has the power to make those issues even worse all by himself. The Cowboys need to keep him away from Romo, or else his wounded ribcage is going to get even more wounded.
On the Hot Seat
Both head coaches are in good standing at the moment, but things are never going to be easy for Romo. He's managed to win over a lot of doubters out there with his performances in the last two weeks, but there are still plenty of people out there who think he's the most overrated player in the NFL. He'll have to win them over too. 
Prediction
The Cowboys may be 2-1, but I have my doubts about their overall quality. They were lucky to beat the 49ers in Week 2, and they were lucky to beat the Redskins on Monday night. I have a feeling they won't be so lucky against a team as good as the Lions.
Lions 31, Cowboys 28