Manchester United vs. FC Basel: Where Sir Alex Ferguson Got It Wrong
September 27, 2011
Michael Regan/Getty Images
Whenever Manchester United struggle, the usual suspects are lined up against a wall and shot by the fans. On Talksport after the match, the presenter said, "Carrick went missing." This is meat and veg to many fans who are on his back the whole time.
I was at Old Trafford. Carrick didn't misplace a pass all match. It is too easy to blame central midfield, but you have to look at how United were overrun in midfield and that starts with the manager.
First, let's get the excuses out of the way. United do indeed have a bit of an injury crisis, which saw Ferguson fielding his only two fit centre-backs and Fabio, with no other defender on the bench.
The front of the programme proclaimed "The Reds want three points tonight" but that's not how Sir Alex set up his team.
The only recognised striker was Welbeck. The lad played well enough, scored two and could have had three, but if you want to get three points and give yourself easy qualification as winners, you put out a team to win.
That's what Basel did. They were big, strong and crude at times, but they were well organised, played at pace and should have gone in at halftime with a lead but for Second Division finishing.
Frankly, Sir Alex underestimated the opposition and paid in the way he did on Saturday.
It would be easy to blame the defence, which at times was a shambles, disorganised and wide open, but that wasn't down to Phil Jones, who was world class. Even if you field a scratch defence, you work it out on the training ground before the match.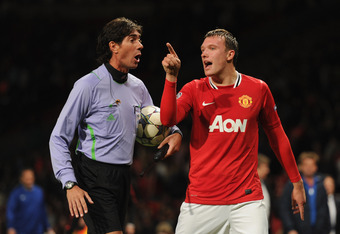 Michael Regan/Getty Images
Fabio was so bad that he must have put both the twins' future in doubt after this performance. Yes, he can be exciting and dangerous going forwards, but this is not the reserves and too often he was not at home.
Valencia and Young looked tired in the second half, but what on earth was Giggs doing starting the match behind a lone striker?
You can understand the boss keeping Fletcher fresh for Saturday's match, but Ji-Sung Park hardly gets a game these days and he is a European specialist. Giggs flattered to deceive, going on mazy runs but giving the ball away and leaving the defence exposed.
And that was another difference between the teams. The Basel players wanted it and their visiting fans responded. As with the Arsenal match, the Stretford End was like a cathedral, as Basel made it look and sound like a home match.
But Ferguson's biggest mistake—and one he still hasn't learned from—was leaving world-class strikers on the bench.
You have to wonder if he expects Berbatov and Owen to go at the end of the season—maybe before—because one is ring rusty and the other looks sharp as nails against Leeds but can't even get on the pitch when United were crying out for two strikers.
Berbatov and Owen play well together and OK, Berba hasn't scored in Europe, but why else did Sir Alex buy him? He is an excellent target man, holds the ball up, never gives it away and brings other players into the game. That's what was needed against Barcelona and that's what was needed against Basel.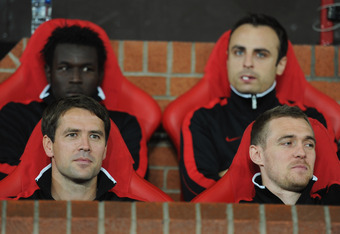 Michael Regan/Getty Images
United started at top speed and gradually got on top of a fast-starting opposition before scoring two quick goals. But while Basel heads dropped, they regrouped and could easily have led 3-2 at the break.
The warning signs were there at halftime. What did Ferguson say to the players? He neither made personnel changes nor tactical changes. Yes, Welbeck had done well and yes the manager usually waits till the magical hour before bringing on his subs, but just this once, he should have seen that what was needed was Berbatov and Owen—to finish off Basel and then play keep ball.
In precious few mad minutes United were behind. Yes the penalty was soft, but Basel's first two goals were carbon copies of the first-half moves that should have produced goals. Once they got a sniff, they were rampant.
United's response was to pour on the attack and time and again when it broke down there were too few bodies tracking back against the fired up opposition who surgically dissected a stretched back four.
Maybe the other mistakes Sir Alex made were to let O'Shea go and Scott Wootton and Ritchie de Laet go on loan. Hindsight is a wonderful thing.
On the way to the match, my concern was the lack of defensive resources and I feared a banana skin. While this didn't help, the truth of the matter was that the formation and the tactics invited Basel to attack United.
Nothing changed at halftime when it was crying out for slowing things down and getting control of the match. As with Chelsea, that match was wide open and once again, United nearly paid the ultimate price.
As things stand, Sir Alex is now going to have to play more of his senior players in the remaining matches and, if Benfica win all theirs, still finish second at best. But the first big question is, what has Sir Alex learned that will give him a chance of beating a fired-up Basel at home? Because if he doesn't, United may be joining City in the Europa League.