Indianapolis Colts: If Given the Chance, Colts Should Pass on Andrew Luck
September 29, 2011
Christian Petersen/Getty Images
With Colts owner Jim Irsay's recent comments and various tweets concerning Peyton Manning possibly not returning this season, speculation is that the Colts will be in position to possibly draft Andrew Luck in the upcoming draft.
The Colts' struggles without Manning have been well documented as the once high powered machine that was the Colts' offense has become a Geo Metro stuck in the mud (no offense intended to you Geo Metro owners).
In Sunday's loss to the Steelers, the Colts pulled starter Kerry Collins in favor of Curtis Painter, who seemed to be better after he settled in. However, with the exception of a late touchdown drive, the Colts still couldn't move the ball very effectively.
While there are a few experts who still think the Colts can manage seven wins, the majority of the "experts" predict no better than a four-win season, which would put the Colts right in the middle of the Andrew Luck sweepstakes. 
If that comes to pass and the Colts have the first pick in the draft, they need to avoid drafting him at all costs for these two reasons:
1. Peyton Manning
It would be nice to think the Colts could draft Manning's successor and have him sit for the next four years—the amount of time remaining on Manning's contract—and "learn the ropes" of the Colts offense. That's just not how it works in Indy.
Manning takes all of the snaps all of the time. There is no first team and second team offense in Indy; there is only the first team. The nature of the offense, the precision, the expectations Manning has for his receivers and the audibles he calls at the line require them to take all of those snaps together and learn each other inside and out.
There's no way a backup, even the so-called heir to the throne, could learn the offense without those reps, and Luck wouldn't be able to take those reps without damaging the timing between Manning and his receivers.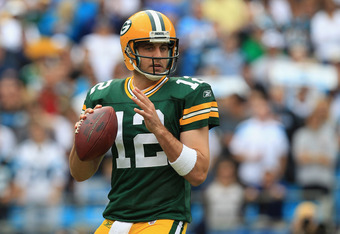 Streeter Lecka/Getty Images
The other problem is the idea that Manning could mentor Luck and prepare him to run the offense, but that's another thing the Colts just don't do.
Jim Sorgi was Manning's backup for eight seasons. If anyone. he should be able to run this offense right now, yet Sorgi has as much insight right now as Kerry Collins, because in all of the years that he was there the relationship between he and Manning was not teacher and pupil.
Manning doesn't mentor quarterbacks because none of them can run the system the Colts run, only one man can run it and that's Peyton Manning.
What would Manning's motivation to mentor his successor be anyway? Should he groom this guy to take his job before he's ready to give it up, much like Brett Favre did in Green Bay or Donovan McNabb in Philadelphia or even Joe Montana in San Francisco?
In the recent past you could have Mark Brunell, Aaron Brooks, Matt Schaub, Matt Hasselbeck or Steve Young on the bench as a backup, now general managers just look at these guys as cheaper alternatives to what they already have.
For Brett Favre it was only natural to mentor a young quarterback because he watched so many of them go on to have success for other teams, but as he was watching it so was management and they didn't want Aaron Rodgers to be the next big thing in Brett Favre's quarterback tree. Yes, in many ways Favre did it to himself, but if anyone deserved to have the chance to un-retire, it was Favre.
Manning's a smart man though, and he saw what happened in Green Bay. He saw what happened in Philadelphia. Why would he volunteer to be the next future Hall of Famer to be pushed out? Especially because the cost of mentoring his successor would be to take away from his ability to effectively win.
 2. Pete Carroll and Jim Harbaugh
Andrew Luck's value to the Colts is actually higher as a trade chip. Very rarely does a guy come around with this type of hype, and the Colts could capitalize on that in a big way by exploiting the teams in the NFC West.
It's no real secret that 49ers coach Jim Harbaugh and Seahawks coach Pete Carroll aren't particularly fond of each other. It also just so happens that both of those teams have major questions at quarterback, especially Seattle.
Just as badly as Harbaugh wants Luck in San Francisco, you know Pete Carroll wants him equally bad especially because it would be a huge boon to be able to dominate the 49ers for the next decade with Harbaugh's pride and joy.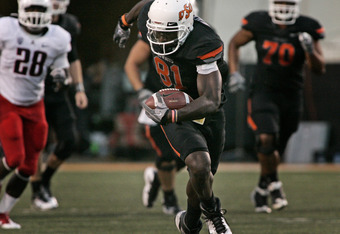 Brett Deering/Getty Images
That makes them both ripe for fleecing.
Why draft Manning's successor now when you might have a shot at Justin Blackmon, who would almost make the Colt's passing game unstoppable? Trent Richardson could be a legitimate running back for the Colts, or LSU corner Tyrann Mathieu to anchor the pass defense or Jared Crick from Nebraska, who coaches say is better than Ndamukong Suh.
If these are the guys you want anyway, and they should be, why not take the guy other teams want and then watch those teams get into a crazy bidding war for his services? Remember what the Giants paid for Eli Manning? Remember what the Saints paid for Ricky Williams? The Saints traded their entire draft and the next year's first-round pick. The Giants traded the fourth overall pick and a third rounder, as well as the next year's first round pick. Matt Cassel got traded for the second pick in the second round. Matt Schaub was acquired for two second rounders. This shows that when teams really want someone badly, they are willing to give up lots to get him.
If you're the Colts, that could be the best way to make the most of Manning's last four years.
The Colts owe everything that they are to Peyton Manning. Before Manning, their best player was Johnny Unitas, who refused to associate himself with them. They were in a dilapidated stadium that they couldn't sell out on a regular basis, and they were generally irrelevant in NFL circles.
For the sake of their franchise, in the interests of doing the right thing, they need to give Manning every chance to win another Superbowl instead of signaling to him and their fan base that they're beginning the post Manning era early.