Fantasy Football Week 4 Rankings: Player Consistency Rankings
September 27, 2011
Chris Graythen/Getty Images
The third week of the football season has come to a close and if your fantasy football team is struggling you need to make moves now before it is too late. With our latest rankings we have figured out which players are truly fantasy elite and not just because they have the most points. With these rankings you can tell which players are going to be consistent, can perform against even some of the toughest defenses and, well, who is just having a monster year.
You may notice some names are missing, as good as players like Kenny Britt and Jamaal Charles are, they are also gone for the year so there is no need to rank them. Some others, like Miles Austin and Aaron Hernandez will still make their respective lists. Sure they are out for some time, but they have been consistent all year and have the season totals to keep them in the ranks.
How It Works: We analyze each player's performance on a weekly basis, then determine their rankings based on the defenses they went up against. It is too easy to say that the guy with the most points is the best in the week. What if he went up against the league's worst defense? We would be hyping up a guy that could go and put up a goose egg against a defense like the Ravens. Their overall rankings, however, are then calculated looking at consistency. Just because Jermichael Finley had three touchdowns this past week, it doesn't a guarantee him a spot in the top 5. If you own Finley you were likely let down by the numbers he put up in the first two weeks.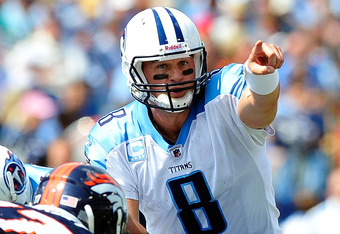 Grant Halverson/Getty Images
See the entire list of player rankings here. For PPR and Standard Scoring formats.
QUARTERBACKS
No Change Here
1.Tom Brady, New England Patriots
Not even four interceptions can keep Brady from the top of the list. Can we find any shortcoming in his game? Well we can try, the Patriots got nothing from Deion Branch and Chad Ochocinco and had to rely on Rob Gronkowski and Wes Welker, heavily. Will opposing defenses just key on those two for now on? And is that a big mistake with Brady at the helm? See you next week.
2.Drew Brees, Green Bay Packers
Brees similarly had poor numbers in the turnover department, but his owners can always sleep well at night with multiple touchdowns and a ton of yards. Marques Colston should be back around Week 6, so you may want to consider selling high on those extra Saints receivers, now.
Oldie But Goodie
10. Mat Hasselbeck, Tennessee Titans
The Titans have actually looked pretty strong with Hasselbeck at the helm. He has brought some sense of consistency and leadership that could have been in deep trouble considering Chris Johnson's struggles.
Here's the thing about Hasselbeck, he isn't going to win you any games, but he certainly won't lose you any, either. The key for Hasselbeck is consistency, so he is a great QB2 option. If you are in a two quarterback league, we absolutely would give him the start. If you're in a standard league you can sub him in based on matchups when your top guy is up against a tough defense.
How the Mighty Have Fallen
18. Ben Roethlisberger, Pittsburgh Steelers
It has been a tough year for Roethlisberger and anyone that banked on him to be a top 5 fantasy quarterback. You can blame Ben's woes on a horrid offensive line, but the fact is that Ben hasn't done anything to counteract the pass rush. The Steelers seem to be relying on the big play, too much, and as a result Roethlisberger has thrown four interceptions in three games and has only three touchdowns to show for it. The Steelers always seem to find a way to win, but they'll have to make some changes to their game plan if he is going to turn around what has been a very rocky start.
19. Michael Vick, Philadelphia Eagles
Even before leaving the Giants with a hand injury, Vick's season numbers weren't all that impressive. He had a decent fantasy number in the first week, but in reality he looked shaky with his accuracy. Add the fact that he has missed time in two consecutive games is really starting to prove that his style of play is going to hamper your fantasy team. There is no word, yet if he will miss any time with a hand contusion, but if you own Vick we suggest picking up Vince Young now as a precautionary move.
21. Josh Freeman, Tampa Bay Buccaneers
Freeman was so good last year because he almost never made a poor decision with the ball. Freeman has nearly matched his 2010 interception total this season, however. Freeman only has two passing touchdowns so far making him a weak QB2 option.
The Sports Cannon is a fantasy football advice website offering free advice, cheat sheets, sleepers and waiver wire pickups. You can follow TSC on Facebook and Twitter so you are can stay at the top of your league.