Fantasy Football Week 4: Why You Should Buy Low on Chris Johnson
September 27, 2011
Wesley Hitt/Getty Images
We all have an owner in our fantasy football league that is about to give up on Chris Johnson.
Let him.
Johnson's statistics are terrible, to be sure. Instead of getting CJ2K, most fantasy owners are wondering if they got CJ100 instead, as the Titans running back has rushed for only 98 yards in three games this season.
Let these owners part ways with Johnson, and make sure you are the one there to take him off their hands.
While I can't, and won't, excuse Johnson's numbers, I do believe there is an explanation.
The Titans have opened up against three solid run defenses to start the season, who have all keyed extensively on stopping Johnson. No one wants to be the first defense on whom he breaks loose, and they all believe it will happen eventually.
The Jaguars and Ravens are fifth and sixth, respectively, against the run in 2011. While Denver is rated a bit lower, at 14th, they are a younger group that figures to gel as the season matures. They certainly possess the talent to make life difficult for a running back like Johnson.
Additionally, Matt Hasselbeck is showing teams he can throw the football. Although the Titans lost Kenny Britt, I look for Lavelle Hawkins and Nate Washington to team with Hasselbeck and make enough plays in the passing game to keep defenses honest along their front seven.
The biggest reason Johnson is still struggling is simply his lack of being in true football shape. After a lengthy holdout saw him miss the entire preseason, Johnson is essentially finishing his "offseason" work after three games of mediocre effort.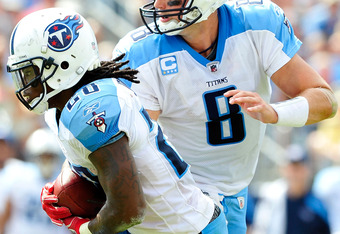 Grant Halverson/Getty Images
He has lacked explosion, but much of that can be attributed to getting used to contact again. The Titans have laid off Johnson in practice, as usual, which means that he really has only had three days of physical contact, each coming in a game situation.
Johnson will breakout, sooner or later. He is too talented and too fast not too. Furthermore, with Britt out with ACL and MCL tears, Johnson's ability to catch passes out of the backfield may be what actually gets him back into an offensive groove and allows space for his running abilities to flourish.
So, make a move for Johnson and let that panicking owner get rid of his stressful superstar. Johnson will break out.
Let's just hope when he does, he's on your team.