College Football Preview/Prediction: Georgia vs. Mississippi State
September 27, 2011
The Bulldogs of Georgia and Mississippi State match up this weekend in Athens in a must-win game for both teams. This contest exemplifies the reason so many of us cherish college football—namely that every week REALLY matters in bigtime college football.
Both teams come in with the same overall record, 2-2, but Mississippi State has already dropped two conference games. Playing out of the stacked SEC West, MSU is already all but out of the division race. Though not mathematically eliminated, after losing to LSU and with South Carolina, Alabama and Arkansas still on their schedule, it would take some bizarre turn of events for MSU to climb back into contention for the SEC West.
So what makes this game such a big deal for Mississippi State?
If MSU loses to the other SEC Bulldogs this week, they're going to have to fight just to become bowl-eligible. A loss to Georgia puts Mississippi State at 2-3 and they will be an underdog to South Carolina, Alabama and Arkansas. Assuming they do drop those games, MSU will have to win every other game just to finish 6-6 and become bowl-eligible.
Not exactly the scenario the Bulldogs were hoping for after coming into the season ranked in the top 20.
As important as it is for MSU, this game has even greater implications for Georgia. Although the Bulldogs also come in with a 2-2 overall record, UGA is 1-1 in the SEC and still in contention for the Eastern Division. This is an absolute must-win game for Georgia if they are going to stay in the race for a division title.
Despite Mississippi State's slow start, this is still a very good football team loaded with talent on both sides of the ball. Don't be surprised if MSU comes into Athens fired up and looking like the team everyone expected them to be before the season started.
Mississippi State could easily be coming into this game 3-1 if not for a loss to Auburn in which the Bulldogs dominated every stat except the score. If MSU had beaten Auburn, they would surely still be ranked in the top 25 as their only other loss was to new No. 1, LSU.
Likewise, Georgia started slow with a loss to No. 5 Boise State, followed up with a very close loss to No. 12 South Carolina, a game the Bulldogs feel they could/should have won. Since, Georgia has been steadily improving, posting a 59-point shutout victory against Coastal Carolina and a convincing 27-13 win last week against Ole Miss.
Georgia's defense has looked very sharp in the team's two wins, with opponents averaging only 49 yards on the ground and 99 yards through the air. Whether this is indicative of a greatly improved defense or simply inferior opponents remains to be seen.
Mississippi State will certainly bring a potent offense to test the Bulldog's progress on defense between the hedges on Saturday. In only four games, Vick Ballard has already racked up 503 total yards and five touchdowns and the Bulldogs are third in the SEC with 217.5 rushing yards per game.
Quarterback Chris Relf hasn't put up eye-popping numbers through the air—657 passing yards and four touchdowns—but has thrown enough to be effective. MSU runs a spread offense that is designed to let Relf make plays with his legs as well. Relf ran for a season-high 106 yards in MSU's 41-34 loss to Auburn
The Georgia offense has looked strong all year and seems to be improving each week as young players step into vacated roles from last year's team. Georgia's leading rusher and leading receiver are both true freshmen, Isaiah Crowell and Malcolm Mitchell, respectively.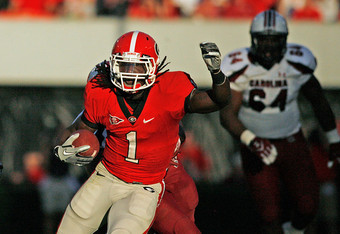 Sophomore quarterback Aaron Murray has picked up where he left off in his sensational freshman year. In four games, Murray has thrown for 940 yards and has 11 touchdowns to only three interceptions.
The Mississippi State defense has struggled against the run this year, giving up 163.5 yards per game so far. Coming off a breakout game in which he rushed for 147 yards on 30 carries against Ole Miss, look for the MSU to get a heavy dose of Isaiah Crowell on Saturday.
Mississippi State is a lot better than its record shows, but Georgia will be too much for them at home in Athens. Georgia should be able to control the game on the ground with Isaiah Crowell and this will set up the passing game for Murray and company. Georgia should be able to bottle up the run and make Relf beat them with his arm, which will be no easy task with players like Brandon Boykin and Bacarri Rambo in the Georgia secondary.
Final score prediction: Georgia wins 34-24
Game notes: Turnovers could be a deciding factor as Mississippi State has not lost a game in three seasons under Dan Mullen in which they had a plus turnover margin but are 2-13 when tied or have a minus margin. UGA has a plus-two turnover margin on the season while MSU has a plus-one margin. Mississippi State has lost five straight games in Athens and has not won in Sanford Stadium since 1974. Injured Georgia inside linebacker Christian Robinson participated in the Monday walkthrough and may play Saturday.