2011 Indianapolis Colts: Is This the End of an Era or Just a Bump in the Road?
September 27, 2011
Andy Lyons/Getty Images
When Tony Dungy left the Colts and named Jim Caldwell his successor, I was not only skeptical but extremely disappointed. Against conventional thought in my city, I was not a big Tony Dungy fan. (As a coach. He is a tremendous human being and fantastic role model!) 
I just simply believe that despite winning a Super Bowl, there were many coaching mistakes made throughout his career.  He was a good coach, with an exceptional cast of coaches and players around him.  I'm not so sure we shouldn't have two, three, maybe even four Super Bowl rings here.
Caldwell was and still is an unproven extension of that coaching style and philosophy.  Many point to his first season as head coach and the 13-0 start.  To this I reply, "and Barry Switzer won a Super Bowl his first year as head coach with the Dallas team he inherited from Jimmy Johnson." 
Then I point to last year's season of penalties, dropped balls and other mental mistakes.  Usually indicative of poor leadership.  Even a great friend just pointed out to me this morning that the Colts are 12-12 since the 14th game of the 2009 season.  Her exact words were, "Since we laid down to the Jets we are .500 (team).  12-12!  You can't disrespect the game like that... after 14 straight wins.  The football gods said, 'You choose not be great? Fine, you won't be.'" She's right. Gods, no.  But infectious philosophies, yes. An army is only a reflection of its leadership.

My hopes for the 2011-12 season have faded more and more since last winter.  I stated then that I expected the Colts' to go 10-6 because of a weaker schedule and a weak division.  It's gone downhill from there.
Here are some of the other reasons:
Little Polian is now running the show.  Is he qualified to do so?  By looking at the free-agent activity, or lack thereof, I'm a little leery.  The typical response here is, "The Colts rarely are active during free agency.  They choose to build through the draft."  True.  But that was when we had a young, super talented, genius quarterback that had nothing but time on his hands and could work miracles.  
We still have that super talented, genius quarterback on our hands but he is not young and in recent weeks has shown he is human like everyone else.  We don't have time to "build."  We should adapt and start "reloading."  The disaster that has been left in the wake of his absence is proof enough of that.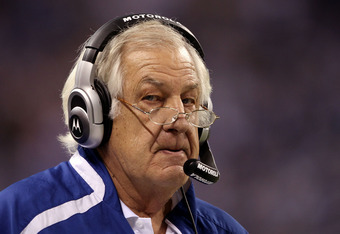 Elsa/Getty Images

Tom Moore is gone.  The genius (Moore) behind the genius (Manning).  Manning is spectacular and would have had a stellar career just about anywhere for anyone, but Moore designed this offense over the years to fit Manning's personality and ability.  Sure, Manning knows it like the back of his hand and one could make the argument that he doesn't need Moore.  But in a league of geniuses that get paid big money to find weaknesses in any system, keeping what works is fleeting.  You have to constantly adapt. 

The defense has NEVER been able to stop the run.  This year will be no different.  I just mentioned that you have to constantly adapt.  I'm not so sure we've done that defensively.  The moment is gone.  Small, fast defensive players are no longer a surprise.  In fact, it's so elementary that teams like Miami and Jacksonville can put up astronomical numbers against us.  The more they run, the more we are run down and the more they keep doing it.  It doesn't work and becomes less effective as time goes on. 

Now, the BIG issue.  Manning is out for the season, if not forever.  Kerry Collins is one of those guys who I have always rooted for.  And I absolutely love it that he is here.  He is a good, solid, smart quarterback who knows what he's capable of and more importantly, what he is not capable of.  He makes good decisions and probably won't hurt you.
On the same note, I am in Curtis Painter's corner.  I'm not yet a fan, but I do believe the kid needs a shot.  He needs some reps for an accurate assessment.  That is something he has yet to have.  The closest we've come to that was last Sunday against the Pittsburgh Steelers when he calmly led the Colts downfield on an effective 80-yard drive to tie the game at 20 with two minutes left.  Not to shabby for a kid.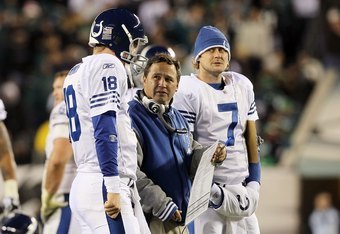 Jim McIsaac/Getty Images
But the problem here is not Collins and Painters' ability or lack thereof.  The problem here is this mediocre run game.

Addai is not a spectacular back.  He wouldn't start for many teams around the league.  He is strong and good for three to five yards when they need it.  He is not terrible but by far anything spectacular.  And our offensive line was built for pass protection.  It's not made for consistent run blocking.

"But it's worked in the past, right?"  Yes.  But the big difference is that even though Collins is solid, he is not Peyton Manning.  Manning made the run game seem better than it is.  Defenses have to respect Manning and his receiving corps on every down so much that the run game, by default is moderately successful.  
Take away that threat, and a couple of adjustments later, and the run game is shut down and just about any other quarterback other than Manning suddenly has a lot more pressure on him than people realize.  Unfortunately, I think it's a no-win situation for any quarterback (yes, this includes David Garrard, Brett Farve AND Andrew Luck).

So where are we at?  Well, now I'm being labeled as not being a "True Blue Fan."  That is pure poppycock.  I've been a fan before 75 percent of the people who have their pretty, clean, new jerseys on and horseshoes painted on their face every Sunday even cared what was going on.  I sat in pure agony during 1-15 seasons and my loyalty never waivered. 

But despite being a loyal fan, I'm not an ignorant fan.  The ride is over.  The Colts will struggle so much this year that it scares me to think of an 7-9 Colts team, but it could be a reality.  In fact, I wouldn't be surprised if it goes so wrong that we end up (God forbid) 5-11 or 3-13.  Originally I thought had we had some things go our way. We could have still eeked out a division crown but I think that is far down on the wish list at the moment.  We have to win a game first.
I guess the best we can hope for is that with Kerry Collins in town, maybe he will slip Jeff Fisher's phone number to Jim Irsay.