John Fox Under Fire: Time for Orton, Denver Broncos to Make a Statement
September 27, 2011
Doug Pensinger/Getty Images
A couple days after the Broncos lost on the road to a very good Tennessee Titans team, their coach, John Fox, has taken more than his share of heat from various media outlets and fans. People are talking.
Should the Broncos have gone for a touchdown on 4th-and-goal? Should Tebow have been inserted in that goal-to-go situation? Why didn't Fox call a pass play, when Orton had already been successful throwing the ball in the red zone?
There is plenty of blame to go around, but coach Fox has already become the scapegoat for his team not doing what they are paid to do. He is a player's coach. The Broncos want to win games for him, but the question is, do they have the guts to do it?
The Broncos had four chances to win the battle at the line of scrimmage, and pound the ball in from inside the 2-yard line. All four times, they were outplayed by a prideful Titans front seven, that by all rights, could have thrown in the towel after their own offense left them in a horrible position.
My hope is that maybe, just maybe, players will listen to what's been said about Fox and Orton this week, and take responsibility for their own failure.
I hope that their coach and quarterback are taking all the heat as motivation to go out and beat the crap out of Green Bay this weekend. They want to win for Fox? They need to prove it. They need to go out with the mindset that they will not be beaten in their one-on-one assignments.
The offensive line deserves to be called out. Those guys are getting beat up on the field, and thus, their coach and quarterback are getting beat up by fans and the media away from it. If what we saw on Sunday afternoon was their best effort, it's time for some of them to start thinking about their next career.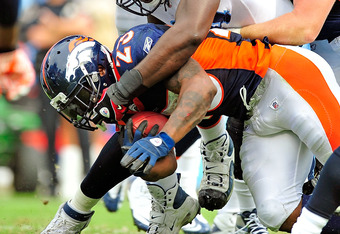 Grant Halverson/Getty Images
The defense has played admirably considering that they are missing three of their top five players, arguably top three period. Denver is going to be just fine defensively when they get Bailey, Dumervil and Williams back.
What looks like cruel scheduling for the Denver Broncos could actually be the ultimate stage for redemption this weekend in Green Bay, Wisconsin.
Denver has a tremendous opportunity to go into the defending Super Bowl champions' house and kick the door in. They have a chance to go out and give John Fox the type of effort that he can be proud of.
Kyle Orton will have a chance to go out there and prove that he is the same QB that was leading the NFL in passing yards at this time a year ago.
The stage is set. Let's see how the Broncos will respond.