Theo Epstein Is Responsible for Lack of Pitching Depth That Caused Sox Collapse
September 29, 2011
Jonathan Daniel/Getty Images
Lack of pitching depth. Lack of pitching depth. Lack of pitching depth.
That was, by far, the biggest problem the Red Sox had in 2011, and the responsibility rests almost entirely with general manager Theo Epstein. The rest of the management team likely shares a bit of that too.
For some reason, media and fans are getting confused about what the most salient factors were that contributed to their disastrous collapse in Baltimore on Wednesday night. Radio talk show hosts are complaining the team was "too soft" or "lacked fire."  People keep harping on how it seemed impossible for such a talented team to lose so many games in September.
Yeah, I was surprised too, but, after seeing John Lackey, Tim Wakefield, Kyle Weiland, an injjured Eric Bedard and Andrew Miller be sent out to start game after game in August and September, was it really THAT surprising that the team kept losing so much?
I don't think so. The Red Sox ran out of good, or even half-decent, pitchers in 2011, and that problem plagued them all season.
 If the team had more pitchers on its bench or on their minor league teams, I don't think we would have seen Wakefield start—and fail to win—about nine games in a row while he was in pursuit of his 200th win on the Red Sox. In my view, Wakefield should have not even made the team in 2011, but I certainly think there should have been some better pitchers available than the 45-year-old knuckleballer.
I will not bother regurgitating the stats, but I think you'll find that Lackey, Weiland, Bedard and Miller did not help the Sox win many games. The question is: Why were the Red Sox so THIN, so SHALLOW, in their pitching depth? They had no one in reserve.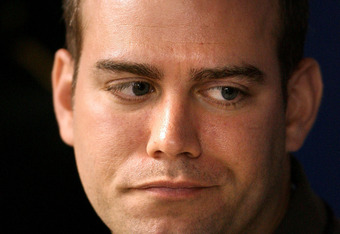 Elsa/Getty Images
Granted, no team can foresee or prevent injuries,  but this particular Sox team was incredibly ill-prepared to handle the gaps caused by injury or ineptitude. So, while we keep hearing every member of the media recite and re-recite the stats for September, no one seems to have asked how the team got into this quagmire.
Epstein, in a Sept. 23 article posted on WEEI.com by Alex Speier, admitted that the team's lack of pitching depth had been a significant problem.
"....Your backup plans look OK if one (pitcher) goes down, but they start to look a little bit less good if you lose two or three and four, it gets rough....But there are other teams have withstood this. There were a number of factors. We had a number of guys we thought positioned fairly well in the farn system to step up and take a more meaningful role, but development is not linear, and it just so happened that those players didn't develop the way we wanted on the perfect time frame for how our injuries coincided.  That happens. That's baseball."
I think it's good Epstein admitted that to Speier, and I applaud Speier for including that point in one article. But, I don't hear Epstein or other team officials raising the pitching depth problem now, after the team's historic collapse.
When the Red Sox lost stud starter Clay Buchholz in June, it was a huge loss that many underestimated in terms of its negative ramifications for the team. When they lost Daisuke Matzusaka in May, that also, though to a lesser degree, of course, still badly hurt the team.
The Red Sox never found pitchers who could do the job in place of those two original starters. Lackey, of course, was terrible all year. So, that left Josh Beckett and Jon Lester. Beckett was superb until he suffered an ankle injury in early September, and Lester had a good, but not great, 2011.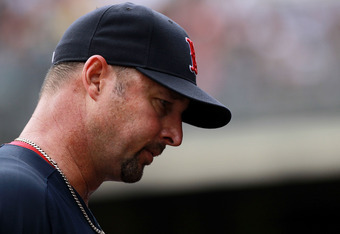 Nick Laham/Getty Images
So, three of the five starting pitching spots were filled inadequately for much of the season. (Wakefield was good for his first handful of starts, but sputtered, unsurprisingly, in the second half.)
Almost all teams that make the playoffs have considerably better pitching than that. Period.
Now, if you consider the impact of that same lack of pitching depth had on the bullpen, it becomes even more clear that the Red Sox lacked the personnel to advance in the playoffs in 2011.
Matt Albers was good in the first half and terrible in the second half. Hideki Okajima was sent to the minors early in the season due to his subpar  performance. Dan Wheeler took a good part of the season to "find his stuff."  Bobby Jenks was terrible in the first part of the season, then lost for the season due to injuries and health problems. Franklin Morales was erratic all year. Scott Atchison was never a very good pitcher, although he pitched well in spots toward the end.
Alfredo Aceves performed very well all year—better than anyone expected. Daniel Bard seemed to run out of gas in early September. Jonathan Papelbon had a great year despite the bad ending Wednesday night.
Yet, didn't you get the sense that the Red Sox, especially in September, were relying on the same few decent relief pitchers—and same few bad ones—every game? They even brought rookie Weiland out of the bullpen in the eighth inning of one of the last Orioles games—an admission they had no one available!
And, didn't you notice that other teams—like the Tampa Bay Rays or the Baltimore Orioles— always seemed to be bringing in an array of many relief pitchers out of their bullpens.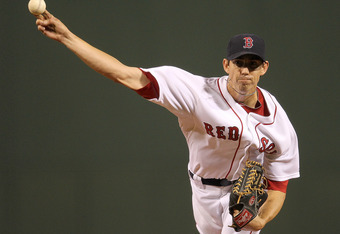 Jim Rogash/Getty Images
Other teams had more pitching depth. The Red Sox did not.
There were many other reasons for the Sox collapse. Kevin Youkilis' injuries and his absence from the lineup in September were huge. I think Adrian Gonzalez's shoulder was bothering him far more than we now know during the second half of the year. Then there is Carl Crawford's bad year, and on and on and on.
In the end, though, you need to have enough good pitchers. If you keep putting lousy or mediocre pitchers out on the mound, isn't a "collapse" inevitable? I think the Red Sox could have ended with even less wins due to their lack of starting pitching.