Fantasy Football Week 4 Running Backs: Who To Add, Drop and Ignore
September 27, 2011
Tom Szczerbowski/Getty Images
I don't gamble on sports, but I can't imagine anyone who bets on the NFL having an easy time so far.  The Buffalo Bills and the Detroit Lions are top teams?  Tony Romo plays his best football with a broken rib?  The Kansas City Chiefs are actually trying?  Who else is gone for the season now?
It's translated into fantasy football oddities for me thus far as well.  Health seems to be the biggest issue so far as a lot of NFL team injury reports continue to look more like a high school yearbook.  In the fantasy league where I have had good luck on the injury front I'm 3-0.  In the league where I've had bad injury luck I'm 0-3, already losing more games in that league than I did all of last season.
I know I'm not the only person with injury problems, which is probably why you are here. Banged-up running backs you say?  Here are my notes at that position after three weeks of play with wide receiver and quarterback notes coming tomorrow.
Pickups (worth at least a bench spot)
Stevan Ridley (New England Patriots) - Still a running back variety show in the New England ground game with the real meat of the Patriots' offensive players in the air, but Ridley is worth a grab if you have an option there.  He looked solid in the preseason and saw around the same number of carries as the other New England RBs, mostly in the fourth quarter.  
Kendall Hunter (San Francisco 49ers) - Another guy who looked strong in the preseason, Hunter came in the game Sunday and scored the only touchdown of the game.  Frank Gore is a beast, but a beast who gets hurt every year and reportedly hurt his ankle Sunday.  Like Ridley, this is more of a "just in case" pickup, but with NFL players dropping like flies right now you may just have the room.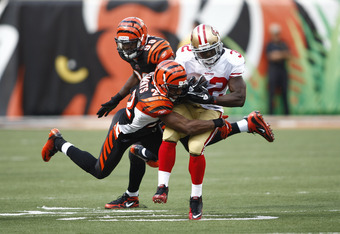 John Grieshop/Getty Images
Daniel Thomas (Miami Dolphins) - It's very clear now that Thomas, not Reggie Bush, is the man on the ground in Miami, but 40 percent of Yahoo! leagues still have him sitting on the wire like a big bird.  Get him and start him.
Ignores (don't panic, just wait for now)
Thomas Jones (Kansas City Chiefs) - Jones is still in line to get the majority of the carries for the Chiefs going forward.  Worth keeping around for a flex or bye week filler who could become more valuable if Kansas City ever remembers that they aren't playing in the Lingerie Football League.
James Casey (Houston Texans) - Listed as a tight end only in some places, Casey appears here due to a double position listing on Yahoo! as a running back.  I don't expect him to see action like he did this past week, as he's too valuable as a run blocker.  He saw his opportunities because the Texans saw something on film and because Ben Tate can't seem to catch as well as he can run.  Don't rush to grab him off the wire.
Drop (their services are no longer required)
DeAngelo Williams (Carolina Panthers) - Couldn't look slower if his highlight reel was played backwards and Jonathan Stewart is getting more of the work anyway.
Ryan Torain (Washington Redskins) - Some people are still holding onto him based on his performance last year.  Unless something happens to both Tim Hightower and Roy Helu, however, he's not worth having around.