Top 50 Prospects Assigned to the 2011 Arizona Fall League
September 27, 2011
Stephen Dunn/Getty Images
The 2011 Arizona Fall League season kicks off a week from today, so it's only fitting to take a look at some of the top talent the league will feature this year. Below is a list of the top 50 prospects who have been assigned to play in the AFL:
1. OF Mike Trout - Los Angeles Angels (Double-A/MLB)
The top prospect in baseball made his debut in the big leagues this summer, but didn't receive enough at-bats to use up his rookie eligibility. He'll head to the 2011 AFL, where he'll roam the same outfield as Nationals OF Bryce Harper and Giants OF Gary Brown. This should make for some exciting games, and we'll see if Trout can keep his slight edge on Harper for status as the game's No. 1 prospect.
2. OF Bryce Harper - Washington Nationals (Double-A)
Harper has been playing baseball under the microscope for a long time. He made his professional debut a year ago in the 2010 AFL, but this time around he'll be sharing the outfield with Trout, which should only add even more fuel to the discussion of which player truly is the best prospect in the game.
Harper absolutely mashed in the South Atlantic League from the get-go, but took a while to adjust to the level of pitching expected when he was challenged with an aggressive promotion to the Double-A Eastern League. Expect Harper to return to Harrisburg to start the 2012 season, but expect much better results this time around. It won't be long before he's roaming the outfield in Washington.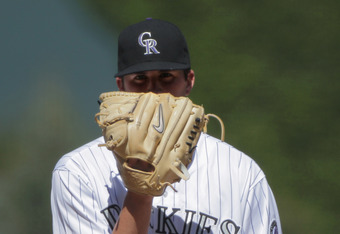 Doug Pensinger/Getty Images
3. RHP Gerrit Cole - Pittsburgh Pirates (Did not play)
Cole has the pretty rare distinction of being drafted in the first round twice—first, by the Yankees in 2008, and then by the Pirates first overall last June. Since he didn't sign until just before the August 15 deadline, Cole didn't get into any games for the Pirates this summer.
He'll be making his professional debut in the AFL, just like the past two top draft picks (Strasburg and Harper) have done. It should be an interesting debate whether Cole or Jameson Taillon should be considered the Pirates' top pitching prospect. Hopefully we'll have a better idea based on Cole's performance in the AFL.
4. LHP Drew Pomeranz - Colorado Rockies (Class-A Advanced/Double-A/MLB)
The top college pitcher selected in the 2010 First-Year Player Draft was dealt by the Indians ahead of the trade deadline, as part of a package of players offered to acquire Colorado's RHP Ubaldo Jimenez.
Since it had been less than a year since Pomeranz signed with the Indians after being drafted, he was included in the deal as a player to be named later. He had to sit out approximately two weeks and bide his time before he could be officially assigned to a Rockies affiliate. He made a fantastic impression in his first Double-A start in the organization, throwing seven innings of two-hit ball.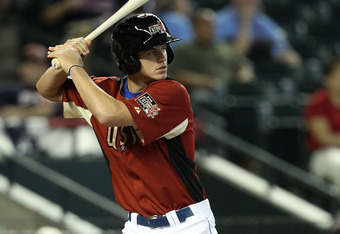 Christian Petersen/Getty Images
He's since been promoted to the big league squad and will have made four starts out of the rotation by the time the season ends. How he fares in the 2011 AFL should go a long way towards determining if he starts the 2012 season in the Rockies rotation, or perhaps back in Double-A or Triple-A for a bit more seasoning. 
5. LHP Danny Hultzen - Seattle Mariners (Did not play)
Hultzen was the trendy name in the weeks leading up to the 2011 First-Year Player Draft, as the pitcher who had such a successful season that he had pushed his way into discussions for the top overall selection.
While most people never thought the Pirates really considered taking him first, he definitely shocked a lot of people when the Mariners selected him right behind Cole with the second pick.
6. OF Wil Myers - Kansas City Royals (Double-A)
Royals' management felt that Myers' bat was so potent that it was worth moving him out from behind the plate, in an attempt to accelerate his ascension towards the big leagues. The transition to the outfield went well, but Myers didn't have the year with the bat that most scouts would have liked to have seen.
That being said, he was one of the youngest position players in Double-A, and he will look to use the 2011 AFL as a springboard to a more successful 2012 season.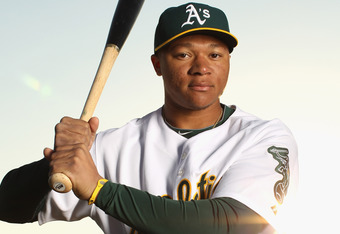 Ezra Shaw/Getty Images
7. OF Gary Brown - San Francisco Giants (Class-A Advanced)
Because 2011 was Brown's first full season in the minor leagues, it's easy to assume that playing in the hitter-friendly Class-A Advanced California league may have inflated some of his offensive statistics.
However, despite an ugly slump in the month of June, Brown had a very consistent season—batting over .330 in each month. He scored an outstanding 115 runs, stole 53 bases and racked up 290 total bases, including 61 extra-base hits.
Brown also killed left-handed pitching to the tune of a .459 batting average over 111 ABs. He should be an electric catalyst in a lineup that will include Trout, Harper, 3B Will Middlebrooks, SS Jean Segura and C Derek Norris.
8. SS Nick Franklin - Seattle Mariners (Class-A Advanced/Double-A)
Franklin had a monster breakout year in the Midwest League in 2010, batting .281/.351/.485 with 23 HR and 25 stolen bases. Some thought we could see even better power numbers with a move up to the Class-A Advanced California League, but that wasn't the case, as Franklin launched just five home runs during his 64 games played in the league.
He was promoted to Double-A in August, where he showed some improved signs of life with the bat, batting .325 over 21 games. Franklin's 2011 season could be considered a disappointment by some, but it's likely just a bump in the road towards his ascension to the big leagues, where he could form a long-time double play combo with 2B Dustin Ackley in Seattle.
9. OF Aaron Hicks - Minnesota Twins (Class-A Advanced)
Hicks has long been a case of talent and tools; a player who prizes projection over production. After a slow start in April, things appeared to be changing as Hicks went on a tear with the Class-A Advanced Fort Myers Miracle through May and June.
Unfortunately, the wheels fell off in the second half, and Hicks will use the 2011 AFL to put that behind him and get a head start on the 2012 season—one which should see him ascend to Double-A at some point.
10. 3B Nolan Arenado - Colorado Rockies (Class-A Advanced)
Arenado was an absolute run-producing machine in 2011, leading the minor leagues with 122 RBI. He did play in the California League, so we'll remain cautious about getting ahead of ourselves before Arenado is truly tested by playing Double-A ball.
That being said, he's been extremely consistent with the bat thus far in his career, batting .300 in the 2009 Pioneer League, .308 in the 2010 South Atlantic League and now .298 in the 2011 California League. His on-base percentages across the same span? .351, .338, and, now, .349.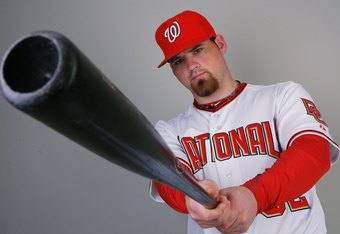 Doug Benc/Getty Images
11. OF Michael Choice - Oakland Athletics (Class-A Advanced)
12. OF Anthony Gose - Toronto Blue Jays (Double-A)
13. OF Grant Green - Oakland Athletics (Double-A)
14.OF Tim Wheeler - Colorado Rockies (Double-A)
15. 3B Matt Dominguez - Florida Marlins (Double-A/Triple-A/MLB)
16. 3B Will Middlebrooks - Boston Red Sox (R/Double-A/Triple-A)
17. C Yasmani Grandal - Cincinnati Reds (Class-A Advanced/Double-A/Triple-A)
18. 2B Jean Segura - Los Angels Angels (R/Class-A Advanced)
19. LHP Casey Crosby - Detroit Tigers (Double-A)
20. SS Tim Beckham - Tampa Bay Rays (Double-A/Triple-A)
21. 3B Jedd Gyorko - San Diego Padres (Class-A Advanced/Double-A)
22. LHP Miguel De Los Santos - Texas Rangers (R/Class-A Advanced/Double-A)
23. OF James Darnell - San Diego Padres (Double-A/Triple-A)
24. SS Adeiny Hechavarria - Toronto Blue Jays (Double-A/Triple-A)
25. OF Oscar Taveras - St. Louis Cardinals (Class-A)
26. 3B Michael Olt - Texas Rangers (R/Class-A Advanced)
27. RHP Jake Petricka - Chicago White Sox (R/Class-A/Class-A Advanced)
28. LHP Jed Bradley - Milwaukee Brewers (Did not play)
29. LHP Sammy Solis - Washington Nationals (Class-A/Class-A Advanced)
30. C Derek Norris - Washington Nationals (Double-A)
31. OF Mikie Mahtook - Tampa Bay Rays (Did not play)
32. SS Joe Panik - San Francisco Giants (R)
33. LHP Sean Gilmartin - Atlanta Braves (R/Class-A)
34. LHP Andrew Oliver - Detroit Tigers (Triple-A)
35. RHP Neil Ramirez - Texas Rangers (Class-A Advanced/Double-A/Triple-A)
36. RHP Cody Scarpetta - Milwaukee Brewers (Double-A)
37. C Hank Conger - Los Angeles Angels (Triple-A/MLB)
38. RHP Trey McNutt - Chicago Cubs (Double-A)
39. OF Josh Vitters - Chicago Cubs (Double-A)
40. C Christian Bethancourt - Atlanta Braves (Class-A/Class-A Advanced)
41. 1B Matt Adams - St. Louis Cardinals (Double-A)
42. SS Junior Lake - Chicago Cubs (Class-A Advanced/Double-A)
43. OF Xavier Avery - Baltimore Orioles (Double-A)
44. 2B Scooter Gennett - Milwaukee Brewers (Class-A Advanced)
45. RHP Jeremy Jeffress - Kansas City Royals (Double-A/Triple-A/MLB)
46. 2B Reese Havens - New York Mets (Class-A Advanced/Double-A)
47. SS Christian Colon - Kansas City Royals (Double-A)
48. OF Chih-Hsien Chiang - Seattle Mariners (Double-A)
49. 1B Clint Robinson - Kansas City Royals (Triple-A)
50. C Kyle Skipworth - Florida Marlins (Double-A)