Does Golf Need Another Seve Ballesteros?
September 27, 2011
Golf seems to be moving into a new era, with the almost-certain arrival of the corporate golfer. The faceless player with sponsors' logos adorning every available space.
What is golf turning into?
Of course, this new breed of players does come with talent dripping from their fingers, and they never crack under pressure. But, they have the charisma of an accountant.
They pop up once a year and win their event, only to disappear back into golf's darkest regions until the next time.  
Perhaps the only surprise that the golfing public can look forward to nowadays, is when they take off their hats, revealing themselves from behind the mask.
What happened to those golfers with character, charisma and the ability to crack one down the home straight, making it interesting for the fans?  
Even as far back as the mid '90s, the accountant players, so to speak, were already arriving.
With their same hair styles, clothing and shoes—and all swinging the same way, and hitting the ball better than ever before.
The only saving grace was that at least some of the players had "it," that something that made them stand out from the rest. Nick Faldo, Bernhard Langer, Greg Norman, John Daly, Seve Ballesteros, Fred Couples and Fuzzy Zoeller, to name a few.
Even as far back as the '60s, or further, golf has always carried the charismatic player. Walter Hagan, Bobby Jones, Ben Hogan, Gary Player, Arnold Palmer, Tom Watson, Jack Nicklaus, Lee Trevino and Tony Jacklin all had something that made them more than just a golfer.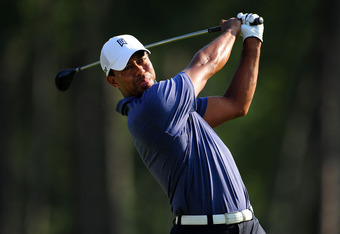 Stuart Franklin/Getty Images
There is no doubt that these new players are better. They play better courses, they have better equipment, with larger amounts of money to play for.
But, you get the feeling that if you could hide a robot in a golfing outfit, it wouldn't be noticed until it took its cap off.  
The players of today who have any sort of personality, like Phil Mickelson, Lee Westwood, Ernie Els and Miguel Angel Jimenez, are heading into the twilight of their careers. And even the legendary Tiger Woods seems to have a found a tiger trap that he may not be able to get out of.
And what do we have left?
The petulant Rory McIlroy, who, until recently, was more noticed for his hairstyle, resembling that of Sideshow Bob, and Ian Poulter with his questionable fashion sense.
Every sport has its ups and downs, but golf has always supplied us with players, from Ray Floyd to Lanny Wadkins to Brian Barnes to Juan "Chi Chi" Rodriguez, who could win without being perfect, keeping it interesting.
Wouldn't it be great to see the likes of Seve Ballesteros marching down the fairways, whacking the ball into the crowds and then producing a shot that almost nobody else could do?
Or, on the final day, if seven of the Top 10 cracked down the final stretch?
Wouldn't it be exciting and fun?!