5 Things We Learned from La Liga Weeks 5 and 6
September 27, 2011
David Ramos/Getty Images
Early midweek-fixtures help a lot to get things back to normality after a crazy start of the season.
Valencia already lost some ground, Barcelona is closer to the top and Real Madrid abused one of its neighbors.
What else did we learn from La Liga's last two matchdays?
1. Atlético Madrid Still Doesn't Have "IT"
Los Colchoneros had had a terrific run in the past week, winning three games against Celtic Glasgow, Racing Santander and Sporting Gijon by a combined 10-0.
Radamel Falcao was living up to all expectations and Atletico seemed ready to become a top contender for this season.
Enter a visit to Barcelona and it turned out this is still the same old Aleti.
Atletico left Camp Nou with an embarrassing 5-0 on their backs and the certainty it still is way behind the top teams in La Liga.
2. Levante Is On Fire
The little team from Valencia is decided to prove is not just another little team anymore.
Levante followed its shocking victory over Real Madrid with wins against Rayo Vallecano and Espanyol to reach the Champions League zone for the first time in its history.
Los Granotes are one of three remaining undefeated teams in La Liga and have the best second defense.
All that with a budget that probably wouldn't be enough to pay Cristiano Ronaldo's salary.
3. Like Barcelona's, Real Madrid's "Crisis" Didn't Last Either
Last weekend, Barcelona ended their "crisis" by destroying Osasuna 8-0 at Camp Nou.
Then it was Real Madrid's turn to be on the spot after going scoreless and getting only one point from its visits to Levante and Racing Santander.
Real Madrid responded in the same way its big rival did: trashing their next opponent—Rayo Vallecano left the Santiago Bernabéu Stadium with a 6-2 defeat despite Angel Di María's red card.
4. Defenders Play Defense, Midfielder Play in the Midfield
OK, we didn't learn that. Marcelo Bielsa did.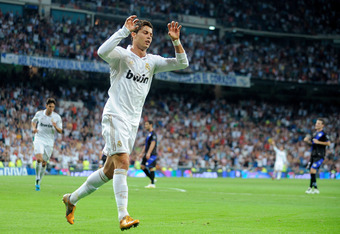 Denis Doyle/Getty Images
After many failed attempts of using midfielders Javi Martínez, Gurpegui and De Marcos in Athletic's defense, El Loco finally desisted and opted for a more traditional 4-3-3 in the game against Villarreal.
Los Leones played quite well, although they failed to win again they are still in the relegation zone of the standings, but that won't last much.
5. Sevilla Had the Most Impressive Start of the Season
Sure, their neighbors from Betis are the current leaders of La Liga, but the truth is Los Andaluces have had the most impressive start of the season.
Sevilla already faced three Champions League contenders (Malaga, Villarreal and Valencia) and two solid mid-table teams (Real Sociedad and Osasuna), but it remains undefeated.
They beat Valencia just three days after Los Chés were very close to defeat Barcelona; that's something.
Coach Marcelino Garcia's boys have visits to Atletico Madrid and Barcelona in the next three weeks; if somehow they manage to get good results in those matches, they could actually remain toe-to-toe with Barcelona and Real Madrid for a while, as their schedule gets a lot easier after visiting Camp Nou.
Also read:
* 5 Things We Learned from La Liga Week 4
* 5 Things We Learned from La Liga Week 3
* 5 Things We Learned from La Liga Week 2
Follow me on Twitter:  @luisrha