NCAA Football Rankings: Wisconsin and 3 Teams That Will Move Up After Week 5
September 26, 2011
Jonathan Daniel/Getty Images
If you thought Week 4 of the college football season was exciting, then Week 5 will blow your mind.
We have another slate of monstrous season-changing matchups between ranked teams. We saw Arkansas, Texas A&M and West Virginia fall after their meetings with Alabama, Oklahoma State and LSU, respectively.
Alabama stayed at No. 3 in the rankings, but LSU moved to No. 1 and Oklahoma State moved to No. 5.
The following three teams will defeat ranked opponents Week 5 and move up in the polls dramatically.
(7) Wisconsin vs. (8) Nebraska
This will prove to be the most evenly matched game of the 2011 college football season. Both teams have dual-threat quarterbacks (Russell Wilson for Wisconsin and Taylor Martinez for Nebraska), stout defenses and phenomenal rushing attacks.
Being evenly matched, I'll go with my dark horse BCS national championship contender Wisconsin at home. The Badgers will have an electric crowd in what should be the Big Ten Championship game. These two teams are the class of the Big Ten and should be fighting for the conference championship later this season.
Wilson, James White and Montee Ball will prove to be too tough for Jared Crick's front seven and take a close game. They will move ahead of Stanford, Oklahoma State and Boise State to No. 4 in the polls.
(3) Alabama at (12) Florida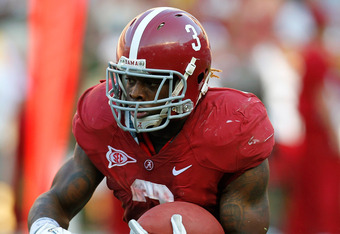 Kevin C. Cox/Getty Images
Florida has the benefit of playing Alabama at home with its prolific Gator fanatics in the stands. Unfortunately, the Crimson Tide's overpowering defense will silence them and neutralize Florida's elite speed.
More importantly, RB Trent Richardson will push the Crimson Tide offense well past the Gators defense. He is an all-purpose threat out of the backfield and is simply playing better than just about anybody else in the SEC. His rare combination of speed and deceptive strength will exploit Florida and carry Alabama ahead of Oklahoma.
(11) Virginia Tech vs. (13) Clemson
The Hokies have not been nearly as impressive as I thought they would be. Clemson has been beyond impressive with back-to-back home upsets against ranked Auburn and Florida State.
The key word there was "home", in case you missed it. Clemson enjoyed a productive home stand, but it is now on the road without its dedicated fan base.
Clemson will have difficulty moving the ball against elite CB Jayron Hosley's experienced defense. Va Tech was a dark horse BCS championship contender prior to the season and a win against Clemson should catapult it into the top 10.