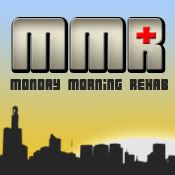 Fantasy owners lost stud running back and first-round pick Jamaal Charles last week to a torn ACL.
They may now lose breakout wide receiver Kenny Britt for the year with the same injury.
Britt suffered a knee injury early in the game on Sunday against Denver in eerily similar fashion to Charles. While Charles was running out of bounds on his injury, Britt's occurred in the field of play.
It was basically a non-contact knee injury. Britt's knee was in an awkward position, he lost the football and went to the ground and was subsequently carted off the field.
Britt is having an MRI today and fantasy owners will know his fate sometime this afternoon.
Kenny Britt [WR, Titans]
From ProFootballTalk:
Multiple sources now tell both Peter King and me that there is fear within the organization that Britt may have torn an ACL.
Terrible news for Britt, who was having a breakout campaign after a tumultuous offseason. It is a big blow to fantasy owners, who were able to get Britt in the middle rounds as a WR2. He clearly was playing WR1 football before the injury.
Michael Vick [QB, Eagles]
From ProFootballTalk:
Vick left the Eagles game for good in the fourth quarter with a broken right (non-throwing) hand in the fourth quarter. Vick returned to the game after getting x-rays and tried to play through the injury, but he ultimately couldn't continue.
Two weeks, two injuries for Vick. The only good thing here for fantasy owners is that the injury is to his non-throwing hand. Still, Vick is questionable at best for Week 4.
Antonio Gates [TE, Chargers]
From Bruno Boys:
ESPN reported Sunday that Gates is believed to have a tear in the plantar fascia tendon that limited him for most of last season. After missing practice Wednesday and Thursday, he participated in an abbreviated session Friday.
Could it be the end for Gates' as the premiere tight end in the NFL? It sounds like it. This injury now has plagued him for several seasons, despite getting a lot of rest this offseason and having an injury-free preseason.
Jeremy Maclin [WR, Eagles]
From Bruno Boys:
Philadelphia Eagles wide receiver Jeremy Maclin left Sunday's game against the NFC East rival New York Giants with a hamstring injury.
The hits keep on coming for the Eagles. Not only did they lose to the Giants yesterday, they took plenty of shots in the meantime. Vick and Maclin both will be risky options on Sunday.
The MMR will continue to run every Monday morning as scheduled during the regular season. If you have an injury update or want an update on a certain player, please leave a note in the comments.