Miles Austin Injury: Updates on Cowboys Star's Week 4 Status and Fantasy Value
September 26, 2011
Thearon W. Henderson/Getty Images
The Dallas Cowboys can't afford another injury-plagued season.
Last year the poor start, firing of Wade Phillips and loss of Tony Romo resulted in Dallas' worst season since 2004.
But this year hasn't gone much better. Romo has been banged up again, Dez Bryant has already missed a game, Terrence Newman has yet to play, Orlando Scandrick is still out and Miles Austin is not going to be back on the field just yet either.
The sixth-year pro is battling with a hamstring injury and there is only one way for it to heal: rest.
UPDATE: Sunday, Oct. 2 at 11:00 a.m. EST
Despite being ruled out for the team's week 4 game against the Lions, Miles Austin said that he was tempted to play this week but the team doctors wouldn't allow it, according to Todd Archer of ESPNDallas.com.
"I would like to be out there," Austin said, "but we're just being pretty cautious about it and that way I'm full go for after."
Austin said that if the Cowboys had a game next week - they have a bye in week 5 - he would be able to play.
The bad news is he won't be available this week, but at least the team knows that he will be back when the team steps on the field Oct. 16.
UPDATE: Thursday, Sept. 29 at 1:16 p.m. EST
According to Fox Sports, there is no chance Austin plays until after the bye week.
The Cowboys will be without receiver Miles Austin for at least one more game, owner Jerry Jones said Wednesday, and won't be signing a veteran wide receiver to take his place.

"I think we can count on Miles Austin after the bye," Jones said on his weekly radio show on KRLD-FM. The Cowboys play the Detroit Lions on Sunday at Cowboys Stadium followed by their bye week.
This shouldn't be a surprise, as fantasy owners will have to get by another two weeks without him. After that, he should be good to go for the rest of the season barring another setback.
UPDATE: Wednesday, Sept. 28 at 1:20 p.m. EST
Todd Archer of ESPNDallas.com tweeted that Austin will not play this week against Detroit, and that he likely won't be back until the team plays New England.
This is bad news, though not unexpected, for a Dallas team that struggled mightily last week against an average Redskins team. Now they have to go up against the high-flying Lions without their best receiver.
He was officially listed as out for their Week 3 matchup with the Redskins according to ESPN's Adam Schefter: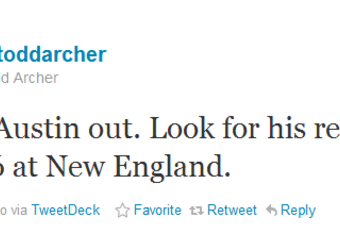 The latest speculation is that he won't be back on the field until at least Week 6 after the Cowboys' Week 5 bye.
His absence will definitely hurt the Cowboys, and coming into this week, he was listed as the most targeted receiver in the NFL:
If Bryant is back on the field, it will be very helpful for this team in Austin's absence, but he also hasn't been able to stay healthy either.
Expect Kevin Ogletree to take over as the starter in Austin's spot, but we may also see Jesse Holley get some looks as well.
None of them will be able to replace Austin's production in terms of fantasy; we can expect Jason Witten to get even more looks than usual.
The Cowboys have a trio of running backs they'd like to get on track and running the ball a bit more. It would go a long way in helping to loosen up secondaries that would otherwise focus on stopping Romo.
We'll have more on Austin when more is known.