Andy Carroll's Display Against Wolves: Should Liverpool Keep Him or Offload Him?
September 26, 2011
Clive Rose/Getty Images
Andy Carroll was in the starting lineup this weekend for the visit of Wolverhampton Wanderers to Anfield and partnered the lively Luis Suarez up front.
Suarez has already become a firm fans' favourite, but Carroll has yet to win them over.
There is much speculation in the media that Carroll is a waste of money, and there is even a school of thought that says he should be offloaded if things don't change soon.
For those of that persuasion, Carroll put in a performance that should have put that idea to bed.
Although the big man did not score, he showed more maturity, game awareness and composure than on previous outings.
The header that came back off the post was a stroke of luck for Wolves, as Carroll did everything right and must have been disappointed to see his effort cannon off the post and away.
Carroll brings a dimension to the Liverpool attack that they did not have previously. His dominance in the air is definitely an asset to the team.
Moreover, there were numerous times when corners and free kicks were swung into the Liverpool box, and it was Carroll that was rising highest to make the clearance.
Of course, many will argue that he is not there to do that but to put the ball in the opponent's net, but it is his overall contribution to the squad that should warrant his place in it.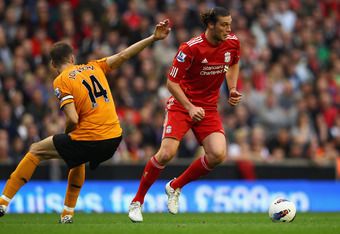 Clive Brunskill/Getty Images
Then there is simply the fear factor that he instills in opposing defenses. Defenders just do not like playing against him—simple as that. This in itself is worth something. He puts them on edge, and his physical presence is enough for them to pay him too much attention, thereby allowing others to find space.
Every time a ball was played into the box, Carroll had to deal with two defenders. One less for the other attackers to have to worry about.
Carroll's influence on the squad is slowly growing, and with more games, his confidence will increase and fitness improve. It must not be forgotten that he is a sizable character, and the time taken for him to get match fitness and sharpness will be longer than for others.
To offload him is not the answer. With Kenny Dalglish to guide him, Carroll will surely develop into a potent attacking weapon. There are already more strings to his bow since he has joined the Reds. His movement is better, positional play has improved and his all-around game has moved up a notch.
Selling him in the next transfer window would mean that Liverpool FC and Dalglish made a huge error in signing him. This would not only be a tactical error but also a financial one, for there is no way that the Reds would get more than what they paid for him.
That is not to say that he was not worth the huge transfer fee paid for his services, but as Dalglish stated, they did not pay that much for a season—they paid that much for a player that will be at Anfield for a decent amount of time and develop into a top-class striker.
It is his potential and future development that Liverpool paid for; he should be given a more than reasonable chance to fulfill the club's faith in him
Andy Carroll is a signing of the new Liverpool FC, led by Dalglish and NESV, and together, they are building for the future, not for just this season.
Anyway, most fans  would rather have him in our squad than not and certainly would not like to be facing him.
Carroll is Liverpool's No. 9, and long may it stay that way.