Chicago's Hope: The Blackhawks Are on the Verge of a Dynasty
September 26, 2011
Jonathan Daniel/Getty Images
Chicago is one of the greatest sports cities in the country, with great fans who are perennially hungry for a championship. That's a fact.
And as long as we're talking titles and facts, here are a few more: The White Sox 2011 "all-in" bet was a bluff. The Cubs are still the Cubs. The Bulls, for all intents and purposes, don't exist right now. And the Bears' ship is captained by the likes of Ted Phillips and Jerry Angelo—I won't even insult Lloyd Christmas and Harry Dunne with a comparison. 
That leaves the Blackhawks, who are without question, the city's best hope for a championship, now and for years to come. Let that sink in for a minute. It may make all kinds of sense now, but those who aren't new to the wagon know what the road to this point was like. 
It wasn't so long ago that the United Center couldn't get 19,798 Blackhawk fans to come through in a month, let alone their first preseason game. It has been a heck of a resurrection.
In 2010, the Blackhawks ended 49 years worth of frustration, angst and longing with a Stanley Cup victory. Their encore performance fell flat for reasons that have been discussed throughout the summer. But with 2011-12 fast approaching, a buzz is back on Madison—a championship buzz similar to the one both fans and pundits were talking about two years ago. 
No extended playoff run helped give core members a few extra weeks to rest. No Stanley Cup celebration brought a hunger back. No salary cap stress gave management the tools to restore depth. No goaltending controversy gave the coaching staff one less question to answer during camp. And Toews, Kane, Keith, Seabrook, Sharp and Hossa are all coming back.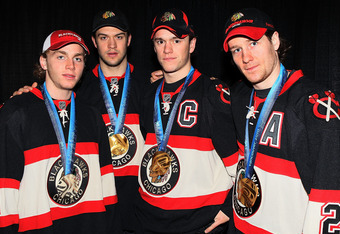 Jim McIsaac/Getty Images
I was posed the question of whether I thought the Blackhawks' championship window had closed a bit after last season. It was a pretty easy answer: I think the window is just starting to be opened. One can argue that, because of the salary cap, dynasties are a thing of the past. But no one can deny that Blackhawks have definitely laid the foundation for one.
Heading into this season, Vegas has them at 12-1 odds of hoisting the Cup in 2012. This roster is more than capable of turning a profit.
Starting with the six core members above, all are in it for the long haul. Toews is a four-year vet, already a member of the Triple Gold club and undoubtedly one of the world's best players—and still just 23 years old. The 22-year-old Kane is coming off a "down year" in which he averaged a point per game—go figure. Keith and Seabrook are like "Iceman and Slider," one of NHL's best and steadiest blue-line pairs. Hossa and Sharp are the elder statesmen of the group, but that is only when you stack their birth dates next to kids like Nick Leddy.
That brings us to the youth and the prospects in the Blackhawks' system. Leddy still can't drink or gamble. Michael Frolik and Viktor Stalberg are two young talents poised to make an impact this season. And Chicago definitely is not hurting for farmhands capable of stepping up. Ben Smith, Marcus Kruger, Jeremy Morin, Dylan Olsen and preseason sensation Brandon Saad are knocking on the locker room door. Then there is Alexander Salak, who could be Corey Crawford's backup. And Kyle Beach is...well, Beach is still around and still just 21 (*drinks a glass that's half full*).
On paper, from top to bottom, Chicago has stocked the cupboards with a harmony of stars, role players, veterans and youngsters. Championship bricks have already been laid by this team, and we shouldn't be surprised if they lay some more in the next few years...just keep the billy goats away.