Ryan Grant Injury: Update on Packers Star's Upper Body
September 25, 2011
Jonathan Daniel/Getty Images
The Packers put on another offensive show on Sunday against the Bears, but it wasn't all good news. In the middle of his best game of the season, Ryan Grant left the game with an unknown upper body injury.
He left after he was sandwiched between two players, but it doesn't appear that the injury is all that serious.
Fantasy Impact
The overall impact won't be too big. Grant was already having a big game, so owners today got a lot out of him. I also doubt that this will cause him to miss any time. Fantasy owners shouldn't be scared off.
Who's the Backup?
Coming into today's game, Grant was something of a backup. James Starks had been getting the majority of the carries and had been more effective in his carries.
It wasn't until this game that Grant really became a factor again. Now, Green Bay has a decision to make on which running back will be the featured back.
Devastation Scale
I'm only going to give this a one on the devastation scale. Green Bay would have been fine with James Starks running the ball and Grant returned to the game, anyway.
Timeline for Return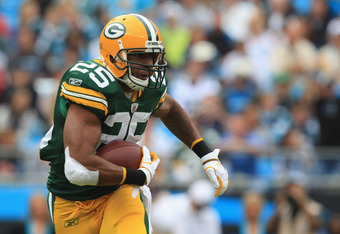 Streeter Lecka/Getty Images
Grant returned to the game soon after leaving. Green Bay trusts James Starks at running back and they had the game in hand, so if they had any doubts about how healthy he was, they wouldn't have put him back in.
What They're Saying
Jeff Haseley of FootballGuys.com was among the first to comment on the injury via his Twitter, but it was unclear what the injury was:
Ryan Grant is having a good game, but he walks gingerly to the sideline after being sandwiched. Upper body injury don't know the severity
Haseley updated the situation soon after the injury occurred:
Inj update....Ryan Grant is back in the game.
Still no word on what the exact injury was.