Michael Vick's Hand Injury May Not Be All That Bad for the Eagles
September 25, 2011
Chris Trotman/Getty Images
**Update: The Eagles have announced that Michael Vick's injury is a bruised hand, not a broken hand.
The city of Philadelphia knows what it's like to be injured.
During the past decade, they've felt every hit, blow and crushing tackle taken by their former signal caller, Donovan McNabb. The long-time Philadelphia Eagle turned Washington Redskin, then Minnesota Viking was known around the league for being injury prone, consistently suffering long-term or season ending injuries throughout his eleven seasons in Philadelphia.
During the middle bit of that career, McNabb missed an unfortunate 22 games during just a five year span and 24 throughout his entire Eagles career. That was an issue Eagles fans were hoping they wouldn't have to deal with much anymore.
So what do they do?
They bring in another, slightly less injury prone quarterback known as Michael Vick.
Don't get me wrong, Eagles fans are happy to have Michael Vick and even happier they don't have to play against him, but the issue still remains.
Vick doesn't play not to get hurt as he shouldn't, he plays to win.
But after sustaining a broken right (non-throwing) hand in a loss against the New York Giants on Sept. 25, Philadelphia Eagles fans are looking to the sky for answers.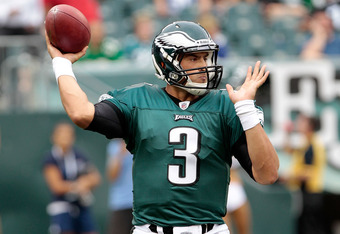 Chris Trotman/Getty Images
It has now been two straight seasons that Michael Vick has been injured severely enough to miss playing time.
In fact, it's the second straight game Vick has missed playing time due to an injury.
A sign of things to come?
Eagles fans certainly hope not.
Of all the negatives to come out of Sunday's game against the Giants, there is one thing to look forward to for the fans of Philadelphia. Andy Reid has coached his teams up during times of need, especially at the quarterback position.
It might not be all that bad for the Eagles either to get a fresh set of eyes and arm in the backfield to run a Philadelphia offense that just seemed to be trying to do too much recently.
Simplifying the offensive playbook may end up helping to get the players more in sync for the rest of the season.
Historically, Reid is pretty successful when has to bring in a back-up quarterback with an 11-5 record, not including when the Eagles were forced to use Mike McMahon during a forgettable 2005 season where he won only two games and lost five.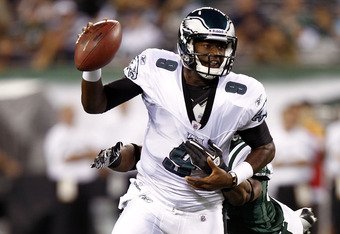 Jeff Zelevansky/Getty Images
The Eagles went into the 2002 season having to play Koy Detmer and A.J. Feeley, though both were back-ups they were successful enough to give the Eagles a 5-1 record. The same record was recorded when Jeff Garcia replaced Donovan McNabb in the late half of the 2006 season leading the Eagles to a 10-6 record and into the playoffs.
How does Mike Kafka stack up in case Michael Vick is unable to play?
Kafka does have the ability to be a starting quarterback in this league. He can make the throws and he knows the offense well.
His only issue is hesitating on his reads, something that was taken advantage of during the Giants game where he threw two interceptions in relief of Michael Vick.
Where else could they turn?
Let us not forget one of the Eagles other big signings during the off-season.
The name? Vince Young.
Though Young did not play against the Giants and hasn't played yet this season, he will be getting many more reps time during the upcoming week as he will likely be moved to back-up.
After a two interception performance by Mike Kafka, there is even the possibility he might get a chance to take some snaps on game day if he can prove he is learning Andy Reid's offensive system better.
But knowing Andy Reid, he's not one to shy too far away from his path.
Michael Vick may not be out very long despite having a broken bone in his hand, in fact he had returned to the field after getting x-rayed during the game against the Giants, but felt uncomfortable playing and eventually left for the bench.
The Eagles know they need Vick to run their offense efficiently and they will be looking to get him back playing as soon as possible.
But with the calendar only displaying that it's the month of September and the San Francisco 49ers to look ahead to, there is the very real possibility we may be seeing No. 7 on the sideline this upcoming Sunday.
Eagles fans just hope it won't be a common occurrence.