College Football Rankings: 5 Teams That Got Screwed in the Polls This Week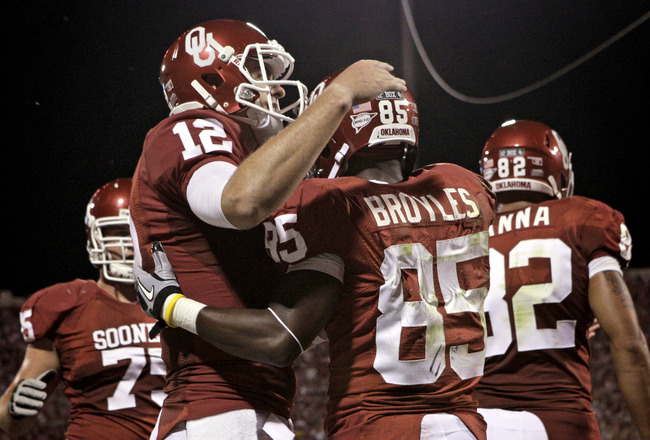 Brett Deering/Getty Images
The Week 5 AP and Coaches Polls are out, and there's a new No. 1 atop the rankings.
LSU hopped Oklahoma after their blowout win over West Virginia. Alabama and Boise State were right behind Oklahoma at No. 2, and Oklahoma State made a big jump to No. 5.
The other usual suspects were present: Stanford, Wisconsin and Nebraska. South Carolina resides in the 10th spot, and the rest of the Top 25 looked rather different from last week's rankings.
The AP Poll looks pretty accurate, but there's always those teams that can make a case for where they are on the list. Illinois and Georgia Tech are both undefeated, yet teams with one loss are ranked ahead of them.
Other teams that are still undefeated didn't make an appearance, and they have cases for being ranked as well.
Here are five teams that got screwed by the polls this week.
5. Kansas State Wildcats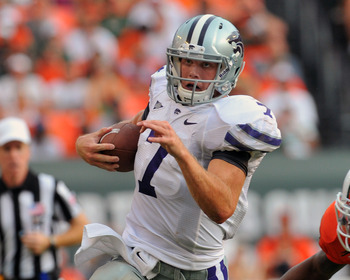 Al Messerschmidt/Getty Images
Kansas State is coming off a big win over Miami at Miami. The Canes were coming off a huge win over Ohio State, and yet Kansas State received just 14 votes to be in the Top 25.
Although that's the only signature win for the Wildcats, they're still undefeated, which is more than what Arizona State and Florida State can say.
Kansas State will be able to prove themselves this upcoming week when they play host to 15th-ranked Baylor. If Kansas State wins that game, they will no doubt be in the Top 25 and could be a Top 20 team, but that's a big "if" for them.
4. Oklahoma State Cowboys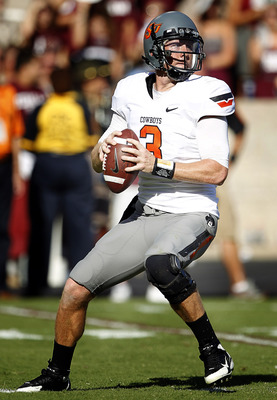 Bob Levey/Getty Images
Oklahoma State made a big jump from No. 7 to No. 5, but is that enough?
The Pokes came back from being down 20-3 at halftime against eighth-ranked Texas A&M, and OSU won in dramatic fashion off the arm of quarterback Brandon Weeden.
That being said, Oklahoma State is a better team than Boise State, and they should be recognized for that.
Oklahoma State plays in a tougher conference, and they still have Texas and Oklahoma on the schedule. The Pokes have a real chance of winning both those games, and they beat a very good Texas A&M team.
As good of a team as Boise State is, it's hard to see them surviving in a conference like the Big 12 playing against those kind of teams on a week-to-week basis.
3. Clemson Tigers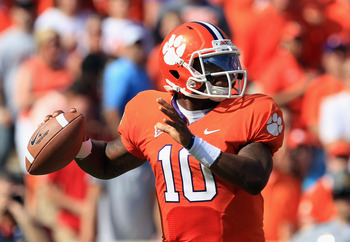 Streeter Lecka/Getty Images
Clemson beat a depleted Florida State team that was without their best offensive player and their best defensive player, but they still won the game and beat the 11th-ranked team.
That being said, the Tigers certainly deserve to be ranked higher than Virginia Tech, Florida and South Carolina—all of which don't have a real signature win.
Clemson has two signature wins. They beat Auburn and Florida State in consecutive weeks; both good teams, and both ranked teams.
The Tigers should be the 10th-ranked team, and they have a chance to prove it against Virginia Tech this week when they travel to Blacksburg.
2. Houston Cougars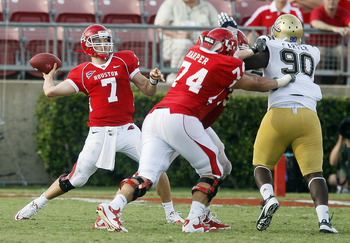 Bob Levey/Getty Images
Houston is undefeated with a 4-0 record, and yet they aren't ranked.
They can make a case for being ranked at least 25th to round out the polls. Houston has a real shot at going undefeated behind the arm of Case Keenum, who will most likely break every passing record in the books.
Houston's only real contest left is East Carolina, and that's a home game. The Cougars could easily run the table and finish the year with a spotless record; maybe then they will get some love from the polls and the coaches.
Houston deserves to be in the rankings because, after this week, they won't leave the rankings the rest of the year.
1. Oklahoma Sooners
Brett Deering/Getty Images
Oklahoma has been jumped by LSU, and there's an argument for LSU too, but what did Oklahoma do to lose the top ranking?
They haven't lost. They've proven they are the best in the country, and while the only real game they've played was against Florida State in a hostile environment, the Sooners still proved they are up to the challenge.
They played Missouri a little close, but that doesn't mean OU should have lost the top ranking. LSU embarrassed West Virginia in Morgantown so they have a case themselves, but until Oklahoma loses, they should still be ranked No. 1.
Oklahoma still has games against Oklahoma State, Texas A&M, Texas and Baylor—all ranked teams. LSU still has Alabama, Florida and Arkansas, and then they have the SEC Championship Game (should they make it there).
LSU could run the table and play against Oklahoma in the BCS National Championship Game, but that's still a ways down the road.
Keep Reading