Lions vs. Vikings: 6 Things We Learned About Minnesota in 26-23 OT Loss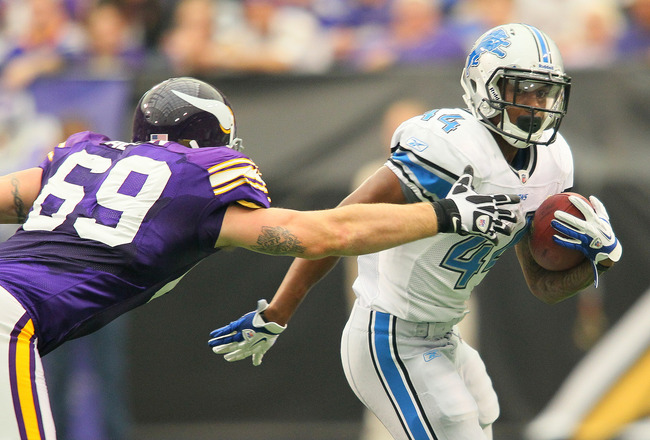 Adam Bettcher/Getty Images
The Minnesota Vikings hosted a very dangerous Detroit Lions team, and they learned just WHY this team is so dangerous on the field, but what did we learn?
Well, to mention the quick and dirty, you don't leave Calvin Johnson one-on-one with Cedric Griffin, you don't follow up a stellar first half with a polar opposite second half and you can't expect to win games in the NFL by being a two-quarter team.
Let's see what else we learned, shall we?
Peterson IS Worth Every Penny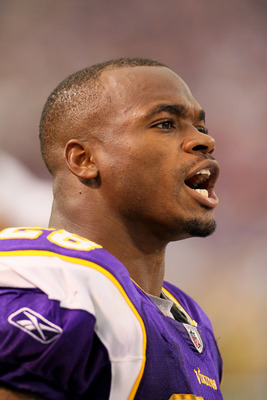 Adam Bettcher/Getty Images
Peterson put in a modest day, rushing 17 times for 78 yards and a TD, and he has proven he is worth every single penny the organization put into him.
The Viking are also enjoying the fact that their decision to run the offense through Peterson is paying huge dividends.
What they are not enjoying is the fact that when the second half comes, and they start falling behind, panic mode sets in and they abandon the very aspect of the game that kept them so far apart from the competition, and that is game control with Peterson.
Guys, I'm only a writer and analyst, but this isn't rocket science here.
The Secondary IS That Good...But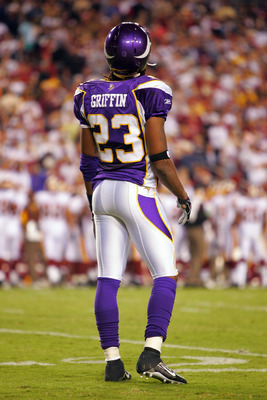 Jamie Squire/Getty Images
It's been sort of a back-and-forth debate as to whether or not this secondary can take care of business for four quarters.
They certainly have the talent, but one half of the argument feels that the talent wasn't living up to expectations, while the other half felt that the lack of adjustments from the staff put the secondary in precarious situations.
Are you going to give up yards and points against Detroit? Yes. but all in all, they did a decent job against a potent offensive attack here.
So what's the problem? COACHING!
I'm tired of saying it, but Fred Pagac can't adjust int he second half, and he has not shown the ability to game-plan and adjust for four quarters.
Cedric Griffin against Calvin freaking Johnson one-on-one in OT...on a passing down? No, not the right call at all!
Detroit Still Has Work to Do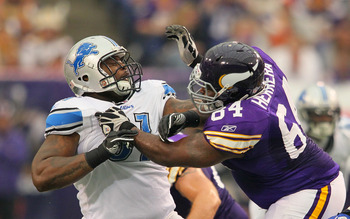 Adam Bettcher/Getty Images
The Lions put up two good fights this year, but against the Vikings, they exposed some lingering weaknesses that caused them problems last year.
One of those particular weaknesses is the outside contain.
The Lions are one of the better teams at getting pressure against the run and on the quarterback up the middle, but that outside contain still needs to be clamped down if this squad is going to compete for 16 games, especially against the more prolific offenses in the league.
Michael Jenkins Is Coming Along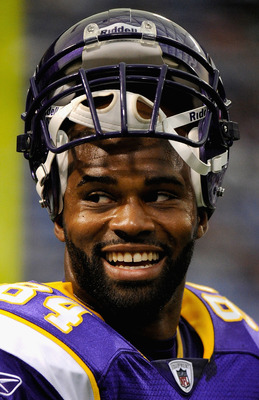 Hannah Foslien/Getty Images
Michael Jenkins' statistic collection over the years does not warrant one to think of him as an exceptional receiver, but a lot of that has to do with the TYPE of role he played in Atlanta.
When Bill Musgrave ran Atlanta's offense, he utilized the blocking skills of Jenkins more than his receiving capabilities, which is what made them so dangerous on short runs to the outside and deep play action, but every now and then, we did see glimpses of what Jenkins was able to do as a receiver.
Now we are slowly seeing Jenkins come alive in this Minnesota offense, which again, is a conservative one when regarding outside receivers.
The Vikings Need Percy Harvin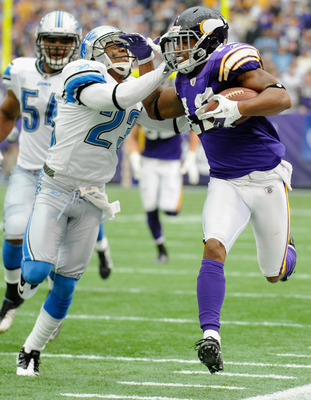 Hannah Foslien/Getty Images
Just because he plays in a run first, ultra conservative offense does not mean the Vikings do not need Percy Harvin.
If the Vikings are not running three-wide sets, then Harvin is simply out of the mix, which isn't going to work for 16 straight.
What the Vikings SHOULD consider is benching Bernard Berrian and running Harvin on the outside for the remainder of the season.
Vikings Still Have Work to Do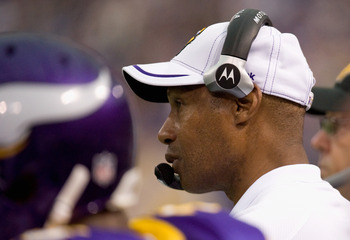 Hannah Foslien/Getty Images
The Vikings have a situation on their hands where they could've easily been 3-0 after today's contest, but second half collapses has been the primary cause for their demise, and their 0-3 start.
The Vikings have already shown that they need to adjust more defensively, but this teams need more than that.
The other issues have been the lack of third down conversions, composure, and the hemorrhage of points allowed in the second half that has prevented this team from achieving that 3-0 record.
Still, this is a team that can move the ball, is in possession of talent and has a dire situation that can easily be remedied with a little work and notice on the behalf of the coaching staff.
Keep Reading

Minnesota Vikings: Like this team?