Lions vs. Vikings: Live Score, Highlights and Analysis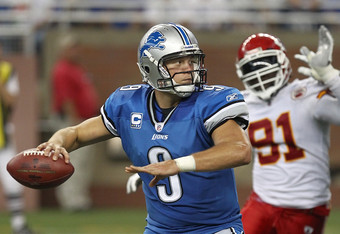 Dave Reginek/Getty Images
The 3-0 Detroit Lions put the Minnesota Vikings' mark at 0-3 today with a dramatic overtime road win. For the first time in thirty years, the Lions were favored to win at Mall of America Field--and unlike that day, the Lions got it done. The Lions will keep pace with winner of the Packers - Bears game in the playoff race.
The Vikings' season, however, is now on life support. The NFC North is one of the toughest divisions in football this year, if not the toughest--and the Vikings just played their theoretically-easiest division game and couldn't get it done.
The Lions overcame mountainous expectations, and a 20-0 first half performance by the Vikings, to take home their seventh straight regular-season win, and break a decades-long streak of futility in Minnesota.
Read back over this live blog to get my, and Michael Schottey's, real-time analysis!
FINAL Score: Lions 26-Vikings 23

The hero of the game is Jahvid Best, who took on Jared Allen solo and got MURDERED in order to buy enough time for Stafford to unleash that pass to Megatron. Pettigrew and Titus Young both win the day with a couple dozen clutch catches.
There's only dragon left to slay, and he lives in Lambeau.
From that distance, you trust the best kicker ever. Game over. Lions win.
JAHVID BEST SACRIFICES THE BODY. Calvin Johnson INCREDIBLE concentration. WOW. Wow.
TITUS YOUNG. AGAIN. With a crucial catch ovcer the middle to convert a third down. Stafford clearly trusts him implicitly, and Linehan keeps making him the focus of the play.
Okay, I have recovered from my brief conniption fit. Lions and Vikings go to overtime. Detroit wins the coin toss.
WHAT ARE YOU DOING VIKINGS. LOUIS DELMAS SIT THE H-E-DOUBLE-HOCKEY-STICKS-DOWN. TIME EXPIRED. FLAG ON THE PLAY. WAT
Vikings catch the punt and take it just over midfield, but the refs call a late hit on the Vikings' #55. Now they have 11 seconds left to get within Longwell's range . . . doubt it happens from their own 40.
Sorry, that was second down. NOW it's third-and-forever.
. . . I am unsure what the point of running Jahvid Best off-tackle there was.
Great. Awesome. Stafford sacked. It's third and forever. Guess the Lions are playing for overtime?
The gentlemen at Pro Football Focus inform me that I'm wrong about Longwell's FG range. He's worthless on kickoffs, but can still make a 50-yarder.
Lions start their potential game-winning drive with two false starts.
Ryan Longwell's kick is GOOD. Minnesota 23, Detroit 23. Longwell puts it right down the middle.
The broadcast is showing Longwell's range as 55 yards, but he hasn't made a 55-yarder IN PRACTICE in years. His real range is more like 45-47 these days.
Vikings going no-huddle. Their offense is optimized for this, play nomenclature is just three or four words.
TWO MINUTE WARNING. Vikings moving the ball. They don't have a ton of time, but they have enough. For the seven hundredth time today, the Lions are leaning on their defense to make a stop.
Vikings take over on their own 12 . . . they have a long way to go to take the lead back. Again, it goes without saying . . . the Lions need a stop here.
Jason Hanson lines up to take the lead . . . and it's GOOD. Detroit 23, Minnesota 20. Lions take their first lead just outside of the two-minute warning.
Lions take over in Minnesota territory. First play: completion to Pettigrew. Horse-collar called on Chad Greenway. A *little* ticky-tack, but . . .
. . . and the boo birds come out. Vikings fans letting Donovan McNabb hear it after a critical 3rd-down incompletion.
And JUSTIN DURANT finishes off the gang tackle.
Quoth the Mrs.: "Wait, so the Vikings scored every first-half point, and the Lions have scored every second-half point?" Yes. Yes they have.
FIELD GOAL JASON HANSON. Detroit 20, Minnesota 20. Lions, of course, could have used a touchdown there . . . but we have a ballgame, folks.
Remember when Brandon Pettigrew was killing the Lions with his drops? He's been a security blanket for Stafford all game.
This article is
What is the duplicate article?
Why is this article offensive?
Where is this article plagiarized from?
Why is this article poorly edited?

Detroit Lions: Like this team?