Steelers vs. Colts: Live Score, Highlights and Analysis on Sunday Night Football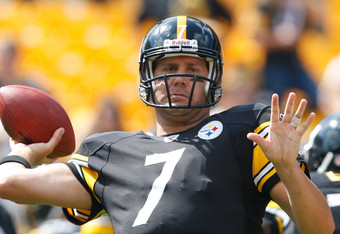 Jared Wickerham/Getty Images
Updated score: Steelers 10, Colts 3
The last time the Pittsburgh Steelers were in Indianapolis they played in one of the most memorable games in franchise history.
The 21-18 victory over the Colts in the AFC Divisional round was a wild ride which has forever etched in our memories Jerome Bettis fumbling at the 2-yard line which was picked up by Indianapolis' Nick Harper.
Harper had nothing but open field in front of him and he appeared to be on his way for the go-ahead touchdown.
There was hope for the Steelers, though, as Ben Roethlisberger was the last man back.
Harper shifted back-and-forth in an effort to elude Pittsburgh's quarterback and it nearly worked. Roethlisberger, in a last ditch effort while falling reached out and made a shoe-string tackle on Harper.
Mike Vanderjagt badly missed his attempt at the game-tying field goal and the rest was history. Pittsburgh went on to become the first sixth seed to win the Super Bowl, their franchise's fifth championship.
Five years later the Steelers are back in Indianapolis for a nationally televised game Sunday night, their first time back since their playoff victory.
Unlike the previous meeting, this time the Steelers will not have to defend against Peyton Manning who is still out with an injury.
Pittsburgh is still trying to get into a rhythm on both offense and defense following their opening week debacle against the Baltimore Ravens.
They were much improved in their home opener against the Seattle Seahawks and will look to continue to improve tonight in a winnable matchup.
Follow here throughout the day for updates and then during the game for live analysis and commentary.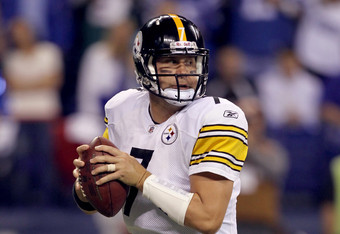 Final Score: Pittsburgh 23 Indianapolis 20
Ben Roethlisberger finished with 364 yards and a 97.1 passer rating while the ground game only averaged 2.4 yards per carry.
Mike Wallace had yet another 100-yard receiving game gaining 144 yards on five receptions.
The big play of the game came in the fourth quarter when James Harrison sacked Curtis Painter forcing a fumble which was promptly picked up and returned for a score by Troy Polamalu.
Polamalu played like a defensive player of the year and was inches away from making several other outstanding plays.
Coming out of this game Pittsburgh will be happy to move to 2-0 while the Colts remain winless.
There will be some major concerns along the offensive line.
Marcus Gilbert had an injured shoulder and later returned when Jonathan Scott went out. Doug Legursky also left the game with an injury.
Expect Pittsburgh to bring in a veteran lineman if the injuries are significant, particularly Scott's. This could be the week that Max Starks or Flozell Adams gets a call.
Be sure to check out the report card from tonight: Steelers Grade Report
Suisham nails the FG right down the pipes to make it 23-20 with only four seconds to go. A sigh of relief from Steeler Nation is what you just heard.
One more play and then a FG attempt.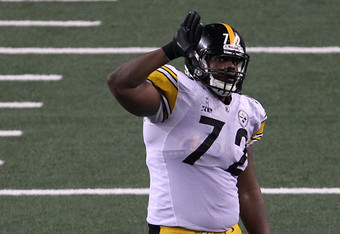 Mewelde Moore shows why he is the third down back. That was a nice catch and run.
Now there is a big concern with Scott down holding his ankle. The Steelers have no healthy linemen left which means that Gilbert is going to have to play with an injured shoulder.
Polamalu nearly got to the quarterback before he got the handoff and instead Addai scores and ties the game. Talk about a game of inches.
Pittsburgh 20 Indianapolis 20
In typical Steelers fashion this ending cannot be easy. The Colts are driving with ease right now.
Alright, so it wasn't an interception but Troy Polamalu picks up the James Harrison forced fumble and takes it to the house.
It had become apparent if the defense did not create a score it was not going to happen.
Pittsburgh 20 Indianapolis 13
I'm not really sure what to think at this point. Indianapolis' defense simply came to play and the Steelers offense has no way to combat against it.
Suisham makes up for his earlier miss, sort of, with a 44-yard field goal to tie the game.
Pittsburgh 13 Indianapolis 13
Sanders had been having a tough game with a dropped pass and a non-attempt at making a tackle on an interception. The third-and-18 first down reception was big.
End of the third quarter
Pittsburgh 10 Indianapolis 13
PITTSBURGH LEADERS
Roethlisberger 19/26 301 yards 1 TD
Mendenhall 15 carries 35 yards
Wallace 4 receptoins 138 yards
Brown 4 receptions 75 yards
Miller 4 receptions 68 yards
Clark and Woodley 5 tackles
INDIANAPOLIS LEADERS
Collins 13/29 93 yards
Addai 10 carries 43 yards
Collie 4 receptions 26 yards
Angerer 13 tackles
Gilbert is out with a shoulder injury and now Trai Essex is in at RT.
When things are not going your way they aren't going your way.
Roethlisberger found Weslye Saunders on a quick slant that would have been a first down if he hauled it in. Instead it bounced into the air off of his hands before making the catch.
That set up a field goal attempt by Suisham which he missed off the left upright. Since their outstanding first quarter Pittsburgh has looked bad.
Roethlisberger doing a lot of scrambling now. The line is doing just enough to give Ben some room to move around. That is another nice connection with Miller for a big first down.
Mendenhall already has more yards on this drive than he had in the first half. He is holding the ball rather loose though.
Now they are giving Redman a shot.
Indianapolis had a chance to break the game open a bit after the half with another score. Instead the Steelers defense held.
It will be interesting to see what type of offensive adjustments that the Steelers make on their first offensive drive.
Right now the turnovers are snowballing and the game can get out of hand if they do not protect the football. Pittsburgh should be up by at least 20 points right now, but instead find themselves trailing.
Credit goes to the Colts playmakers on defense who have stepped up tonight.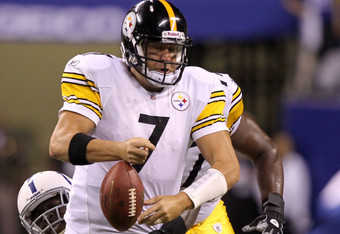 Matthew Stockman/Getty Images
Pittsburgh is dominating the game everywhere except on the scoreboard and in the turnover department.
The Colts have scored all of their points off of the Steelers three turnovers, all by Roethlisberger.
Offensively, Pittsburgh has had plenty of success in the passing game, but they need to protect Roethlisberger against the two outstanding pass rushers that he is facing.
They do not have to protect him only with the line, but also with the play-calling as well as establishing a ground game.
The lack of a ground game right now is rather embarrassing. Pittsburgh is getting no push at all with their line and Mendenhall is unable to make anything happen on his own.
Defensively the Steelers are doing a fair job against the Colts. However, they have no sacks and still have not forced a turnover.
Kerry Collins, not Peyton Manning, is at quarterback. They need to force him into mistakes. There is no reason Harrison and Woodley couldn't be forcing fumbles like Mathis and Freeney are.
The Colts are also moving the ball fairly easily on the ground. This is the second time this season that the Steelers have been unable to completely shut down the run. It is what is expected from the defense.
Both sides of the ball have some major halftime adjustments if they are to take over this game as they should be.
Halftime
Pittsburgh 10 Indianapolis 13
PITTSBURGH LEADERS
Roethlisberger 14/20 231 yards 1 TD 1 INT 2 FUM
Mendenhall 9 carries 11 yards
Wallace 3 receptions 129 yards 1 TD
Brown 4 receptions 75 yards
Clark and Woodley 5 tackles
INDIANAPOLIS LEADERS
Collins 10/20 78 yards
Addai 8 carries 39 yards
Garcon 3 receptions 29 yards
Wayne 3 receptions 24 yards
Angerer 10 tackles
Mathis and Freeney 1 sack and 1 FF
Is Pittsburgh having a mini-implosion? Roethlisberger just lets the ball sail over Sanders head and it was intercepted. Sanders failed to touch the defensive back allowing for a long return.
Pittsburgh is now at -10 on the turnover ratio for the season.
Now Freeney gets the forced fumble and this time it's returned by the Colts defense for the score and we now have a tied game.
Pressure from the two defensive ends and turnovers was the only chance the Colts had tonight and they are getting just what they needed.
The Steelers are going to have to figure out a way to neutralize these two players. This game should be a blow out right now and instead it is tied.
The compete lack of a running game is one of the problems. Pittsburgh has no way to slow down the pass rush.
Redman and his powerful running style could help inject some energy into the ground game.

Pittsburgh 10 Indianapolis 10
Following the Roethlisberger fumble, Indianapolis marches the field right down the field with little resistance before Polamalu broke up a third-and-goal pass forcing a field goal.
The concern right now is how easily the Colts are handling the Steelers defensive front. Addai is able to pick his spots and if the ground game opens up the Colts may be able to get more going with Collins and the passing game.
Pittsburgh 10 Indianapolis 3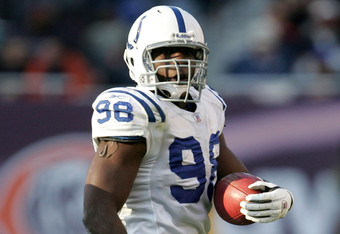 The last thing that the Steelers need tonight is turnovers. That is what just happened when Robert Mathis got pushed well wide, but Roethlisberger scrambled wide and Mathis made the sack and fumble.
Two clutch third down receptions for Antonio Brown. He is making good on his excellent preseason.
End of the First Quarter
Pittsburgh 10 Indianapolis 0
Roethlisberger 7/11 171 yards 1 TD
Mendenhall 6 carries 4 yards
Wallace 3 receptions 129 yards 1 TD
Harrison 3 tackles 1 TFL
Collins 5/11 43 yards
Addai 3 carries 13 yards
Garcon 2 receptions 31 yards
Angerer 8 tackles
Props to the NBC camera crew for catching the "look" Roethlisberger gave to Wallace.
Meanwhile, Polamalu reads the snap count, gets to the running back and off the block (he was actually trying to make a tackle) and forces a bad pass.
The very next play Harrison eats up the running back and then Gay puts a solid hit on a short pass. The Steelers defense is heating up right now.
This article is
What is the duplicate article?
Why is this article offensive?
Where is this article plagiarized from?
Why is this article poorly edited?

Pittsburgh Steelers: Like this team?