Big Ten Power Rankings: Did Braxton Miller Lead Buckeyes Up in the Rankings?
September 25, 2011
Jamie Sabau/Getty Images
Ohio State freshman Braxton Miller resurrected hope for Buckeyes fans in leading his team to a decisive 37-17 win over Colorado. Miller appears to be the future in Columbus and it appears that the future is now.
Can Braxton Miller continue the history of success and lead Ohio State to another 10-win season?
Buckeyes fans, however, need to temper their hope that they will be able to post another 10-win season with the reality that in October the Buckeyes will have to play Michigan State, Nebraska, Illinois and Wisconsin on consecutive weekends.
Here are this week's power rankings for the Leaders and Legends divisions.
Leaders Division
No. 6 Indiana (1-3): Indiana laid an egg in Denton, Texas. The Mean Green of North Texas dominated the Hoosiers for three quarters and took a 24-0 lead into the fourth quarter. The Hoosiers lost the war in the trenches as they were only able to rush for 50 yards. Indiana, to its credit, didn't quit and came back to score three touchdowns in the final quarter to cut the final margin to 24-21. Next up, The Hoosiers host Penn State. Indiana is going to have a long Big Ten season.
No. 5 Purdue (2-1): The Boilermakers had a bye this past week. Next up, Notre Dame. The Boilermakers may be catching the Fighting Irish at the right time as Notre Dame looked very poor against Pittsburgh.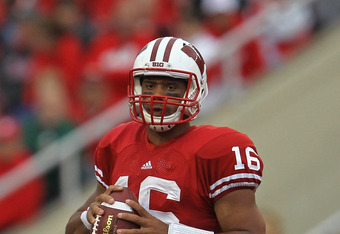 Jonathan Daniel/Getty Images
No. 4 Penn State (3-1): The Nittany Lions crushed Eastern Michigan 34-6 as Matt McGloin threw for 220 yards and three touchdowns. The win for the Nittany Lions was costly as linebacker Michael Mauti, the leading tackler for Penn State, is likely lost for the year after suffering an ACL injury. Starting cornerback D'Anton Lynn's availability as of Sunday morning was unknown as he was strapped to a backboard after he injured his neck; hopefully Lynn has not suffered a long-term injury. Next up, the Nittany Lions travel to Indiana. Penn State should get a win as it gets healthy for the rest of the Big Ten schedule.
No. 3 Illinois (4-0): The Illini almost suffered their second consecutive loss to Western Michigan as they trailed 13-10 at halftime. Illinois quarterback Nathan Scheelhaase struggled to find his rhythm all day; he was also sacked hard three times and got his bell rung on several occasions.  The Illini however did grind out a 23-20 victory over the Broncos, but Coach Ron Zook has to be concerned with the play of his defense as they gave up more than 300 passing yards. The Illini continue to enjoy home cooking as their first five games of the season have been at home. Next up, Northwestern. Wildcat quarterback Dan Persa is expected to make his first start of the season.
No. 2 Ohio State (3-1): The numbers for freshman quarterback Braxton Miller weren't outstanding as he ran for 78 yards and passed for 110 yards and two touchdowns.  Miller was very poised and this might be the beginning of a new era in Columbus as he was able to play turnover-free football in the Buckeyes' 37-17 win over Colorado. Running back Jordan Hill noted that, "[Miller] was calm. He's going to be special." The Buffaloes have now lost 19 consecutive road games. Next up, Michigan State. The Buckeyes face four tough games in a row with Nebraska, Illinois and Wisconsin on deck. Ohio State needs to start this gauntlet with a win.
No. 1 Wisconsin (4-0): Wisconsin routed South Dakota 59-10 in a lopsided affair. The Badgers could have bludgeoned South Dakota even worse but failed to take care of several scoring opportunities in the first half. Next up, Nebraska comes to town for the Big Ten showdown game of the season for the Badgers. A Wisconsin win and the Badgers could run the table.
Legends Division
No. 6 Minnesota (1-3): The Gophers were embarrassed by North Dakota State 37-24. "Coach outcoached me, their team outplayed us and they deserved to win the game," said Minnesota Coach Jerry Kill, who added, "I feel bad for our students. I feel bad for the state of Minnesota.  I feel bad for our fans, and I feel bad for our kids." What more is there to say about the game? Next up, the Gophers travel to Ann Arbor to play Michigan; Minnesota will have its hands full trying to stop Denard Robinson.
No. 5 Northwestern (2-1): The Wildcats were idle this past week. Next up, Illinois. Quarterback Dan Persa's return to the lineup is very timely for Northwestern.
No. 4 Michigan State (3-1): The Spartans rebounded nicely from their loss to Notre Dame last week in pummeling Central Michigan 45-7. Michigan State dominated the Chippewas from the beginning as they raced out to a 31-0 lead at halftime. Next up, Ohio State. The Spartans have a very tough October as, after the Buckeyes, the Spartans play Michigan, Wisconsin and Nebraska. Michigan State needs to get the month off on the right note with a win over Ohio State.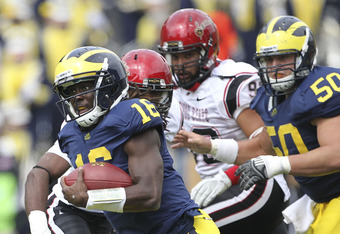 Leon Halip/Getty Images
No. 3 Iowa (3-1): The Hawkeyes trounced Louisiana-Monroe 45-17 in a game which Iowa did something that is out of character for them but hopefully is the start of a new trend. The Hawkeyes went with a no-huddle offense. Quarterback James Vandenberg had another stellar game as he threw for 270 yards and three touchdowns. Next up, the Hawkeyes have a bye this week.
No. 2 Michigan (4-0): Denard Robinson did a great job running the ball against San Diego State as he scored three rushing touchdowns and gained 200 yards against the Aztecs.  Robinson is now the second all-time leading rushing quarterback in Big Ten history. The Wolverines broke their bad habit of getting off to a slow start as they rushed out to a 21-0 halftime lead over San Diego State. Next up, Michigan hosts Minnesota in the Wolverines' fifth straight home game of the year.
 No. 1 Nebraska (4-0): Nebraska beat Wyoming 38-14 as a reported 32,617 fans saw the action in War Memorial Stadium. The Cornhuskers allowed the Cowboys to go in at halftime with thoughts of a potential upset in their minds as Nebraska only led by a touchdown. Nebraska had a very good third quarter scoring 10 points and put separation between them and the Cowboys; which begs the question as to whether Nebraska is a great team or merely a very good team.  Next up, the Cornhuskers travel to Madison to take on Wisconsin in the Big Ten game of the season.