Sebastian Vettel Leads 2011 Singapore Grand Prix Throughout to Earn Easy Victory
September 25, 2011
Ker Robertson/Getty Images
I know I'm going to attract some criticism for my views of the Singapore Grand Prix, but frankly, the 2011 race did nothing to dispel my view that the Singapore "show" epitomises what Formula One has become, rather than where it came from.
I mean, come on! I couldn't quite believe it when the fireworks went off as Vettel crossed the line!
It all felt so staged, overly grand and ultimately, false.
Yes, the 2011 race was one of the best of the four we have seen previously, but to compare this venue's racing to the old classics like Canada and Brazil is insulting.
There were some moments of excitement, and if I had a penny for every time the commentators said how physically demanding the track was, I'd no doubt be able to afford a Sky subscription for at least a couple of F1 seasons.
However, to report this as anything other than one of the most expensive and overly extravagant two hours on the F1 calendar would, I believe, be false.
There was some excitement at the start as Jenson Button and Fernando Alonso capitalised on Mark Webber's attempts to hold off Lewis Hamilton.
Sebastian Vettel seemed to cruise off into the distance and with only one lap gone had opened up a 3.5-second lead over Button in P2.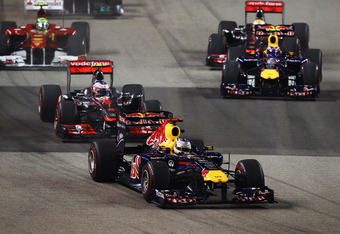 Vladimir Rys/Getty Images
Hamilton had a seemingly decent start when he attempted to push up into P2, but the McLaren man found himself in no space as the snake of cars roared into Turn 2, and Hamilton had no real control over his position as he slumped back into P8.
Here were the positions after one lap:
Sebastian Vettel, Jenson Button, Fernando Alonso, Mark Webber, Felipe Massa, Nico Rosberg, Michael Schumacher, Lewis Hamilton, Adrian Sutil, Paul Di Resta, Sergio Perez, Pastor Maldinado, Rubens Barrichello, Bruno Senna, Sebastien Buemi, Kamui Kobayashi, Jarno Trulli, Jamie Alguersuari, Vitaly Petrov, Heikki Kovalainen, Jerome D'Ambrosio, Timo Glock, Vittantonio Liuzzi, Paul Ricciardo.
As the early laps unfolded, we were kept entertained by Hamilton's fight back to the front. Lewis was able to use his DRS to great effect to dispatch the two Mercedes in front of him, but Felipe Massa was looking like he might provide more of a challenge.
The Ferrari team seemed to perform their usual 2011 role of turning up on Friday, looking good for long runs, being easily the third best team on Saturday, before seemingly under performing on Sunday.
Alonso had done a great job to get up into P3, but by Lap 10, his tyres had dropped off so much that he was forced to pit after being easily taken by Mark Webber.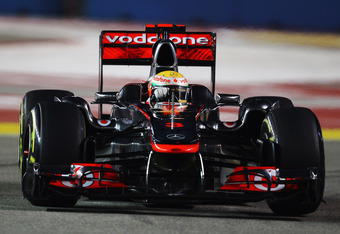 Vladimir Rys/Getty Images
Fernando's poor grip didn't look good for Massa, and with the clear visors used for the Singapore GP, you could almost see Hamilton licking his lips as he rapidly gained on Massa.
Hamilton's McLaren cruised up to the back of Massa's Ferrari, but what happened next was bizarre!
At exactly the same Turn-10 corner where Hamilton had controversially collided with Webber in the 2010 GP, the McLaren man was too eager and bashed into the Ferrari in front.
The McLaren was left with a broken front wing and Massa was left fuming and with a blown rear right tyre. This was unquestionably Hamilton's fault, and most certainly wasn't the first time he has made pretty fundamental errors in his race craft.
In fact, Massa and Hamilton nearly crashed in qualifying, so I would imagine both men should have been pretty cautious when together in the race.
Hamilton and Massa both went on to have strong fight backs, and I commend Hamilton for trying a manoeuvre, but his reputation as a fantastic racer has taken yet another hit as he seems to struggle with decision making.
We all love Lewis's fiery performances, but he has to sort out his patience. If you look at Jenson Button, the man who has made more overtakes than any other driver this season, I think you can see that in many cases the best strategy would be to sit, wait and plan.
But, as many have said, without these mad moments, Hamilton wouldn't be the racer we know.
As the race plodded on, Vettel easily lapped out front, followed by an equally untroubled Button. In the race for third, Alonso was able to consistently undercut Webber in the pit stops, only to be pretty easily passed on track as his tyres fell away (Alonso also had brake temperature issues).
The overall conclusion, though, was that the top three looked pretty set.
Michael Schumacher injected some much-needed action when he piled into the back of Sergio Perez as the two men went into Turn 7. Schumacher found himself behind a slightly out-of-sorts Perez after Rosberg had been able to force his way through around Turn 1. Schumacher seemed a little surprised and wasn't prepared for the Sauber's early braking.
The incident brought out the safety car, but when the race was restarted on Lap 33, no significant positions were lost.
By this stage the top four places were almost guaranteed. There was some excitement as Hamilton overtook his way up to P5, only to have to pit, before taking his way all the way back to P5 again.
Button also provided a last-gasp injection of excitement as, out of nowhere, he began to push Vettel, but ultimately the McLaren was held up in traffic and had to abort the charge with a few laps remaining.
Vettel crossed the line with ease and with Alonso finishing P4 and Webber P3, the only man who can mathematically beat Vettel in the Championship is Button.
How can he do this, you ask?
Well, Jenson has to win every one of the last races without Vettel scoring a single point... EASY, right?
Seriously, though, whilst I don't like this Grand Prix, and whilst the Championship has in fact been over for ages, we still have a great deal to look forward to.
We've got Japan, Brazil and the new track in India. Also, if you take a look at the standings behind Vettel, the race for P2 in the Championship is every bit as close as the last couple of seasons' fights for P1.
So come on and join me: Congratulate Vettel on his victory, and then disregard him—the real fight is now for runner up, and that will go down to the final race!
Drivers' Championship Top Three
Sebastian Vettel 309
Jenson Button 185
Fernando Alonso 184
Constructors' Championship Top Three
Red Bull 491
McLaren 353
Ferrari 268
1 Sebastian Vettel: Red Bull-Renault
2 Jenson Button: McLaren-Mercedes
3 Mark Webber: Red Bull-Renault
4 Fernando Alonso: Ferrari
5 Lewis Hamilton: McLaren-Mercedes
6 Paul Di Resta: Force India-Mercedes
7 Nico Rosberg: Mercedes GP
8 Adrian Sutil: Force India-Mercedes
9 Felipe Massa: Ferrari
10 Sergio Perez: Sauber
11 Pastor Maldonado: Williams-Cosworth
12 Sebastien Buemi: Toro Rosso-Ferrari
13 Rubens Barrichello: Williams-Cosworth
14 Kamui Kobayashi: Sauber
15 Bruno Senna: Renault
16 Heikki Kovalainen: Lotus-Renault
17 Vitaly Petrov: Renault
18 Jerome d'Ambrosio: Virgin-Cosworth
19 Daniel Ricciardo: Hispania-Cosworth
20 Vitantonio Liuzzi: Hispania-Cosworth
RET Jaime Alguersuari: Toro Rosso-Ferrari
RET Jarno Trulli: Lotus-Renault
RET Michael Schumacher: Mercedes GP
RET Timo Glock Virgin-Cosworth