Detroit Tigers Bullpen Will Put Them over the Top in MLB Playoffs
September 27, 2011
Leon Halip/Getty Images
The Detroit Tigers' bullpen has been largely overlooked during their recent surge towards the postseason. 
Starting pitching and timely hitting have been getting all the attention, but the relief pitchers have been excellent in their own right and will be the difference makers when the playoffs begin on Friday.
Al Alburquerque, Phil Coke, Daniel Schlereth, Joaquin Benoit and Jose Valverde make up the core of the Tigers' bullpen and they have each been lights out in September.
Coke and Schlereth are the lefties of the bunch and will be sorely needed against the likes of fellow left-handers Robinson Cano, Curtis Granderson, Adrian Gonzalez, David Ortiz and Josh Hamilton. 
Coke had a rough start to the year as a starter but has been much better since moving back to the bullpen.  He has allowed only four hits and one run over his last eight appearances. 
Schlereth had been on a tear as well before picking up the loss in his last outing.  He has still managed to go 1-1 with a 0.87 ERA with eight strikeouts in his last 10 games and is a bit more consistent than Coke.
Al Alburquerque is Detroit's best bullpen pitcher, in my opinion. 
He has a devastating slider to go with his 93 to 96 mph fastball, and is averaging a ridiculous 14 strikeouts per nine innings pitched. 
He has appeared in 40 games this season and has only given up a run in four of those games.  If not for the various injuries he sustained, we would be talking about a historic season. Even with the injuries he has a .191 ERA and a 1.18 WHIP.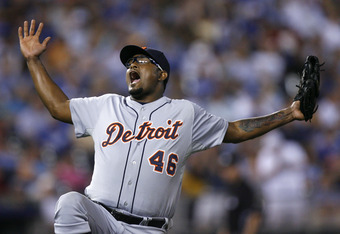 Ed Zurga/Getty Images
Oh, and he's still a rookie.
Joaquin Benoit is finally back pitching the way he did in Tampa Bay last year, and Dave Dombrowski's decision to lock Benoit up for three years looks to have been a good one. 
He started out slow but has not given up a run since August 2, and has only allowed five hits in that same time frame. He is an excellent set up man for the most dominant closer in the league this season.
And that closer is none other than "Papa Grande" Jose Valverde. 
Valverde leads the league in saves this season, going a perfect 47 for 47 so far.  He has struggled in non-save situations, but hopefully Jim Leyland has learned his lesson on that front and will not put him in that position again. 
Valverde brings some swagger to the bullpen and has the stuff to back it up.  If not for Justin Verlander's utter dominance this year, I think we'd be talking about Valverde as the Tigers' MVP.
When this season started not many people figured the Tigers' bullpen would be much of an advantage over any team. 
It is now proving it may be better than any other bullpen in the league and I think it will give Detroit the edge it needs to deliver a championship back to Motown.