Jacksonville Jaguars vs. Carolina Panthers: Live Score, Highlights and Analysis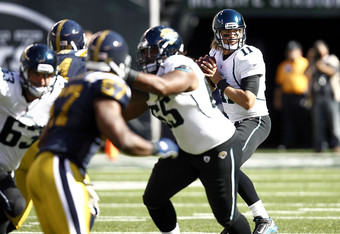 Jeff Zelevansky/Getty Images
Updated score: Panthers top Jaguars 16-10 for Newton's first win.
The beginning of an era starts today.
Blaine Gabbert, the Jacksonville Jaguars' first-round selection in April's draft, will see his first start today against the Carolina Panthers.
Gabbert takes over for an ineffective Luke McCown, who registered a quarterback rating of 1.8 while throwing four interceptions last week against the Jets.
The Panthers are led by the sensational Cam Newton, Carolina's rookie quarterback, who was selected first overall in the 2011 NFL draft.
In his first two starts, Newton has the Panthers appearing to be on the verge of becoming a contender. Having thrown for more than 800 yards in Week 1 and Week 2 combined, Newton seeks to get his first professional win today in his inaugural home game.
Enjoy the beginning a new era, everyone. Today's game should be a great one.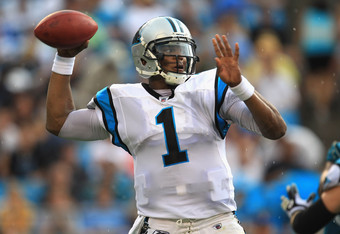 Last gasp falls incomplete, as Jacksonville loses at Carolina, 16-10.
A pathetic offensive line and wide receiver performance, and Gabbert just didn't have enough help.
The Jaguars went ultra-conservative in the second half, and it cost them.
Jacksonville falls to 1-2, and Carolina improves to 1-2.
The Jaguars will host the New Orleans Saints next week, in a must-win.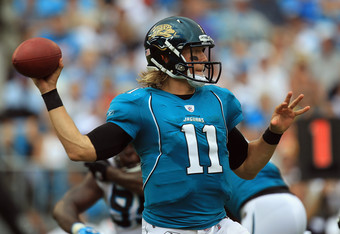 Jaguars on the Panthers 45 with 38 seconds left.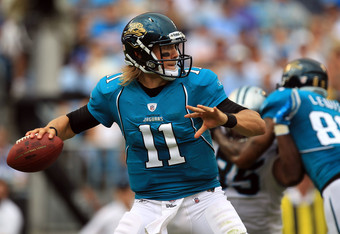 Jaguars have it on the 20 with one minute remaining, and no timeouts.
It's a long shot, but there's a chance.
Two minutes left. Panthers have it on the Jaguars 35. One timeout left for Jacksonville.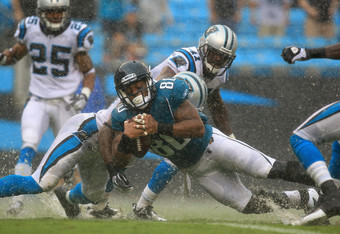 After Mike Thomas drops a pass and offensively pass interferes on the same play. Jaguars punt.
It's on the defense again. 2:43 left. Jaguars have three timeouts.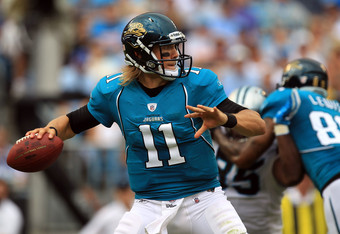 Great return by Karim, Jags start at their own 32.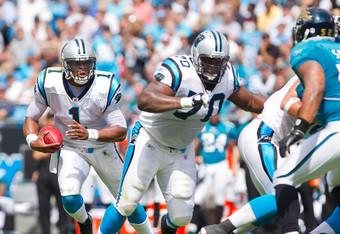 Greg Olsen, 18 yard touchdown reception from Cam Newton.
Panthers lead with 4:20 remaining, 16-10, after a 2-point conversion is successful by Carolina.
Jaguars have ran the ball 22 times in the second half, passed just three. Gabbert has to make it happen now.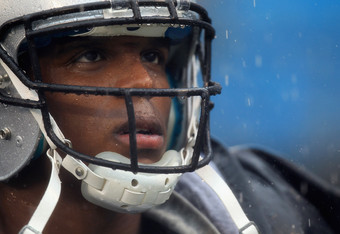 Panthers inside the Jaguars 30. Five minutes left.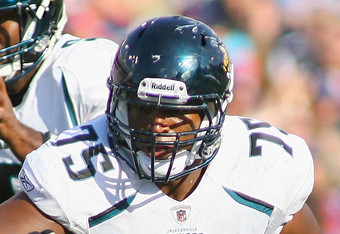 Jaguars go three and out because of another penalty, holding, on Eugene Monroe.
Jaguars punt, and it's on the defense again.
Panthers have it near midfield. Seven minutes remaining.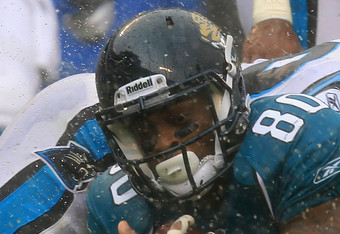 Win, lose or draw, the Jaguars defense is for real.
Newton has 111 yards on 31 pass attempts, and the Panthers punt into the end zone.
Jags ball at the 20 with half a quarter left in the game.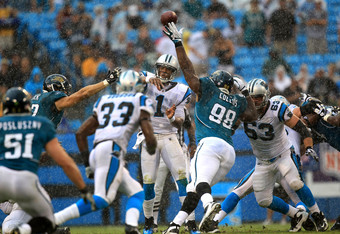 Jaguars will punt after their fourth or fifth fumbled snap. They've luckily recovered all of them, but that ruined a chance to convert third and one on the Panthers 40.
Turk's punt is high and goes into the end zone. Panthers ball on the 20.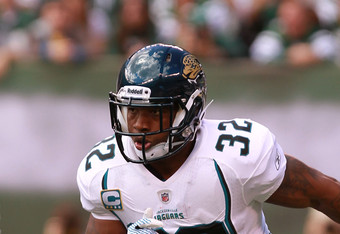 End of third quarter, and Maurice Jones-Drew is beginning to impose his will on the Panthers defense. Over 100 yards, and the Jaguars have it in Panthers territory, third down and short.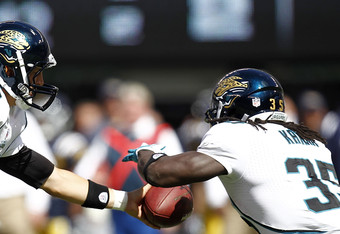 Jaguars will start at their own 22 yard line after a nice return by Deji Karim.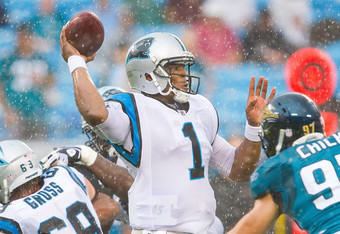 Jaguars, again, come up huge defensively.
Newton attempts a quarterback draw on third down and three yards.
Olindo Mare makes a short field goal, and cuts the Jaguars lead to 10-8.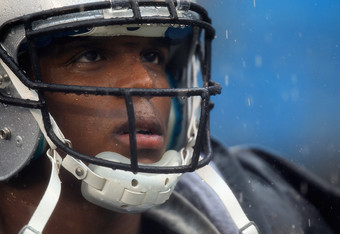 Jaguars attempt to punt, and Turk inexplicably drops the punt. The snap was perfect, Turk had it, and simply dropped it.
Carolina will have it on the Jaguars 38.
In a game with such terrible conditions, both teams will make many mistakes. The timing and quantity of these mistakes will ultimately decide who wins.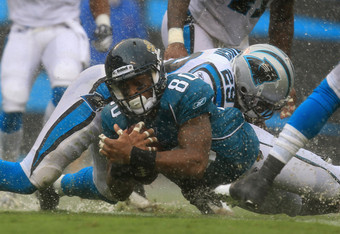 Another three and out for Carolina, and the Jaguars are really harassing Newton. Jaguars start at their own 46.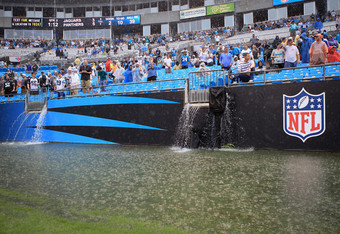 Jaguars move it well before the drive fizzles in Panthers territory.
Turk's punt goes out of bounds around the 20.
Jaguars ran every play on the drive, in which they moved the football 40 yards, primarily with Jones-Drew. They seem content tiring out the Panthers front seven in these difficult field conditions.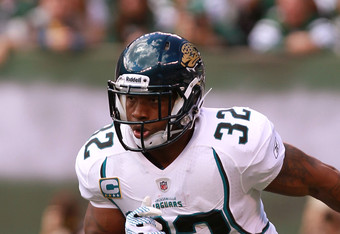 Jaguars have it at their own 20 to start the second half.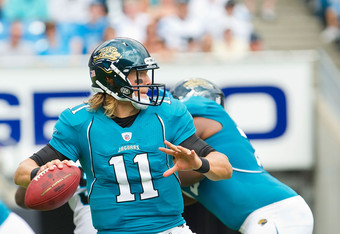 At halftime, Gabbert is a solid 7 of 13, with several drops, 84 yards, with 1 touchdown and 1 interception.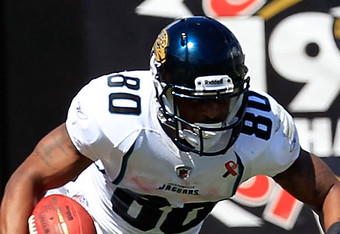 We're almost at halftime, and as the teams row their canoes into the locker room, Jones-Drew scampers for 40 yards in the mud.
The play was intended to run out the clock, but MJD found a seam.
Jaguars time out....
Gabbert throws...
TOUCHDOWN! Gabbert finds MIke Thomas at the 10, who squirms through the defense for a 34 yard score!
The extra point makes it 10-5 Jacksonville at halftime!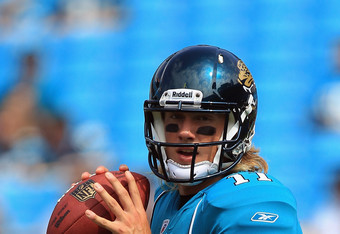 Gabbert intercepted by Sharrod Martin.
Gabbert is 6 of 12 with 1 interception. That was a little ill-advised, throwing deep into a cover two.
Field conditions are horrendous.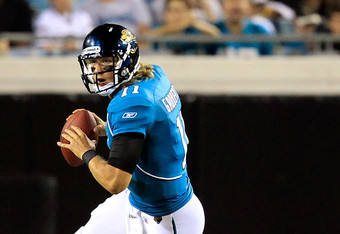 It's absolutely pouring rain in Carolina, as the Jaguars force another three and out.
Jaguars will start at the 34.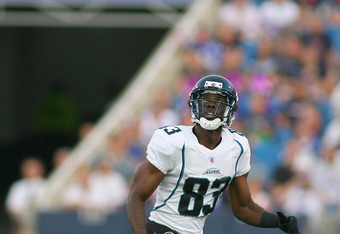 Three straight drops, and Jaguars will punt.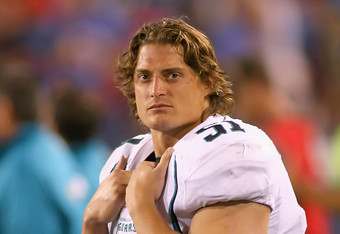 The Jacksonville defense came to play today, forcing a Carolina punt.
Punt rolls into end zone, and Jaguars will have it on the 30 after a holding penalty adds 10 yards to the end of the play.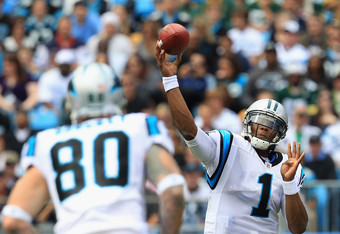 Panthers have it second down, 18 yards to go on Jacksonville 39.
This article is
What is the duplicate article?
Why is this article offensive?
Where is this article plagiarized from?
Why is this article poorly edited?

Jacksonville Jaguars: Like this team?