Nebraska vs. Wyoming: 5 Things We Learned from the Cornhuskers
Eric Francis/Getty Images
Nebraska won their first road game of the season, defeating Wyoming 38-14 in Laramie. Nebraska was only ahead 14-7 at the half, but the depth and athletic advantage of the Cornhuskers wore the Cowboys out in the second half. Wyoming's self-destructive tendencies, including seven penalties for 68 yards, didn't do the Cowboys any favors.
So as we digest Nebraska's win.
What did we learn about the Cornhuskers?
Rex Burkhead Is Nebraska's Most Important Player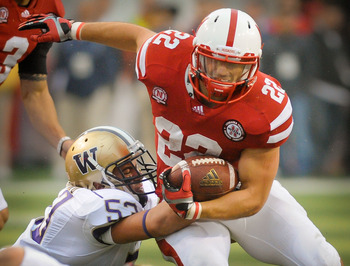 Eric Francis/Getty Images
In a game like Wyoming, Rex Burkhead's contributions are obvious. Burkhead tallied 170 yards and two touchdowns and was clearly the most valuable player of the game. But in the last two seasons, he's shown that he is more than that.
Burkhead is the foundation of Nebraska's offense, the reliable performer who can be called upon when absolutely needed. Yes, players like Taylor Martinez are game-breakers with their athletic ability. But it's Burkhead's reliability and performance that provides the basis on which everything else is built.
The Secondary Is the Primary Problem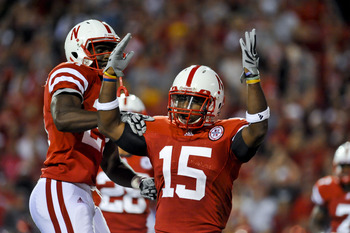 Eric Francis/Getty Images
Alfonzo Dennard returned, at least for part of the Wyoming game, but Nebraska's woes at the back continued. Although the total passing yards for Wyoming ended up at 166, there were a disturbing number of broken coverages.
Corey Cooper, a safety by trade, was pressed into duty as the starting corner opposite Dennard and struggled mightily. It appears that the NU defensive coaching staff doesn't have a tremendous amount of faith in any cornerback not named Dennard, a concern borne out by the performances of the last four games.
Bad Taylor Doesn't Equal a Loss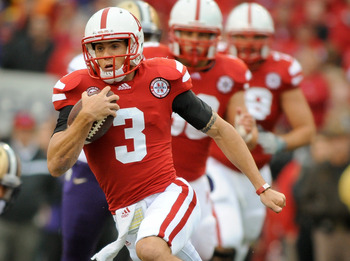 Eric Francis/Getty Images
At the start of the game, Nebraska fans could be forgiven for thinking it was 2010 all over again when watching Taylor Martinez. He looked hesitant in running the option and was dreadfully inaccurate throughout the game. But after the first quarter, Martinez settled into more of a game manager role.
He got the ball to an on-fire Rex Burkhead in the backfield, made the decisions necessary to keep the chains moving and kept Nebraska's offense relatively on-track. At the end of last year, when Martinez wasn't on Nebraska's offense crumbled. Against Wyoming, Martinez certainly didn't shine—and NU still won by 24. That's an encouraging sign.
Depth Charges Forward for NU Win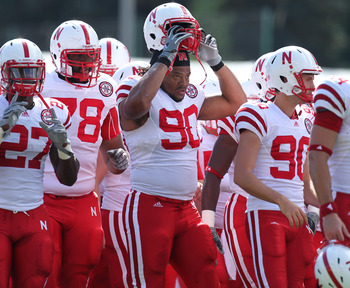 Otto Greule Jr/Getty Images
Nebraska only led 14-7 going into the half, and Wyoming took a tremendous amount of momentum into the locker room. But by the fourth quarter, the sheer volume of athletes Nebraska was able to trot onto the field simply overwhelmed the Cowboys, allowing NU to pull away for a relatively comfortable win.
Although the game never felt entirely in hand until late in the fourth quarter, Nebraska got a lot of players game-time experience that otherwise would not have seen the field.
The Trip to Madison Is Looming Large
Jonathan Daniel/Getty Images
The warm-up acts are over, and now, the curtain is raised on Nebraska's biggest show of the season. Next week, Bo Pelini takes his act to Madison to face Wisconsin. The Badgers have been nothing short of spectacular against the lesser competition they've faced this year.
Nebraska, on the other hand, has been less than convincing against equally-uninspiring competition. Yes, anything is possible, and yes, Wisconsin has yet to really be tested. But given Nebraska's struggles in the secondary and its inability to record sacks and its inability to turn the opponent over on defense and its inability to consistently tackle well, it is difficult to see how NU stays with a Wisconsin team that appears to be firing on all cylinders coming into the conference opener.
Like what you read? Follow me on Twitter @patrickrunge to track my thoughts and observations about college football—and one or two other topics—throughout the year!
And if you would like to contact me directly to schedule an interview, ask a question or to get my recipe for a killer peach cobbler, you can send an e-mail to patrickrunge@gmail.com. (DISCLAIMER: Peach cobbler recipe might not be all that killer.)
Keep Reading

Nebraska Huskers Football: Like this team?