WWE's Canonical Shift: Why a John Cena Heel Turn Is Necessary
September 25, 2011
Rusty Jarrett/Getty Images
For over six years, John Cena has been the main character of WWE Raw; one might say he's had the longest tenure as the central protagonist in the show's history.
He's been pitted against just about every top talent in the company at one point or another, from his early title feuds with Chris Jericho, Edge, and Triple H to his more recent conflicts with The Nexus and Alberto Del Rio.
Throughout most of Cena's reign at the top of the card, there has never been a true threat to his sovereignty within the WWE Universe.
His feuds—while leaving behind lasting memories--have never really seemed credible. Some may argue that men such as Shawn Michaels and Kurt Angle could conceivably beat Cena (and they have), there has never been a doubt that Cena would remain the face of the company for years to come.
John Cena really is, as his legions of detractors refer to him, Superman—a hero without an equal or superior nemesis.
Has John Cena been billed as an underdog? Yes, he has—most of the time, in fact. Still, there exists a lack of credibility in his opponents. For example, did anyone—casual fans or diehards alike—really believe Sheamus and Alberto Del Rio were going to win their respective feuds with Cena? Hardly. If anything, these feuds only further convinced fans that Cena always wins in the end.
What happens when the most powerful force in your character universe also happens to be the protagonist? The universe becomes bland, predictable, and ultimately unchanging.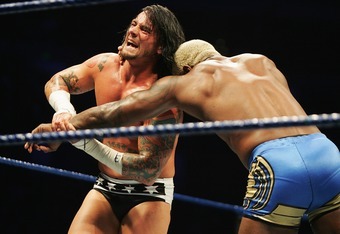 Gaye Gerard/Getty Images
So how does WWE change things?
Drop a pipe bomb.
CM Punk is the only legitimate threat to Cena's reign at the core of the WWE Universe, a superstar whom fans view as Cena's equal, at the very least.
One huge advantage that Punk has over Cena's past opponents is canonical opportunity; he has not yet found his arch nemesis (Michaels and Triple H found theirs long before Cena arrived) and—unlike Umaga, Khali, and everyone else—possesses the charisma and ability to be cast in league with Hulk Hogan, Steve Austin, The Rock, and yes, John Cena.
Many fans are simply bored with the current dynamic of WWE's storytelling and yearn for a new protagonist on their favorite television show. The swell of interest that CM Punk has generated this summer is ongoing; clearly, WWE has finally chosen Cena's successor as protagonist.
Punk is a credible underdog and speaks with the fans' collective interests in mind. He is primed for a run of popularity that could rival that of Stone Cold Steve Austin.
Many fans who grew up during WWE's PG era of the past decade are now teenagers. Superman Cena no longer appeals to them. They want a rebel. They want pipe bombs.
There is one problem that stands in the way of this passing of the protagonist torch: Cena is still expected to win, maybe not every battle, but certainly every war. The wars themselves need to change. With no antagonist who can credibly challenge Cena, there is only one thing WWE can do to ensure their product is still interesting in the future.
Kids who grew up with Hulk Hogan eventually outgrew his act. They loved him, though, once his act grew up as well.
Goodbye, Superman. Hello, Hollywood.
John Cena absolutely must become the main antagonist of WWE Raw—there really is no way around this. WWE has a perfect opportunity to make the switch next year at WrestleMania. The Rock has already hinted towards a heel persona within John Cena that is absent on television:
You know why men boo you around the world, John? You know why men don't like you, don't respect you? You know why? You're down in Australia, you're angry at the crowd because they're quiet during your match. You know why you go to your own hometown in Boston and they boo you? You know why? The Rock will tell you why—because The Rock is a man. The Rock represents a majority of men around the world and we don't like you, we don't respect you. Why? Because we, us, men, see through bullshit, and we smell a phony punk a mile away. —The Rock, WWE Raw, 07/11/11 
Come WrestleMania 28, this phony punk needs to show himself in a big way. If only Bobby Heenan were in better health, he could yell into his headset asking what side Cena is on.
I foresee John Cena taking on the role of Hollywood Hogan, the heart of the WWE conspiracy, and perhaps The Miz and R-Truth—Cena's very own Outsiders—are actually in on it. While this wouldn't be a literal resurrection of the nWo, it would follow a similar archetypal formula, one that has been proven to draw interest from fans.
The Rock is probably the only active star bigger than John Cena, meaning he is the only character important enough to lend credibility to Cena as a villain. From there, we would have a whole new canonical era for the company.
It's time for CM Punk to play the hero.