Death of Wrestling: Will MMA Be the Silent Assassin of the WWE?
September 25, 2011
Victor Decolongon/Getty Images
Last night, I pulled an old WWE DVD out of my collection and put it into the player. I had originally watched the Pay Per View 15 years ago and wanted to see if it was as good as I remembered.
It was as good then as it is now. Legends in their prime, showing exactly why I had originally watched wrestling all those years ago.
However there was something very startling about it all. Compared to today, the quality of production was fairly poor. In the day it was probably very high tech, but fast forward 15 years, and what the WWE has become is considerably far more sleek and professional.
Promos follow matches follow interviews—everything has graphics and lighting and specific cameras.
Even if what we see in the ring is poor in terms of wrestling finesse, it is nonetheless well produced.
Television will always evolve and in most cases improve. After a few series or even episodes, the production should get better and become polished. As people know what they are doing, and have the money to make things better, the overall quality continues to increase.
As a counter-argument, however, take TNA.
The so-called Hogan Revolution has failed. What he once had, he has no longer. And two years after he arrived, the product remains dormant. TNA is still locked away in a television studio in front of bewildered holiday-makers and a small hardcore contingency.
What many had hoped could ignite a new era in wrestling never even got started, and the TNA "threat" was nothing more than a balloon bursting against the might of the nuclear WWE.
The company however maintains its potential. It has many of the key ingredients of a successful wrestling company; it just doesn't know how to put it all together.
By contrast, Mixed Martial Arts and in particular, UFC, has become a potential challenger to the once all-conquering McMahon Empire of the north.
It offers the same basic principles of a contest between two warriors, for a belt, in a ring, with brutal aggression a key component. It is traditional wrestling with attitude.
It however lacks the production quality of a WWE.
Whether its brand recognition or the need for more money or TV time, the UFC has still not become a global brand. Case in point, ask anyone in the street to name a wrestler and they can at least say Hulk Hogan. Ask them to name a UFC fighter and they will look at you wondering what UFC means.
However with UFC on the rise, and as the new Warrior movie, starring ironically Kurt Angle, it shows that people are beginning to switch on to this alternative pseudo-sport.
What people loved initially about wrestling and boxing can now be found in MMA. Entertainment, sporting ability, tradition, drama and a big fight feeling. If more continue to watch, to the detriment of the WWE and TNA, then wrestling itself is in danger.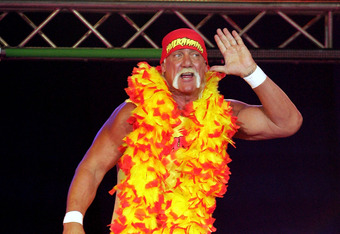 Paul Kane/Getty Images
As I write those words, I can almost hear the critics shouting that wrestling will always exist. You may be right but how many of those critics have a nWo shirt or attended the night Goldberg beat Hulk Hogan in front of a 40,000 capacity WCW crowd?
Nothing is invincible. Or put it another way, Vince is not Invincible.
WCW died because it lost sight of its basic format and when it went away from what its fan wanted, they stopped attending. Attendances fell, storylines rehashed, sales down. And suddenly those big salaries became a choke chain and WCW quietly submitted.
The WWE is down at the moment and it has been there for some time. Some call it a transitional period but its hard to see improvement when Smackdown arenas are half empty and ratings are at their lowest for years.
Cena may be steering the ship but more and more the older generation are jumping overboard.
Wrestling might be courting a younger audience but the WWE at present has all the hallmarks of 1996 all over again. The talent is there, but it has no direction.
In 1996 when I first began watching, wrestling told stories. It created scenarios and feuds that worked. However for those that had watched for a decade or more, it wasn't real.
The image of Hulkamania had been exposed as a lie; the vitamins he took before saying his prayers, were evidently not vitamins.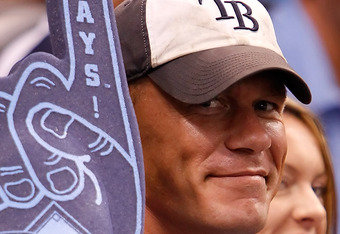 J. Meric/Getty Images
The revolution in wrestling that occurred because of Steve Austin, Kevin Nash and Scott Hall gave fans something new. It was edgy and exciting. Wrestling was turned on its head; faces became heels, heels became faces and the color of wrestling changed.
Black was the new black.
In 2011, wrestling once again stands at the crossroads. How does it go forward? What is clear is that the WWE is best when it has someone in its mirror. At present though they are a long way back.
Who the eventual challenger will be remains uncertain.
If TNA wakes up and begins to change, then maybe wrestling will have its second reincarnation and a third golden era.
If UFC wins, then the very nature of sports entertainment is in doubt.
The WWE has time to ponder its next direction, whilst sitting at those crossroads. It has many options but what is clear is that it can not be complacent of its position.
Just as the WWE dramatically improved its production and appearance since 1996, so too the UFC can invest in its infrastructure and marketing and develop a world brand. And if the choice is between two guys pretending to hit each other, against two guys who do hit each other, the winner should be fairly certain.
The WWE cannot rely on its old guard anymore. The golden era is over, the attitude era is slowing down, and its current product is critically and commercially panned.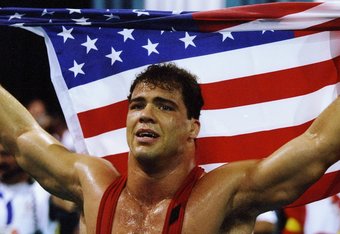 Jed Jacobsohn/Getty Images
If the next generation does not step up, the choice for viewers will be simple.
The WWE remains ahead of its rivals and will be for some time, but as WCW reminds us all, the edifice might look strong but without strong foundations, it will one day come crashing down.
UFC has a chance, it just needs to keep going.
TNA needs simplicity, continuity and organization.
Whilst the WWE just simply needs a new era.
Who wins is ultimately up to you, the viewer.