Notre Dame vs. Pittsburgh: How Brian Kelly Can Keep His Job
September 24, 2011
John Gress/Getty Images
Brian Kelly was hired as Notre Dame's football coach shortly after the 2009 season concluded for the Irish, and Irish fans instantly began to believe that Kelly would be their man.
After an 8-5 opening season record in 2010, the Irish faithful were hoping the 2011 season would be the breakout season for Notre Dame.
That hasn't happened.
Even though Notre Dame was viewed as a more talented team than last season, the Irish sputtered out of the gate, and started the year 0-2 with losses to South Florida and Michigan—both unranked teams at the time.
Kelly and the Irish turned it around in Week 3 against then-No. 15 Michigan State in what many viewed as a "must win" game for Kelly.
Surprisingly, after the dismantling of a very good MSU squad, there were still people who thought that Notre Dame and Kelly again must win against Pittsburgh.
Today's win over Pitt may briefly mute some of the criticism, but Kelly isn't out of the woods quite yet.
The Irish's problems haven't been much a secret over the first four weeks of the season: turnovers. Specifically, red zone turnovers.
The Irish, and more specifically starting quarterback Tommy Rees, have a nasty habit of turning the ball over in crucial situations. Coming into the game against Pittsburgh, Notre Dame had 12 red zone visits. The results of those visits can best summarize the woes of the Irish. Six touchdowns, one field goal, and five turnovers.
There's no way to spin those kind of numbers.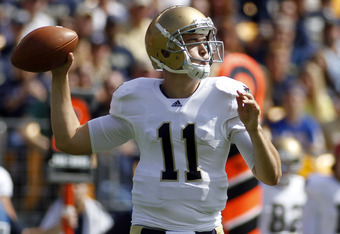 Justin K. Aller/Getty Images
It seemed almost impossible. A coach with a career record of 181-64-2, eight conference titles, two national championships, and two BCS bowl invites found his job in jeopardy. But perhaps unsurprisingly, the national media, led by ESPN, almost gleefully began discussing the demise of the Brian Kelly era in South Bend, even as it was still in its infancy.
So how can Brian Kelly keep his job at Notre Dame?
The short answer is also the simplest: keep winning.
Football pundits across the country need to remember that Brian Kelly is only at the beginning of his second year as head coach of the Fighting Irish. For all intents and purposes, almost every player that will touch the football for Notre Dame this season was recruited by someone other than Brian Kelly.
In fact, one might even find some comfort in the struggles of Notre Dame.
Consider this: the last two coaches at Notre Dame came in and achieved a fair amount of success on the field right out of the gate coaching with players recruited by previous coaches. Ty Willingham seemed like a miracle man when he led the Irish to a 10-3 record in his first season, increasing the wins for Notre Dame by five games over the previous year. The bottom fell out quickly for Willingham, as he won just 11 games over the next two seasons.
When Charlie Weis arrived in South Bend, he too jumped out to quick success, with a 19-6 record and two BCS bowl berths in his first two seasons as head coach. When his recruits began hitting the field in season three, the Irish fell to an abysmal 3-9. Seasons four and five saw the Weis-led Irish go 13-12.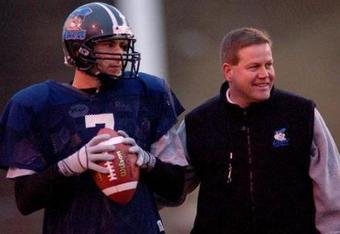 Enter Brian Kelly.
Here was a coach who got his start in Division II at Grand Valley State, where he guided the Lakers to five conference titles, two national titles, and a 118-35-2 mark between 1991 and 2003. He transformed MAC cellar-dweller Central Michigan into MAC Champions by his third season, posting a 19-16 overall record with the Chippewas before heading to Cincinnati.
While at Cincy, Kelly turned a Bearcats program once on the verge of cancellation into (briefly) a national power, achieving a 34-6 record with two Big East titles and the BCS bids that came along with them.
There was really not a lot of doubt that this Boston-area Irish-Catholic would be the next coach at Notre Dame once Weis was fired.
So why is he on the hot seat?
Who does Kelly really have to impress? It seems almost certain that unless the Irish are winning BCS titles, ESPN won't be giving Kelly or his staff a break. But luckily for Kelly, ESPN doesn't make personnel decisions in South Bend.
Kelly's Notre Dame is a work in progress. Some of the pieces are falling into place. Some pieces just aren't there, yet.
The best thing Kelly can do is to keep reminding everyone that Notre Dame football is undergoing some remodeling. Kelly has been subtle with that point thus far. Maybe he should put out a "Pardon Our Dust" sign for the rest of the season to get the point across.
In reality, Kelly simply needs to win just enough so the powers that be in South Bend allow him the time to build Notre Dame into the type of winner he built at Grand Valley State, Central Michigan, and Cincinnati.
Kelly has the Irish back to .500 this season. While a 15-12 victory over Pittsburgh isn't the type of resounding statement we saw in last week's win over Sparty, a win is a win.
If he's afforded the time, Kelly will do exactly what Irish fans want: keep winning.